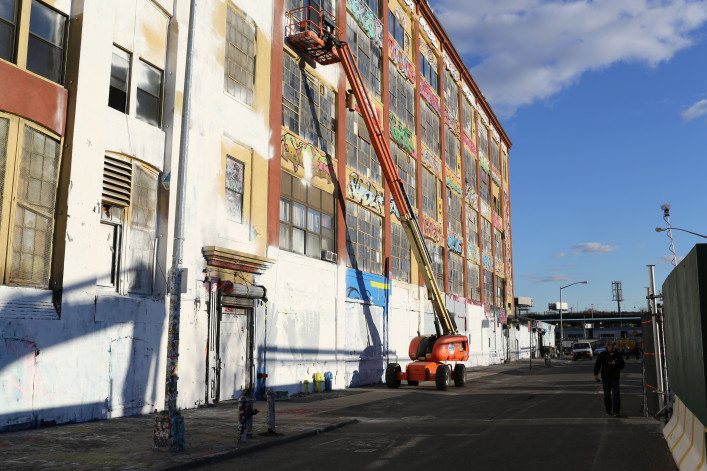 When we consider New Year's resolutions, we typically think of a new diet, exercise, or budgeting regime (no judgment here if you've already abandoned your 2015 goals). But there's also such a thing as civic-minded resolutions, and the Bowery Boys have a great roundup of ways we can all be better New Yorkers in the coming year.
Below, a few of our favorite tips:
Get more involved with your neighborhood. It's no fun to live in a neighborhood you only spend time in when you're sleeping. Even if you've moved somewhere farther flung (and far away from your friends) in the name of cheaper rent, get to know your area's history, and join any available community groups. Getting friendly with the neighbors can come in handy in untold ways—especially when you come home late and have mysteriously misplaced your keys—and in addition to being on the forefront of local issues, you'll appreciate your 'hood a whole lot more if you're tuned into its backstory.  
Support local businesses. Even if you're already in the habit of hitting up the Whole Foods near your office before heading home, try branching out and shopping at local grocery stores and delis, and scoping out nearby businesses for services like dry cleaning and manicures. (Besides helping out local retailers, this comes with the very big added bonus of not having to schlep heavy bags on the subway). In this same vein, if a place you love is closing, don't just shrug and think to yourself, "another one bites the dust." Stop in and chat with the place's owners to let them know their business will be missed, and ask if there's anything you can do—a petition to sign, for instance. They'll appreciate the encouragement, plus it's always nice to feel that you have at least some agency in the fate of an ever-changing city.
Adjust your attitude. This one's a little more abstract, but it's just as important. The key is to not get complacent: get a little angry if a business you love shutters or you see longtime residents displaced by greedy landlords. Take time to contemplate your place in your neighborhood, and whether or not you may be a part of gentrification. Above all, though, don't get too downtrodden by the seemingly endless flood of beloved NYC institutions that closed down in the past year. The city may be changing—and predatory business and development practices are well worth fighting against—but, as the Bowery Boys put it, "New York City is never over." 
Related: 
The must-reads: 22 essential New York neighborhood blogs
Thanks to Airbnb and Google Maps, Gramercy Park gets a little less exclusive
10 apartment resolutions for an uncluttered, budget-friendly, neighborly new year
Brick Underground articles occasionally include the expertise of, or information about, advertising partners when relevant to the story. We will never promote an advertiser's product without making the relationship clear to our readers.