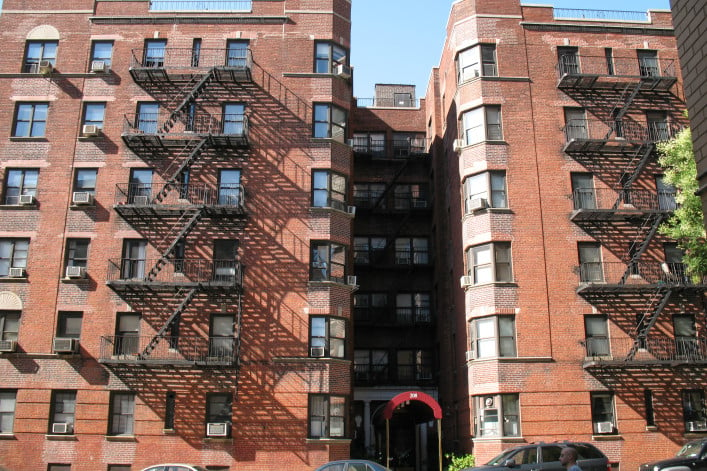 I've heard that landlords can hike prices in rent-stabilized apartments for something called "major capital improvements." What exactly does this mean, and what kind of building upgrades actually justify a higher rent?
What you've heard is true: Your landlord can, indeed, hike the rent of rent-stabilized and rent-controlled apartments, even in the middle of a lease, if they can prove that they've made certain upgrades to the building known as "major capital improvements." 
"Tenants have very common misconceptions about MCIs," says Sam Himmelstein, a lawyer who represents residential and commercial tenants and tenant associations. "They often ask, 'why should the landlord be rewarded just for doing what's required?'"
And while raising the rent to cover the cost of major upgrades can be legit, it can also be a tactic to hike the rent of regulated tenants. Moreover, rent increases are not necessary to encourage the landlord to do repairs and upgrades. And under the city's Warranty of Habitability, tenants are legally entitled to safe, clean, livable homes, which means your landlord must make repairs to address any conditions that are making your home uninhabitable.  
"Originally, the purpose of MCIs was to incentivize landlords to do capital improvements that were difficult to afford, because the rents were supposedly not high enough under rent stabilization," says David Hershey-Webb, a partner at HMGDJ law who represents tenants battling capital improvement-related rent increases. "But in most buildings now, stabilized and controlled tenants are a minority, and landlords undertake major capital improvements just as a way to raise rents of regulated tenants."
Last year, the state legislature passed the Housing Stability and Tenant Protection Act of 2019 ("HSTPA"), which includes new MCI provisions that curtail landlords' ability to make upgrades in order to raise rents.
The HSTPA has changed the way landlords can use MCIs in a number of ways. Previously, for instance, landlords could hike the rent by 6 percent a month for rent stabilized tenants and 15 percent for rent controlled tenants; now they can only raise the rent by 2 percent a month at most for both types of regulated tenants. This change applies to any MCI rent increases an owner seeks to collect in any renewal lease after June 14, 2020, for any MCI rent increase that was granted on June 16, 2012 or later.
MCI costs now have to considered "reasonable" and cannot be charged at all to tenants living in a building with 35 percent or fewer rent regulated apartments. The law also forbids the collection of "retroactive" rent increases (that is, increases for the time between the filing of the MCI application and its being granted). Furthermore, MCI rent increases will not be granted while there are "C" (immediately hazardous) or "B" (hazardous) housing or building code violation pending. Finally, MCI increases are taken off monthly rent after 30 years. (Previously, the hikes were permanent.)
Here's what else you need to know as a renter:
In order to qualify as a major capital improvement,  the work must benefit the entire building—not just a few specific apartments—and it has to involve one of the building's systems being fully replaced, not just repaired. (Full requirements can be found on this NYSHCR fact sheet, and further details are on their FAQ page.) "The most common are windows, boiler and heating systems, facade and roof work, and elevator replacements," says Himmelstein.
Whatever system is being replaced has to have outlived its state-determined "useful life schedule"—full details of which can be found here. For instance, a metal water tank can only be counted if the landlord replaces it after 25 years—the typical estimated life span of this piece of equipment—not if they bring in a new one every five years in hopes of jacking up the rent.
If your landlord does make this type of improvement, they're required to get approval from the DHCR, and send you an official notice detailing the work and the amount of the rent raise requested—so if they just tell you they've done some work and start asking for more money every month, you can flat out refuse, says Hershey-Webb, and file a DHCR complaint for overcharge.
If the work qualifies as a major capital improvement, the rent of a stabilized tenant can be raised by up to 2 percent each year, beginning 60 days from the date of the MCI order. (This is a significant change brought about by the HSTPA; previously, the increase was dated back to the time the improvement was made and could be raised up to 6 percent for stabilized tenants and 15 percent for rent controlled tenants.)
What do you do if you suspect your landlord is trying to collect extra rent illegally? 
As with many a tenants' rights issue, start by rallying your fellow residents. See if they've gotten the same notice, and if they've been receiving the benefits of the alleged improvement. 
Next, file for an extension of time to oppose the rent increase application, says Hershey-Webb. There will be an option for this on the notice served by the DHCR. "I usually ask for an initial extension of 45 to 60 days," he notes.
Next, you or your lawyer should review the landlord's application for a major capital improvement rent increase—and what work the landlord claims to have done—which can be obtained by filing a freedom of information request with the DHCR. (The DHCR will  either send you a copy or set up a time for you to come to their offices and pore over the details.)
"The number one line of defense is that the work either was not completed in the manner required, says Hershey-Webb, "or that there are defects"—such as a sufficient number of apartments still experiencing leaks after the replacement of a leaky roof or facade. 
Another important line of defense: When the landlord actually did the work, and when they filed their claim.
"The application has to be filed within two years of completion of the work, and a lot of landlords come down to the wire," says Hershey-Webb. Unless you happen to have had someone personally keeping tabs on the building's upgrade, your best bet is to search the Department of Buildings website for work permits that have been filed for your building.
If your research indicates something questionable going on, Himmelstein recommends hiring an engineer to inspect the work that's been done (this is easier to do if you're splitting the cost with other tenants), and if necessary, having a lawyer file  an "answer" to the landlord's major capital improvement application. If all goes well, the DHCR will send an inspector to determine whether the work—and your rent raise—is legit. Plus, the rent raise can only be granted after the DHCR has reviewed the landlord's application and the tenants' responses, and Hershey-Webb notes that increases are often denied altogether, or significantly pared down. And even if the rent increase is granted, there's still a right to appeal. 
Related: 
Good news: The new rent laws just made it easier to challenge your rent stabilization status (sponsored) 
Ask Sam: How do I find out if I've been overcharged for rent, and what can I do about it? (sponsored) 
Ask Sam: How do I find out if my apartment should be rent-stabilized—and if the landlord owes me money? (sponsored)
Ask Sam: What are my rights as a market-rate tenant? (sponsored) 
Read all our Ask a Renters Rights Lawyer columns here.
---
Sam Himmelstein, Esq. represents NYC tenants and tenant associations in disputes over evictions, rent increases, rental conversions, rent stabilization law, lease buyouts, and many other issues. He is a partner at Himmelstein, McConnell, Gribben, Donoghue & Joseph in Manhattan. To submit a question for this column, click here. To ask about a legal consultation, email Sam or call (212) 349-3000.
Brick Underground articles occasionally include the expertise of, or information about, advertising partners when relevant to the story. We will never promote an advertiser's product without making the relationship clear to our readers.