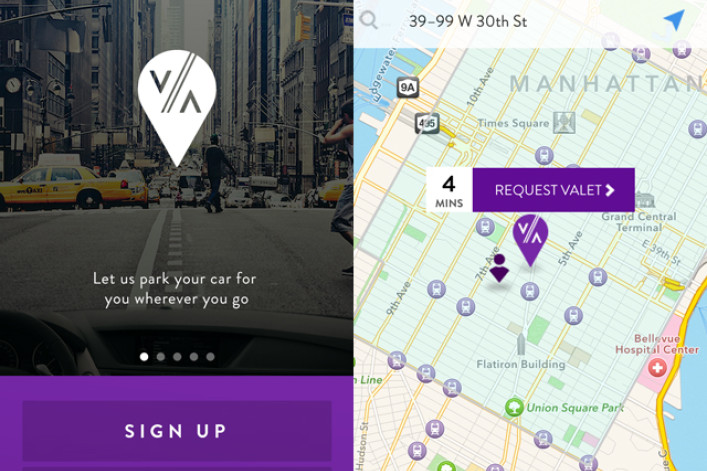 Good news for Manhattanites with cars: If you don't have $1 million-plus to drop on a parking spot in your building, there is now an alternative. Meet Valet Anywhere, an Uber-style app that provides valet service to your location, either on a one-off basis or through a monthly subscription.
Swipe the app and a driver riding a kick scooter comes to you, picks up your car, parks it at a garage, and returns it to you when you're ready. (The scooter gets stowed in your trunk; the garages they use are on the east and west sides of Manhattan.) The service costs $6 an hour or $42 a day, including parking and valet fees; or $399 a month, which includes five pickups and five dropoffs.  (Each additional roundtrip is $20.) With the monthly, you have to give a couple of hours of notice to have your car brought to your door or to have them repark it, though they can accommodate last minute requests.
We could see this being especially useful for the apartment dweller whose building lacks a parking garage or has to pay through the teeth for parking nearby—or who simply wants the time savings of a valet. "It's really all about the convenience of having your car where you need it to be instead of the other way around," says co-founder Robert Kao. 
And, if all goes well, you'll soon see it at a building near you. Valet Anywhere, which started valet-ing cars at the airport in January and expanded to Manhattan in August, wants to partner up with management companies to offer the monthly service as a perk for tenants. They're in talks with Rose Associates, Kao says, to test out the service at 5,000 apartments as part of the landlord's concierge service.
So far, however, the service is somewhat limited. The one-off option is only available to pick up or drop off your car between 57th Street and Union Square, river to river—an area the company describes as Midtown—while the monthly subscription is available to residents of Manhattan only. Valet Anywhere does plan to expand, but it will hinge on whether they can offer rates that compete with the lower parking prices in the outer boroughs, Kao says. (Basically, $400 a month isn't a bargain in Brooklyn.) 
Currently, the company has about 15 drivers, who all undergo criminal and DMV checks, interviews, and training that includes shadowing existing valets for a week or two, Kao says. They also have a $2 million insurance policy in case of any accidents or other snafus. We could see a lot of potential snags in the operation, from fender benders to city traffic and other delays, but Kao says the company hasn't had an issue after 1,000 car parks, "knock on wood."
Related:
A parking spot with your condo? It's gonna cost ... a lot
See every co-op and condo with a parking garage in NYC
Brick Underground articles occasionally include the expertise of, or information about, advertising partners when relevant to the story. We will never promote an advertiser's product without making the relationship clear to our readers.