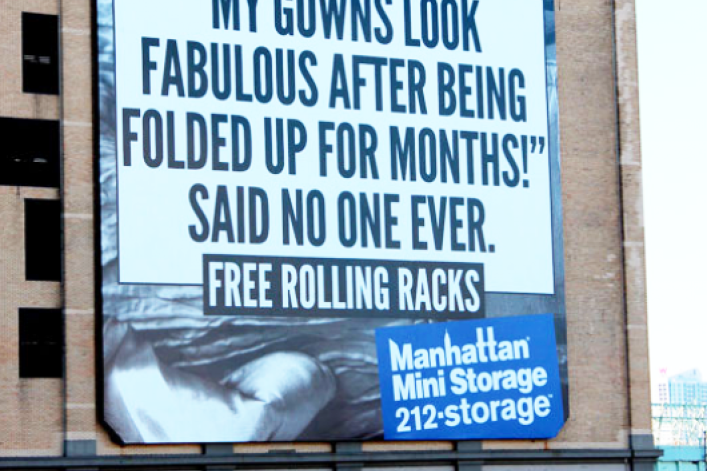 If you live in a NYC apartment, chances are you have already outgrown it.  Chances are also that the basement storage in your building is totally inadequate, nonexistent, or subject to a three year waiting list.   
Fortunately, even in space-starved New York City, it's a lot easier (and cheaper) to find a home away from home for your stuff than it is to rent or buy an apartment for yourself.   Even better, competition in the off-site storage biz has intensified in the past few years,  bringing more choices, amenities and conveniences for apartment dwellers looking for an easy and affordable storage solution.    
Below, the experts at Manhattan Mini Storage share some insider tips on finding the best deal and the right fit for you (and your skis/baby gear/vintage bowling ball collection): 
1. How do I get the best deal?
Generally speaking, the lowest priced options (and the smallest units) in the city tend to run between $20 and $30 per month.  In exchange, you'll usually need to commit for at least a few months. But much like renting an apartment, the amount you'll pay fluctuates depending on the time of year. As a rule, summertime—when students fill up units with their stuff and skip town—is pricier, and you'll find cheaper options during the winter.
To get the lowest price, commit to as much time as possible—the longer you sign on for, the lower your monthly rate will likely be.   Manhattan Mini Storage, for instance, charges up to 20% less when you rent a unit for 4 months or longer.  
Location matters too. Storage units in outlying neighborhoods far from transportation as well as units that require stairs or a  ladder to climb up to are usually more economical.    
2. How easy will it be to get my stuff when I need it?
This depends on where you store, and what you want a storage unit for. If you use your storage unit as an extension of your closet, home office or otherwise have cause to visit it frequently, you'll want to find an option in the city that you can get to without spending an hour on the train. or a fortune on cab fare. You'll also want a unit in the building that's relatively accessible. Conversely, if you're storing some extra furniture, files, or equipment you don't expect to need for the next year (or several), you can be more flexible with your options.
Depending on your specific needs, find out if your unit has 24/7 access, loading docks, freight elevators, and  dollies to wheel your stuff to and from the curb.  Manhattan Mini Storage offers all of the above along with a free taxi service that will ferry you and your stuff to or from your unit.
3. What happens if I want to cancel?
Another way renting a storage unit is a lot like renting an apartment: you'll need to give a certain amount of notice before you cancel, usually between 21 and 30 days. If you're moving early on in the month, ask if the time can be pro-rated, i.e. if you can be charged for a partial month rather than the full 30 days. If it's an emergency, however, policies are often more flexible.
4. Will my stuff be exposed to the elements?
While no one's recommending you use your storage space as a glorified pantry, there's no need to worry that your things will freeze in the winter, or fry in the summer. Units should be temperature controlled in a manner similar to most apartment and office buildings. 
5. How secure is it? Can I give a friend a key to go pick up my stuff?
Any storage facility worth its salt will have an extensive surveillance system in place, and if it's the type of facility that you can come and visit yourself—as opposed to a delivery service—there should be limited guest access, so a stranger can't just grab your key (or key card) and head on in. Ask if there's an authorized guest list. Extras to keep in mind: key cards that take you straight to the floor your unit is on (so no one can wander around the building unchecked), and high security "disc" locks, which are often available for purchase in addition to a unit's standard locks.
6. Will I need a ladder to reach my storage unit (and can I only store things that can be carried up a ladder)? 
Finding space to live in NYC usually means going vertical, and the same is often true in storage, where units tend to be stacked two or three high. While a higher-up unit does usually mean a lower price, consider what you plan to store. If it's light boxes full of winter clothes you're not wearing, go for it, but if it's that massive couch that didn't fit through the door of your new apartment, you'll want something close to the ground.  But rather than the kind of apparatus you'd climb to get to a bunk bed, your storage facility should provide you with a sturdy, rolling staircase. 
7. Will my stuff be insured?
You can typically add coverage to your existing renter's or homeowner's insurance policy if it doesn't already cover damage to property in a self-storage place.  Some storage facilities may offer additional alternatives.
8.  How much can I customize my space?
For storage facilities you can visit in person, it's worth looking into extra shelving options to keep heavy boxes from squashing each other, or garment racks if you're using the unit as an off-site walk-in closet. Manhattan Mini Storage provides one small shelf or rolling rack for free; prices for additional ones range from $5 to $10 per month. 
9. What are some extra perks to look out for?
Depending on the size of the unit you rent and the amount of time you commit to, you may qualify to get a free move to help move your stuff from your apartment.  (For example,  Manhattan Mini Storage's  free storage taxi will pick up you and your stuff.  Moves requiring more manpower, like moving larger furniture or heavy items, may qualify for a free move with a  professional moving company.)  Some  storage services offer pick-up and delivery service of your belongings (unaccompanied by you), while others are taking on the role of a doorman.  Manhattan Mini Storage customers, for instance,  get free package acceptance--meaning you can send FedEx, UPS or DHL deliveries to your storage facility and then pick them up at your convenience within 48 hours.  
Related:
9 surprising ways New Yorkers use their mini storage units
---
Manhattan Mini Storage is New York's premier moving and storage company since 1978. With 17 locations from Battery Park to Inwood and everywhere in between, they're the go-to self-storage solution for more than 250,000 New Yorkers. To find great storage in your neighborhood, visit Manhattan Mini Storage or call 1-800-STORAGE.
Brick Underground articles occasionally include the expertise of, or information about, advertising partners when relevant to the story. We will never promote an advertiser's product without making the relationship clear to our readers.