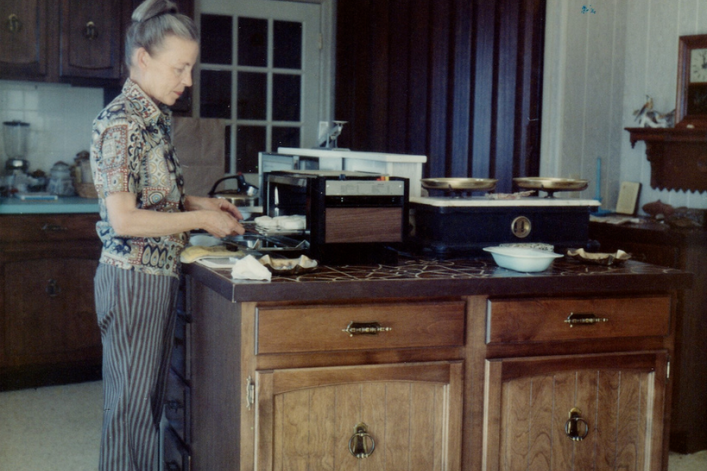 Dilapidated bargains and tricked-out new developments may dominate headlines, spawning buzzwords like "fixer-upper" or "move-in ready," respectively. But the truth is, most New York apartments fall somewhere in between—with old appliances, scuffed up floors, dated bathroom tile and unfashionable finishes. How do you sell a place that's in the middle, and get the highest price possible?
First, the good news: just because your apartment is less than mint doesn't mean a full overhaul is necessary. (Phew!) In fact, some experts recommend skipping a renovation altogether—particularly in a strong seller's market like this one, where even properties that aren't tip-top will find takers—since you won't recoup your investment.
"I would never recommend anybody renovate an apartment with the purpose of selling," says Miller Samuel data guru Jonathan Miller. "I don't think it's worth it. And I would say that apartments in generic or average condition make up the majority of the market." Janice Silver, a broker with Coldwell Banker Bellmarc Group concurs: "I tell buyers not to do a renovation, unless the situation is so extreme that you could only sell it a price low enough that a co-op would reject the sale."
Time-honored staging tips—decluttering, letting in light, hiring a professional cleaner and positioning the furniture so visitors can walk through easily—will go a long way. But investing a few thousand dollars in touch-ups, particularly in the all-important bathroom and kitchen, will take your apartment from "aging" to "aging gracefully."
The key is to make buyers feel like they could move in today and tackle upgrades bit by bit—maybe the bathroom this year, the floors next year, the kitchen a few years down the road. "You buy time perception-wise—you're not handing anyone their dream kitchen or dream bathroom, so give them something to work with so they don't feel that they'll have to start work on day one," says Jay Hart, a staging expert at Sold With Style.
One example: an Upper East Side post-war apartment (pictured above after its updates) that hadn't gotten a facelift since the 1980s. "The kitchen was dated but not horrendous, the bedroom was an ugly salmon color, the knobs on the closets and handles in the kitchen were extremely dated, and there were cables and wires running everywhere," says Rory Bolger, a broker with Citi Habitats who listed the place. After around $3,000 worth of work—including painting, removing furniture, taking out excess wires, and changing the kitchen cabinet knobs from plastic to brushed metal—the place sold for $599,000, its full asking price. "When you refinish floors, repaint, and add some staging, you get so much more money compared to comps within the building," says Citi Habitats broker Jimmi Circosta.
Here's where to concentrate your efforts, plus how much it will cost (from nada to several thousand bucks):
Open up the windows
"Get rid of window treatments that are too old, and don't even bother getting new ones," says Circosta. Blissfully effortless, this achieves the ever-important job of bringing light into the apartment and letting buyers imagine what they'd do after moving in.
Focus on the fixtures
Switch out the plastic or brass cabinet knobs, drawer pulls, and door knobs, replacing anything old with simpler brushed metal options, Bolger recommends. (Two packs of sleek knobs start at $4.99 at Ikea.) "Don't forget the hinges when you do this on cabinets," notes Hart, the staging expert. "If there are new knobs but the hinges are still that brass from the '70s, it'll stick out."
Light switch covers are important (and inexpensive) to update, as well, and if a major fixture in the entryway or living room has seen better days, it's worth dropping a little more money. "Even spending a couple of hundred bucks for a sophisticated fixture can go a long way," says Hart.
Brighten the bathroom
For a bathroom full of aging tile (or a retro color scheme), bring in someone to "reglaze," which takes off part of the surface of porcelain and puts a new layer on top, says Hart.
In one Sutton Place apartment he worked on, he says, the twin bathrooms in the master suite—normally a perk—was a turn-off because of their respective all-black and all-pink tiles. "I'm sure in the 1960s it was very nice," he says. (Gendered decor schemes: a trend we're glad to see die out.) Instead, he had them both re-glazed a bright shade of white.
The process can cost anywhere from $300 for a lone tub to $2,000 for the whole bathroom, depending on the size, and will require you to vacate the bathroom for a couple days (because of toxic fumes). The effect usually lasts for around five years. "It's not free, and it's not cheap, but it changes the perception of someone walking in, thinking they'll have to drop $20,000 on a new bathroom immediately, and then deducting that from your asking price," Hart  says.
If that sounds like more trouble than you're willing to go to, Silver recommends at least re-grouting to make the place look fresh—that costs around $25 to $35 per square foot—painting if necessary, and breaking out classic staging tricks like a professional cleaning, luxurious towels and a new shower curtain.
Freshen the floors (or cover 'em up)
If the hardwood has seen better days, it's always worth refinishing them, says Citi Habitats' Circosta, a process that requires a professional and costs about $2.50 per square foot, depending on the extent of work that's needed. "Buyers look at a floor that needs to be refinished and think 'this will cost me five grand to fix,' even if there's only $800 worth of work needed," he says. But, barring that, some strategically placed throw rugs—say, over a few cracked tiles on the kitchen floor—can cover a multitude of sins. "Always put a rug in the bathroom," he notes.
Paint (that's an obvious one)
Fresh paint is key to sprucing up before a sale—"Buyers attach the identity of the apartment to that floral wallpaper from 20 or 30 years ago," as Hart puts it. Even deviating from the standard off-white, albeit strategically, can help. "We'll often do an accent wall in a different color, and have it in a part of the apartment that draws the eye away from anything we don't want people to focus on," says Circosta.
In older apartments, it's especially crucial to take a paint brush to the kitchen cabinets, one of the first parts of the room to show wear and tear, and the easiest to fix up, says Hart. With services like Paintzen, the standard price tag for painting starts at $300 per room.
Switch the appliances
If you want to go big, it can be worth your while to swap in new—but not over-the-top—appliances in the kitchen. (Think how much better a basic stainless steel fridge looks than an old, dingy white one, even if it's not an ultra-expensive Viking.) "The other day, I was in a kitchen and the appliances were older than me—the oven had an analog clock," says Hart. "My advice was to replace with brand new stainless steel—nothing crazy, just something new. You can spend a quarter of what the buyer might think should be spent on a $10,000 Sub Zero fridge," says Hart. For instance, while most Vikings are indeed priced in the $10,000 range, there are stainless steel options available at Lowe's for as low as $999.  
Related: 
"Mad Men" apartments: what you need to know before buying in a post-war
Why redoing your retro-colored bathroom isn't always the best idea.
How to redo your drab kitchen sink
Before and after: how a pro stager whipped this Brooklyn home into shape—and sold it over asking
Brick Underground articles occasionally include the expertise of, or information about, advertising partners when relevant to the story. We will never promote an advertiser's product without making the relationship clear to our readers.