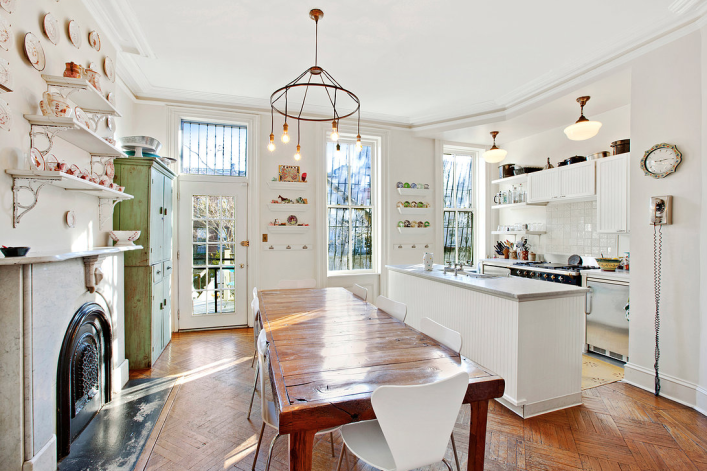 Putting your apartment on the market? Your listing photos should help, not hurt, the process. "The goal is to have people come in and view the space in real life," says John Porcheddu, a photographer at Gotham Photo Company, which specializes in real estate photography. Though brokers usually pick up the tab for the shots—spending about $150 to $300 per hour for a professional, Porcheddu says—you'll still want to make sure your apartment comes off in the best light possible. 
Besides the obvious to-dos—take down the holiday decorations, stow anything weird or risqué, be judicious with the family photos and personal knick knacks, and get your pet out of the way—consider these six tips so your apartment will be ready for its close-up:
Light up (with one kind of bulb): Along with checking that all your lights work properly, make sure that they use the same type of bulb. "Incandescent are yellow/orange, fluorescent are greenish, LED tends to be more blue," Porcheddu explains. "Those differences are way more obvious in a photo and they look bad." If you're choosing between the different types, "the warmer tones of incandescent look best," he adds. 
(Photo credit: Gotham Photo Company)
Don't shoot the toilet. "Bathrooms are tough," Porcheddu says. "People want to see them because there's a lot of money involved in renovating a bathroom, but it's also a tight space and there aren't many angles you can take. If you've tried a few times and you can't avoid the toilet, at least try to keep it to the edge of the picture. You don't want to remind people of what goes on in a bathroom."
(Photo credit: Gotham Photo Company)
Hide visible cords. While some photographers will Photoshop out electric cords, others won't, or will charge extra for the service, Porcheddu says. Before shooting, disconnect every appliance you can, twist up the cords, and stuff them behind the machine, he advises. 
(Photo credit: Gotham Photo Company)
Open the curtains. Don't be afraid to show the windows. "If you have the blinds shut in a photo, people will think you're hiding something," Porcheddu cautions. "In fact, not showing a bad view will prompt a potential buyer to thinking the view is even worse than it is."
(Photo credit: Gotham Photo Company)
Add color. While professional stagers often recommend painting your apartment white, decluttering, and removing personal items before selling—lest you prevent a buyer from imagining him or herself living in the space—when it comes to the listing photos, a pop of pigment will go a long way. "Source some colorful bowls or add a plant for color that will enhance the photos," he says.
Use a camera. Obvious, right? Not so much, considering all the blurry, dark listing photos out there.  "If your listing consists of cell phone photos that make the apartment look like one dark-looking space, better photos could make all the difference," Porcheddu says. See the photos above and below, which show the same living room shot with a phone and a camera, respectively.
(Photo credit: Gotham Photo Company)
Related:
4 photo staging tips for serious sellers
Brick Underground articles occasionally include the expertise of, or information about, advertising partners when relevant to the story. We will never promote an advertiser's product without making the relationship clear to our readers.