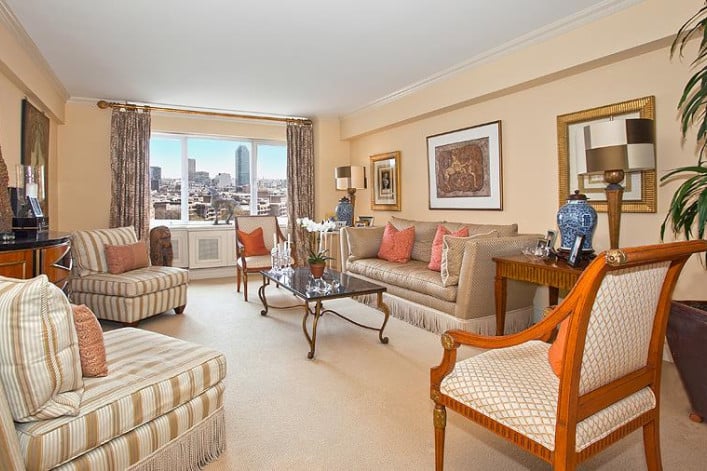 If you're one of those (admittedly rare) Manhattanites with a car, you're going to need a place to stash that vehicle each night. How much will it set you back to get a permanent spot with your apartment? Urban Compass agents Sean McPeak and Max Rather present your parking possibilities in this week's Buy Curious.
THE WISH LIST:
I'm looking for a Manhattan apartment with parking. What are my options? How much should I budget for this amenity?  

THE REALITY:
First off, expect to pay Manhattan prices—i.e., through the nose. Typically, parking spots are an additional cost to the apartment purchase, and price tags have ranged in recent years from $45,000 all the way up to a record-breaking $1 million, depending on the neighborhood and the building—but most are in the $60,000 to $150,000 range.
Still, consider a parking space an investment. As more families call New York home, and parking spots get ever scarcer, prices are going up, and many folks will pay whatever is necessary for a spot close to home. For example, a spot at Lincoln Square's Lincoln Towers, an eight-building co-op complex with 3,800 apartments, recently sold for $98,500; just about a year earlier, similar spots were going for $45,000. Similarly, at 1 York Street, a six-story condo in Tribeca built in 2008, prices have almost doubled since 2010 when the building was asking $200,000 per space. (The building sold parking spots as part of its sales package in 2010.)
That said, you have a few different routes to take when it comes to finding a place to stow your vehicle, and most apartment listing websites have parking-related search filters. Below, a rundown of the options:
BUY: Just like apartments, parking spaces tend to be cheaper in less upscale areas like West Harlem. For example, the Douglass at 2110 Frederick Douglass Boulevard has spots right now for $60,000. In East Harlem, spots are about $75,000. Prices in more well-off neighborhoods range between $100,000 and $300,000. A spot at 71 Laight Street, a Tribeca building with 33 condos, could fetch almost $275,000. And the spaces at 42 Crosby Street and 66 East 11th Street, two new developments in Soho and Greenwich Village, respectively, have grabbed headlines for their parking price tags: a whopping $1 million apiece. 
Be aware that even if you buy in a building with a garage, you're not guaranteed a spot, and instead must buy the space separately. Snagging parking in a co-op building is different than in a condo building, since you're technically acquiring shares of a corporation, not real property, when you buy your apartment. The co-op issues a new "stock and lease" reflecting the purchase of the parking space, whereas in a condo, you get a deed for the space. 
If spots are not available when you're buying, sometimes other owners will rent you their spaces, typically charging whatever the going rate is at the closest parking garage. 
RENT: If buying a spot's not in your budget, some condo and co-op buildings will rent you one, ranging from about $100 a month in East Harlem to $500 a month or more in costlier neighborhoods like Soho and Tribeca, and up to $1,000 on the Upper East Side, where parking is harder to come by since more people have cars. 
In the majority of these buildings, a third-party operator runs the garage, and you'd need to contact that company to work out a rental agreement. If you're willing to walk a few blocks to an off-site garage, you can almost certainly find parking spaces for $300 or less in even the most exclusive areas. 
Of course, there's always street parking for those auto owners who won't (or can't) pay for a permanent spot. Just be prepared to spend large swaths of time circling your block in search of an open space. After all, those free spots don't come easy. But they do come cheap.
Want a place with a space for your car?
Upper East Side one-bedroom/one-bathroom co-op, $535,000: This 800-square-foot apartment at 520 East 72nd Street between York Avenue and the FDR Drive has built-in cabinetry, crown moldings and soundproof windows. The full-service co-op building has a full-time doorman, a live-in super, a bike room and a garage.
Turtle Bay one-bedroom, one-bathroom condo, $999,000: This 22nd-floor apartment at 212 East 47th Street comes with surround sound speakers, two flatscreen TVs  and a private, 52-square-foot terrace. The building has an attached parking garage, as well as a gym, children's playroom and rooftop garden. 
Upper East Side studio/one-bathroom co-op, $440,000: At 363 East 76th Street between First and Second Avenues, this pet-friendly alcove studio has a sleeping area that can be converted to a separate bedroom. It also offers a renovated kitchen and bathroom and refinished hardwood floors. The full-service doorman building has a common roof deck, private storage and a garage.
Flatiron one-bedroom/one-bathroom co-op, $829,000: This renovated one-bedroom at 7 East 14th Street between Fifth Avenue and Union Square West has crown moldings, hardwood floors, an open kitchen with granite countertops, and custom built-ins around the heating elements. The co-op features a 24-hour doorman, a concierge, bike storage, cold storage and a garage.
Midtown West two-bedroom/two-bathroom condo, $1,896,000: Located at 350 West 50th Street between Eighth and Ninth Avenues, this corner two-bedroom has been fully renovated and offers a living room with a built-in wine cooler, a separate dining area, central a/c and laundry. The condo building has multiple roof deck terraces, a gym and pool, and a garage.
Related:
A parking lot with your condo? It's gonna cost… a lot
See every co-op and condo with a parking garage in NYC
Buying, renovating or refinancing next year? 5 mortgage trends to watch in 2014 (sponsored)
7 questions to ask about the building before you buy an apartment there (sponsored)
---
Buy Curious is a weekly column in which NYC real estate brokers help buyers develop a realistic search strategy. Want some advice on your search? Send us your wish list.  
Brick Underground articles occasionally include the expertise of, or information about, advertising partners when relevant to the story. We will never promote an advertiser's product without making the relationship clear to our readers.