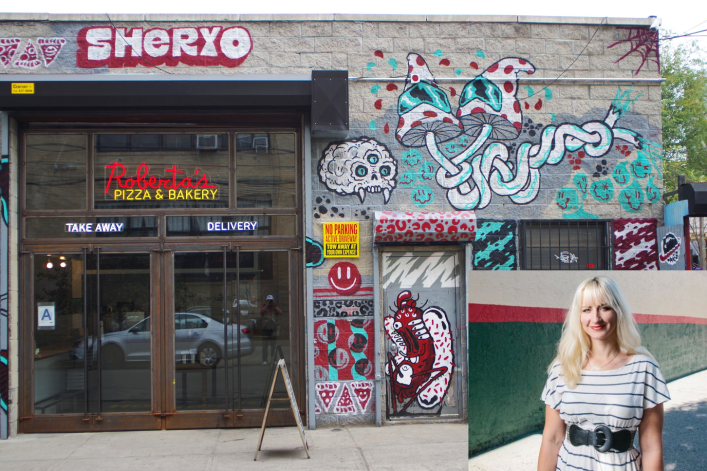 One of the best ways to get a feel for a place is by reading a neighborhood's blog. In our Confessions of a Neighborhood Blogger series, we spoke to the writers who chronicle the controversies, preoccupations and happenings of their chosen slice of the city. 
Slovakian transplant Katarina Hybenova founded Bushwick Daily in 2010. What started as a daily photo blog has expanded to a network of contributors covering the neighborhood's booming arts, food, nightlife, and culture, as well as its rapid-fire pace of development and gentrification. The site even launched an ambitious recent crowd-funding campaign for Village, a new digital platform to connect locals and businesses. Though they didn't quite meet the goal, the blog is poised to keep going strong in 2015.
Hybenova moved to nearby Ridgewood two years ago with her husband, but is still one of the North Brooklyn nabe's biggest boosters. "Bushwick is not only street art, new restaurants and raves," she says. "It's a neighborhood with rich history and presence." Below, her take on the neighborhood that launched a thousand trend pieces:
What's the biggest misconception about Bushwick?
The one that makes me the most sad is a frequent assumption by media that Bushwick's long-term residents and newbies don't like each other and that there is a lot of tension. I have to disagree, and I wish larger media took time to feel the neighborhood out before they apply the same template they've been using for gentrifying neighborhoods for years, because it has a negative influence. I think that the community is definitely not only "old" and "new." The residents can learn a lot, and be very helpful to one another, which ultimately creates a strong community. The fact that my neighbor is a Puerto Rican grandma while I'm a millennial Slovak doesn't mean that our relationship will not be respectful and loving, and each of us has a valid place in the community.
Where are the best real estate deals? 
If you're looking for a deal, forget the Morgan or Jefferson L train stops, and head all the way out to the Wilson L stop. I have seen some good deals around Chauncey and Halsey J stops as well.
And food or entertainment deals?
My personal favorite restaurants that offer healthy and affordable dining are 983-Bushwick's Living Room and Union Pizza Works. And nothing beats Taqueria Los Hermanos, especially when you're broke and want to eat like a king for less than $7. My tip for cheap and truly fantastic entertainment is to go gallery hopping on a Friday night. We have over 50 galleries, many of which are nationally acclaimed, and seeing art there is free! Plus, you will definitely meet interesting people, and likely drink a free beer or two.
What's the most coveted location to buy or rent?
Right now I think it's the area off the Jefferson L train stop because of its proximity to the nightlife, Maria Hernandez Park, and other amenities. Lofts around Morgan L train are still popular but insanely overpriced and, honestly, that area is full of garbage processing plants, which is not an ideal residential situation.
 Is there a dream building?
For me personally it would be any mansion on Bushwick Avenue. Tall ceilings, historical details, lovely backyards, Bushwick Avenue is a dream!
What's the biggest local real estate controversy?
Where to even begin? In the past year, locals really resented the way new apartment building Colony 1209 has been marketed. The building's marketers used phrases like "join the group of like-minded settlers" and "let's homestead, Bushwick-style" to describe the project, which was really insensitive given all the gentrification in Bushwick and its negative impacts. Needless to say, the building has received a fair amount of backlash from the media.
I am personally very curious about the development in progress at the old Rheingold Brewery site. During the rezoning process, the community really came together to negotiate better terms and more affordable housing with the developers. It is a huge nine-block site, which will attract a lot of new people to the neighborhood, and possibly many changes will follow.
How has Bushwick changed in the past five years? 
Throughout my blogging career at least 100 new bars and restaurants opened. When I moved to Bushwick in 2010 there were six  galleries. Now we have 50-plus galleries. Within four years, I've seen Bushwick change from an unknown, formerly "bad" neighborhood to the "coolest" neighborhood in America.
And predictions for the next five?
I expect that the Bushwick craze will calm down a little. We will definitely see more new businesses opening in Bushwick. I assume that after restaurants and bars comes fashion, and we will get more boutiques. I think we will see a couple of national retailers coming in as well. I truly hope it will be the "good kind," meaning retailers who will make our lives easier, not the kind that is largely inaccessible to the existing Bushwick community.
What new places should we check out?
I am head over heels for
 Little Mo
, a casual Asian fusion restaurant from the owners of a popular neighborhood coffee shop, Little Skips. Nearby is also new 
Shwick

 Market
 with their cool vendors and a super-friendly atmosphere. Oh, and the house-of-curiosities-style bar, 
The Keep
 is technically in Ridgewood, and absolutely worth a visit. That place is something quite special.
What recent Bushwick closures shocked you?
I am realizing that running an independently owned business in New York City can be very challenging and things simply come to an end. I am very fond of Buddhist teachings, and I believe that endings mean new beginnings for the people involved. Sometimes it can be hard to accept at first, but maybe it's time to move on. In November, for instance, we saw closures of Body Actualized Center, Brooklyn Fire Proof East Cafe and Goodbye Blue Monday. I will miss each of these institutions, but when you look closer at each of these individual cases, I believe that the owners have better things waiting for them.
What's Bushwick's opposite neighborhood?
Many parts of Manhattan feel totally different than Bushwick. But the most different is probably the Financial District. We don't have any skyscrapers or people in suits
What's it like to blog about a neighborhood you no longer live in?
I only have to walk three blocks to be back in Bushwick, so it's not a very big change. I feel very close to Bushwick, yet I'm experiencing it from a little distance while enjoying the small town-y feel of Ridgewood, too. I'd say it's the best of both worlds.
Related: 
The must-reads: 22 essential New York neighborhood blogs
Renting off the L train: what does it really cost, and what do you get?
12 of the best NYC neighborhoods for recent college grads: 2014 edition
The 8 best websites for finding a no fee apartment in NYC
Ridgewood: the dirt cheap, radioactive Queens nabe that may be the next Greenpoint
Brick Underground articles occasionally include the expertise of, or information about, advertising partners when relevant to the story. We will never promote an advertiser's product without making the relationship clear to our readers.