Vacation Rentals
From Brooklyn 'creep' to dog-friendly digs, a real person's guide to housing in 2015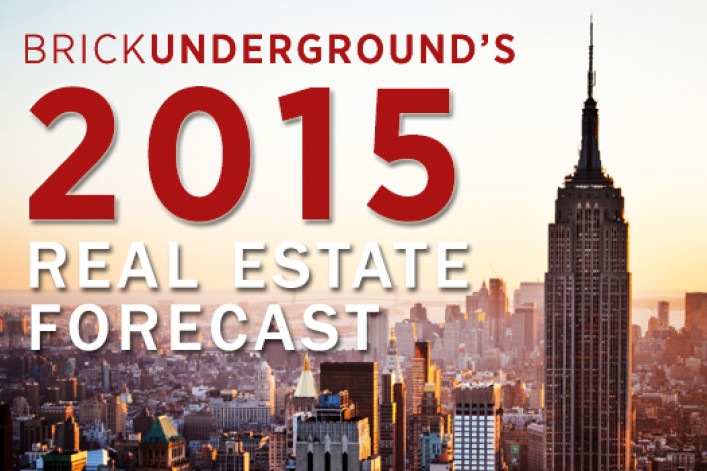 Last January, we predicted real estate in 2014 would have "less drama" than the year before. And in a way, it's been true: rather than nail-biting  fluctuations in prices and demand, the story of the past 12 months has been that Everything. Keeps. Getting. More. Expensive.
That's not going to let up anytime soon, though the coming year will see a push for new affordable housing legislation—plus more dog-friendly building policies, the rise of Queens, and developers backing away from the poor door.
Here, what the experts predict for the year ahead:
BUYERS: Prices inch up, but with more available for the non-billionaires
Manhattan may have just had its most expensive year ever (oof), but by and large, things should even out slightly in 2015. "We're on a high plateau," says real estate data guru Jonathan Miller of Miller Samuel. "Prices can't keep going up forever, because incomes aren't going up."
More brand new condos are hitting the market, increasing the supply of apartments overall, and interest rates are still "hovering at near-record lows," Miller says. So if you've got the cash for a down payment, you'll have more options than you would have had last year, and a good shot at getting a decent mortgage rate. (There are "mixed signals" on whether rates will go up, Miller notes, but we shouldn't expect any big surprises barring a major shift in the economy.)
The least pricey options are likely to be found in farther-flung sections of Queens (more on that below). In the Bronx, Spuyten Duyvil—a quiet neighborhood just across the water from Upper Manhattan's Inwood—has a high concentration of comparatively affordable co-op units, says StreetEasy data scientist Alan Lightfeldt.   
SELLERS: It's (still) your market, but plan ahead
While 2015 will still be very much a seller's market, apartment owners would be wise to keep their expectations—and asking prices—down to earth.
Manhattan condo prices are set to grow only 3.9 percent in the coming year, about half the rate of the past year, according to StreetEasy. And while increasing demand—and the opening of pricey new developments—will drive up prices in Brooklyn and Queens, as with Manhattan, "the growth rate is expected to be smaller than in years past," according to Lightfeldt. Rather than an indication of any kind of downturn, he explains, the cool down "has to do with the market settling into a more normal, healthy growth rate. Four percent is a number that economists like to see, and the cooling in the market is actually a great thing for the economy." 
As always, the key thing to consider is what your plan is after the sale. If you envision a new spread in the city once the check clears, take a look at listings to see how much bang you'll actually get for your buck. "If prices are high and you sell, then, what are you going to buy?" asks Miller. If you're looking to downsize or reinvest in a cheaper area, however, 2015 is a prime time to take the leap.
RENTERS: Yup, the rent is still too damn high
Let's rip this Band-Aid early: your rent isn't going to get any cheaper this year. Between the difficulty of getting a mortgage—banks are still cautious about handing out loans post-recession, says Miller, with would-be first-timers facing the toughest slog—and sky-high sales prices, New Yorkers who would normally buy are renting instead. That keeps prices up (again, the concept of the "high plateau" rears its head here). 
"In 2015, you're still going to have the same problem," says Miller. "If anything, this would ease in a very gradual way, and isn't likely to change in the next couple of years." 
The affordability equation will still be the worst in Brooklyn, Lightfeldt predicts, with rents in areas like Williamsburg and Bed-Stuy outpacing incomes.
However, while some rapid-growth areas like Crown Heights and Bed-Stuy may see rent averages spike 50 or 100 percent over the coming year, take those numbers with a grain of salt. "It's not that the exact same apartment is suddenly worth 75 percent more," explains Miller. "It's that the mix of product on the market is changing." Translation: A concentration of fancy new rental buildings in gentrifying  neighborhoods may drive up averages.
And, as always, keep an eye on the cold-weather discount. "Rentals are very seasonal, and if you look at what's going on right now, the vacancy rate has been rising for a couple of months, prices are softening, and concessions are getting stronger," says Citi Habitats president Gary Malin. "And you'll see more of this in the first quarter of the year." 
THE APARTMENT MIX: Everybody's going condo, including rentals
"Co-op prices have been 40 to 45 percent less than condos in 2014, and I think that difference will widen further in 2015," says Miller. The numbers aren't quite as dramatic as they might seem: Miller warns that "the difference in prices is greatly exaggerated" thanks to larger condos and blockbuster sales at new developments, and that if you were to compare similar apartments, a condo would only be about 10 percent more than a co-op. Still, thanks to newer amenities and friendlier policies on pied-a-terres, sublets, pets, and so on, condos are more desirable, and more expensive. 
To compete, co-op boards and shareholders are revamping common areas or loosening the rules, and you can expect this to continue in the year ahead. "Across the board, you'll find that co-ops are going to re-evaluate their policies," says Urban Compass president Leonard Steinberg, and head in a more condo-like direction. Think a looser financial review process, the right to sublet, and a more welcoming stance toward buyers whose incomes are overseas, according to Stuart Siegel, the president and CEO of Engel & Volkers NYC.
The condo craze will affect renters too, as developers find it more lucrative to build condos than rentals--and  landlords cash in by converting their buildings. As we've written previously, these conversions can become a huge headache for tenants who are staying put.
"We're seeing the first wave in Manhattan of people buying up rental buildings to go condo, and depending on the reaction, you could potentially see the same thing in desirable, low-risk Brooklyn neighborhoods like Williamsburg, Park Slope, and Brooklyn Heights," says MNS Real Estate CEO Andrew Barrocas. If you're renting a spot in a prime (or rapidly up-and-coming neighborhood), now's the time to push for a two-year lease: it's possible your landlord has at least toyed with the idea of a condo conversion.
NEIGHBORHOODS: Eastward (and northward), ho!
All that talk of the rent going up? Many New Yorkers and newcomers are reacting by moving to neighborhoods they might never have considered before, just to afford to be in the city. 
"It's like pouring pancake batter on a griddle," Miller jokes. "It will keep spreading out until it gets too thin and eventually stops."
Here's where people will be heading in 2015:
In Manhattan, heading farther uptown and downtown:
High prices in the East Village have translated into high vacancy rates, says Malin, meaning that renters on even a little bit of a budget are abandoning downtown and heading either for the outer boroughs or uptown. While Yorkville will continue to see an influx of young people priced out of hipper locales, buyers looking for bargains (and developers looking to woo them) are heading ever farther north to East Harlem and Washington Heights, Barrocas notes. (According to November rental reports from MNS, the average rent for a non-doorman Harlem one-bedroom was $2,074 a month. The average is likely buoyed by higher prices in West Harlem, which is seeing a flurry of development and was pegged as one of StreetEasy's "hottest" neighborhoods of 2015.)
Downtown, new apartments and new restaurants, shops, etc. will keep coming to the Fulton/South Street Seaport area, says Lightfeldt, but don't expect a bargain: sales prices jumped 40 percent over the last year.
Brooklyn "creep" continues:
With Brooklyn more in-demand than ever, new renters and buyers will keep pushing out into farther flung neighborhoods, a phenomenon Miller dubs "neighborhood creep." This tends to happen in areas near public transportation and outdoor space, says Barrocas, so expect more of your friends to start moving to Prospect Lefferts Gardens and Sunset Park in the new year. 
Don't call Queens "the new Brooklyn" just yet:
For buyers and renters alike, most parts of Queens are still an affordable alternative to "prime" (i.e. expensive and gentrified) areas of Brooklyn. And thanks to cheap land prices and keen interest from developers, expect new rental and condo buildings to crop up all over the borough in 2015—and for the next several years.
Look for soaring demand, prices, and development in areas with easy access to trendier Brooklyn or Manhattan neighborhoods, like Ridgewood's handy connection to Bushwick or Long Island City's quick commute to Midtown. Indeed, more "large-scale rental projects" are coming to Ridgewood, thanks in part to the flood of new residents priced out of neighboring Bushwick, says Barrocas, whose brokerage is involved with some of the developments. The same goes for Astoria, partly due to the wild success of neighboring Long Island City (which has long since stopped being a haven for bargain-hunters), he says.
If you really want to get ahead of the crowd, start looking to areas like Elmhurst, Rego Park, and Forest Hills. First-time buyers should also consider Jamaica (Queens, that is), which is "primed for growth," has prices well below the borough's median, and isn't so hip as to attract a lot of high-paying renters, says Lightfeldt. 
Still, "you don't see much crossover between Brooklyn and Queens" when it comes to demographics, according to David Maundrell, president of aptsandlofts.com, which is working on new projects in Astoria. (Translation: if you move to Flushing in hopes that all of your hip North Brooklynite friends will follow, you may end up waiting a while.) 
BUILDING PERKS: goodbye to screening rooms, hello to your neighbor's dog
New developments are getting even more pet friendly: "Even when we design buildings now, we think of how the owners can get them in and out of the building—if there's an accessible service elevator, for instance," says Marketing Directors' managing director Andrew  Gerringer. 
That's having an effect on older buildings, too, and it will likely intensify in 2015 (animals aren't getting less popular, after all). Rather than fight a losing battle with residents bending pet prohibitions with "emotional support animals," more and more apartment buildings are now looking to embrace all creatures great and small (within reason, anyway). It's better to preemptively set policies that allow some pets, regulating size, type, and leash rules, rather than enact a blanket ban, says Dean Roberts, a real estate attorney at Norris McLaughlin & Marcus. 
Also, expect more in-building dog spas (i.e. rooms with a drain where you can hose Fido down after an especially muddy walk). And while developers still want to use amenities to lure high-end buyers and renters (don't expect those virtual golf rooms to go away any time soon), they're starting to look at ways to make spaces multi-task. Instead of a lone screening room, for instance, says Maundrell, a building might have a space that'll serve as a party room or a space for screenings, or a room that has basketball courts, but could also be used for volleyball. "We love multi-purpose rooms," he says. 
One trend that seems likely to gain momentum:  Buildings that are entirely non-smoking. "We haven't faced a lot of backlash on that," says Gerringer. "It's not like it used to be."
AFFORDABLE HOUSING: Expect more--without the poor door
One of the biggest stories of 2014 was the de Blasio administration's push for a rent freeze on stabilized rentals, and the Rent Guidelines Board's eventual decision to enact a 1 percent increase, its lowest ever. This same policy will be up for a vote again in June, and expect a similarly small hike. "I think that as long as de Blasio is the mayor, the increases are going to be very low, and that there will be another big push for a rent freeze," says Sam Himmelstein, a tenants' rights lawyer with Himmelstein, McConnell, Gribben, Donoghue & Joseph.
A number of major new affordable housing developments will also be opening up in the coming year, says Rob Solano, the executive director of community non-profit Churches United for Fair Housing. The long-delayed B2 tower near the Barclays Center is (fingers crossed) expected to finally open applications in the first quarter of the year, with 181 affordable rentals for residents making between 40 and 160 percent of the area median income. (Per usual, you can keep an eye on the NYC Housing Connect site to find and fill out available affordable housing applications.)
Also, applications will open sometime in the spring for City Point Phase II in Downtown Brooklyn (there'll be 125 affordable rentals for residents making up to 130 percent of area median income), and Two Trees will be opening up a development in the neighborhood, too, with 60 affordable units. One thing that'll make New Yorkers happy: "None of these buildings have poor doors," says Solano. "It's all a mix."
Affordable housing advocates are also trying to rethink what qualifies residents for a coveted slot in one of these buildings. Normally, preference for 50 percent of a new building's affordable apartments goes to applicants who are already living in the neighborhood. But for longtime residents who've already been priced out of the area--and moved--by the time a new building is ready, this isn't exactly helpful. "When that happens, it doesn't matter if you've been there for 30 years," says Solano. "So we're fighting to have a callback to people who were living in neighborhoods when the new development started. If you have some kind of ConEd bill, a lease, etc. you could have proof that you were a resident and get the community board preference."
The 2005 rezoning of the Williamsburg and Greenpoint waterfront included this type of policy, and Solano tells us that in 2015, the push will be for this kind of stipulation to be included in all new developments. "Most people want to stay where they grew up," he says, "And in a way, this forces developers to acknowledge that their project will cause displacement." 
LANDLORDS: Wising up to Airbnb
While the New York Attorney General and Airbnb continue to battle things out in the courts—and in the court of public opinion—building management will be taking things into their own hands, whether that means a crackdown or a tentative truce with residents who are using home-sharing services. (The Attorney General launched an initiative back in October to investigate New York's "illegal hotels," so expect more government action on this issue in 2015.)
"I see owners tightening up on Airbnb," says Gerringer. "Related Companies has been teaching their managers to watch out for that kind of thing. [Short-term rentals are] not going to be allowed in condo buildings, and are only going to truly work for people renting out a room in their actual homes. That, or if you live in a townhouse, where no one will complain."
Not everyone agrees. While many boards and landlords have been taking measures to stop residents from profiting off of their apartments—and there are many thorny safety, insurance, and tax issues afoot—it will be hard to totally stamp out a practice that's already so widespread and lucrative. "Instead of fighting it, we should wrap our arms around it and make it better," Halstead Property Management president Paul Gottsegen told the New York Times last month.
Still, any crackdown might be particularly harsh for wayward renters, warns Mike Slattery, the vice president of research for the Real Estate Board of New York. "Rental buildings are easier to manage," he says, meaning that landlords have more flexibility to change policies or punish rule-breakers than your typical co-op or condo board. So much for your side-hustle.
​Related: 
9 NYC nabes where you can still get a bargain
The 8 best websites for finding a no-fee apt in New York City
Brick Underground articles occasionally include the expertise of, or information about, advertising partners when relevant to the story. We will never promote an advertiser's product without making the relationship clear to our readers.