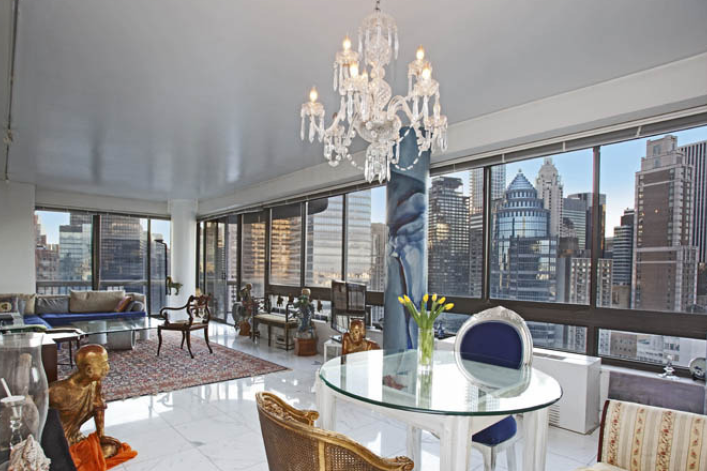 The saga at Trump Plaza continues. After the family estate that owns the land upon which the building sits decided to put it up for sale, residents of the Lenox Hill co-op tower had two choices: buy the land or face steep rent increases from a more profit-minded new owner. Either option would have upped their monthly maintenance fees and, thus, likely lowered their property values.
Well, it seems they've chosen the former route, signing a contract to pay $185 million for the land underneath 167 East 61st Street, the Wall Street Journal reports. To cover the cost, most shareholders will take out mortgages or refinance their current loans, the Journal says, and others will be able to get short-term financing from the building for a few years. But expect several of these places to hit the market, possibly at bargain rates. One resident, who owns a one-bedroom on the 30th floor, will apparently have to come up with $900,000—more than her apartment is worth. The silver lining is that when the assessment is all paid up, the apartments will be worth a lot more than they are now (or were), since they'll be regular co-ops.
But this is the danger of buying in such a building, called a landlease because the co-op shareholders pay ground rent to the owner of the land. Apartments are often cheaper to buy but come with various risks, among them the likelihood of rent increases and the uncertainty that comes with not owning the building's land. All of these factors can negatively affect property values and buyers' ability to get mortgages, particularly as the building's lease gets closer to expiring.
What's more, this kind of conundrum may become increasingly common for residents of landlease buildings, as the price of land in Manhattan skyrockets, and more and more landowners decide to cash in. "This is an epidemic that is going to impact a significant number of co-ops," Robert Knakal, chairman of commercial brokerage Massey Knakal, tells the Journal. (There are several dozen landlease buildings in the city, the newspaper says.)
Either way, it seems the Trump Plaza story is not over: a group of 15 residents have decided to sue to stop the contract from going through. Stay tuned.
Related:
Trump Plaza residents are facing a landlease's worst case scenario (and sky-high bills)
Landlease apartments are cheaper, but are they worth it? A side-by-side comparison
Flip or Flop: Did a renovation really up this co-op's value by 75%?
Why I bought in a landlease building despite the horror stories
Brick Underground articles occasionally include the expertise of, or information about, advertising partners when relevant to the story. We will never promote an advertiser's product without making the relationship clear to our readers.