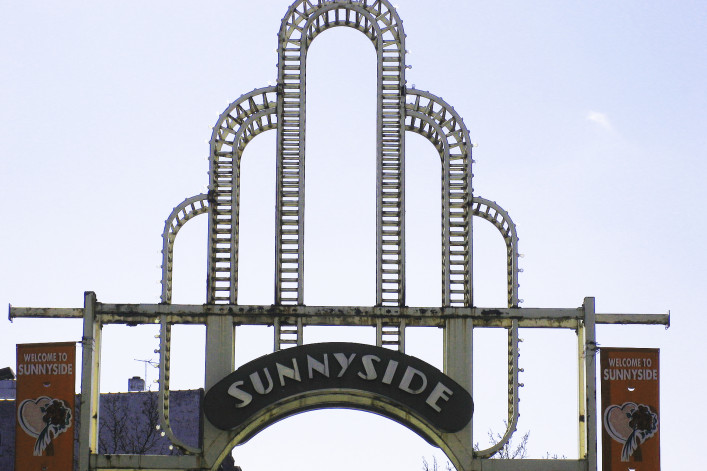 Nestled between Long Island City and Astoria to the northwest and Woodside to the east is Sunnyside, Queens, a family-heavy neighborhood of low-rise apartment buildings and rowhouses. The bustling Queens Boulevard bisects the neighborhood, with the area's main transportation line—the 7 train—running above it. Off the avenue, you'll find small parks and quieter residential streets, as well as Sunnyside Gardens, an enclave of homes that was one of the country's first planned communities.
Though Sunnyside has existed under the radar for years, it's getting attention from Manhattan and Brooklyn expats searching for affordable alternatives (it doesn't hurt that your Midtown commute is a lot shorter than from several "hot" parts of Brooklyn). Accordingly, publications like the Sunnyside Post (a community newspaper established in 2009) and We Heart Sunnyside (a recent offshoot of the blog We Heart Astoria) have sprung up to chronicle the neighborhood's goings on.
But what do residents think of the place they call home? We asked them to enlighten us on the ins and outs of Sunnyside:
---
Median asking price: $218,000
Median rent: $1,875/month
Neighborhood boundaries: Long Island Railroad tracks to the north; Newtown Creek to the west and south; Brooklyn Queens Expressway, 49th Street and 52nd Street to the east.
---
You'll feel like a diplomat: "It's multicultural, like the United Nations. Thirty years ago it wasn't as diverse. Now there are 17 or 18 countries are represented in a school. ... You can have a different national meal every day for weeks."—long-time resident Howard Birckman "Sunnyside is a microcosm of the diversity in Queens. When my family moved here in the '70s it was a mostly Irish/Italian Catholic enclave with a small Jewish population. And other than a few red sauce restaurants, the food culture was terrible. Now you walk along Queens Boulevard and you can get food from almost anywhere on the planet."—Sang, rents a one-bedroom "The specialty grocery stores here are amazing. There's Taiyo Foods, which sells tons of Japanese ingredients; Butcher Block, with food from Ireland and the UK; and Baruir's Coffee, which is this amazing family-run store."—Emma, rents a one-bedroom
But the neighborhood has a dividing line: "There's a huge difference between the north and south sides of the neighborhood. The north side of Queens Boulevard, which includes the Sunnyside Gardens historic district, is a lot cleaner, with a lot more trees, and it feels much more gentrified than the south.  It's also pretty racially segregated, even more so than other places I've lived in New York, which is disappointing, because diversity was one of the things that attracted me to Sunnyside in the first place."—Emma
No parking: "The biggest issue is parking. They're building buildings but not parking lots." —Howard
Restaurants galore: "There's Salt & Fat for a good value, Venturo is pricey but good, and [Italian restaurant] Dazie's is good. There are pubs galore. This place is like Oktoberfest." —Jeff Wigton "De Mole has amazing Mexican food, with vegan options, which can be hard to find in the neighborhood. Venturo is definitely part of new/gentrified Sunnyside, but they also serve great food and drinks, so I'm not too bothered. ... I love the backyard and three-for-$10 drinks at the Gaslight, and the live music at the Copper Kettle.  The Dog and the Duck has half-price wine on Mondays, which is perilous/amazing." —Emma "I usually don't go out to eat in Sunnyside that often. If I do I'll pick something up on the way home or order takeout. The places I frequent the most are Pete's Grill, Pio Pio Riko , Souk El Shater and Wendy's.
Bars without bros: "Sunnyside has a big Irish community, so there are lots of authentic, low-key—i.e. no bros pounding shots—Irish bars on Queens Boulevard and Skillman Avenue."—Emma
The (un)lucky number 7: "A major disadvantage has been the 7 train construction and not just on weekends. It's also the 10 am to 3 pm [hours]." —Stephen and Betsy Capaldo, renters  "The 7 train is great when it's running, though it's often crowded. ... Also, because it's elevated, it's pretty terrible in the winter. The buses are okay, though I wish they ran more frequently, especially the B24, which stops in Sunnyside between Williamsburg and Greenpoint, and that there were better connections to Astoria."—Emma   "It is so close. If you're on bike or in a cab, it's like 15 minutes to Manhattan." —Jeff
The boulevard is the place to hail a taxi: "It's easy to catch a cab on Queens Boulevard. There's also a ton of cab services." —Howard "There's a taxi stand at the corner of 46th Street [and Queens Boulevard]."—Emma "If you're going to Manhattan, anywhere on the north side—west bound—of Queens Boulevard will do. If you're headed someplace else, there's a long line of livery and green cabs on the south side of Queens Boulevard and 46th Street."—Sang
Discount shopping is good, the rest not so much: "There aren't really good places to buy clothes, though. The retail is pretty heavy on 99 cent stores, nail salons, and discount clothing places. A big exception is the amazing Stray Vintage, mostly furniture and decorative stuff. I end up doing a lot of shopping in Astoria or Greenpoint, which are nearby."—Emma "I usually do my grocery shopping at the 24-hour supermarket Food Universe, nee Met Food, on 43rd Avenue and 44th Street. I do most of my other shopping online—Amazon et al."—Sang
Related:
Williamsburg, Brooklyn to Sunnyside, Queens: Goodbye hipster haven, hello half-price rent and nicer neighbors
9 NYC nabes where you can still get a bargain
Which part of Queens is right for you?
Brick Underground articles occasionally include the expertise of, or information about, advertising partners when relevant to the story. We will never promote an advertiser's product without making the relationship clear to our readers.