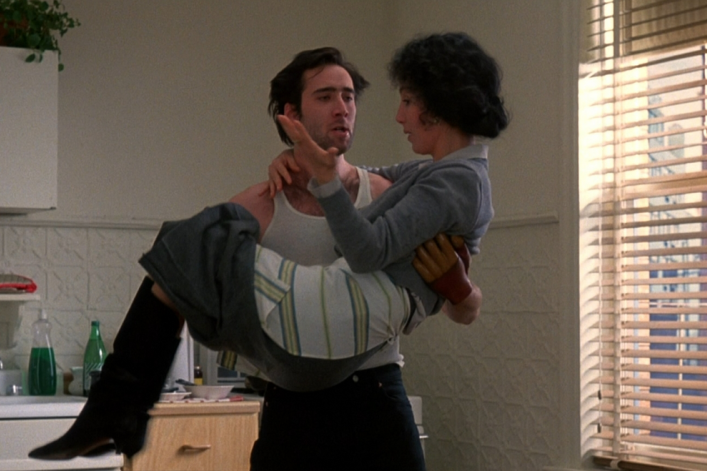 When a movie or TV show is set in New York City—and if the people making it are savvy—real estate becomes part of the story itself. In Reel Estate, we look at some of the more memorable domiciles to grace the screen.
Moonstruck gets a lot of love for its use of New York shooting locations, namely Brooklyn's (now-bankrupt) Cammareri bakery, and, oh, the Metropolitan Opera. The movie is so beloved that locals were even upset when the city cut down a Brooklyn Heights tree featured in the film earlier this year. But, as always, we're here to focus on the apartments, which are classics in their own right. 
First up, Loretta Castorini's (Cher's) family home at 19 Cranberry Street:
Loretta is 37 and lives in a Brooklyn Heights house with her parents and grandfather—not ideal, but arguably worth it if you've got a free place to stay in a classic townhouse. By way of explaining how they can afford a house this large, we learn that Loretta's father is a plumber who makes a habit of upselling gullible young brownstoners into springing for copper pipes ("They cost money because they save money," he says, echoing every shady contractor ever.) When Loretta gets engaged, her mother repeatedly threatens to sell the house if Loretta and her future husband don't move in and start populating the place with kids.
As it happens, the actual fate of the property isn't so far removed: its longtime owners Edwards Rullman and his wife sold it off a few years back, saying the place was too big for them now that their children were adults and out of the house. The Rullmans, who bought the place in 1961, played a major role in pushing the city to declare Brooklyn Heights a historic district, and helped preserve local buildings including St. Ann's. After listing the place for $5 million in 2006, the couple sold it off to a young family for $3.85 million in 2008, and Rullman told the New York Times, "We got 100 times what we paid for it back in 1961."
As for Loretta, plans get a little derailed when she meets her fiance's brother, Ronny (Nicholas Cage), at the family bakery where he works and lives:
The original retail outlet of Cammareri Bros. bakery closed in 1998, Gothamist notes (the company is still turning out baked goods wholesale), and the corner is now populated by Maybelle's Cafe. It'd actually make sense for Ronny to live right upstairs—the 1922 building also has six residential apartments, according to Apartable, and is still managed by Nicholas Cammareri. All things considered, it looks like Ronny's got a pretty nice set-up with a spacious one-bedroom, albeit with a run-of-the-mill kitchen (above).
Of course, rom-coms being rom-coms, Loretta ends up getting engaged to Ronny, not his brother—who conveniently tells Loretta he can't marry her right before she's about to break up with him—and everything wraps up neatly by the end. But we are left with one burning question: once they get married, will they move into the Castorini house, or the apartment above the bakery?
Related: 
Reel Estate: How to marry a millionaire? Shack up in an $8,000 a month apartment
Reel Estate: Does nobody want Holly Golightly's townhouse?
Reel Estate: Rosemary's Baby (and her rent-stabilized digs)
Brick Underground articles occasionally include the expertise of, or information about, advertising partners when relevant to the story. We will never promote an advertiser's product without making the relationship clear to our readers.