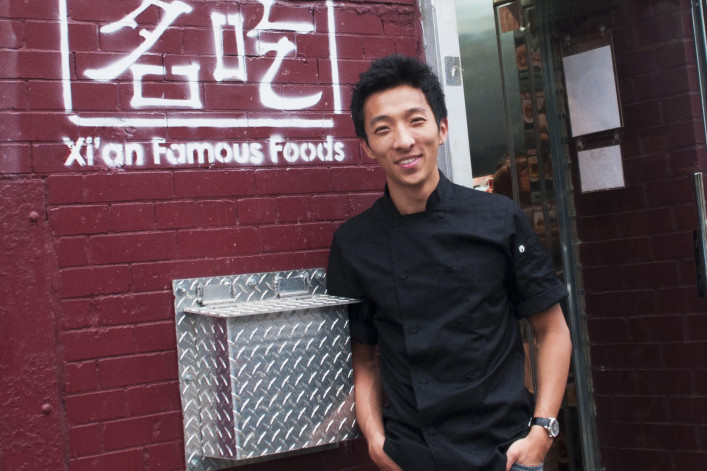 Restaurateur Jason Wang grew up in the northwestern Chinese city of Xi'an. His family moved to New York when he was 8 years old, and in 2005, Wang's father opened his first restaurant in Queens. After going to business school, Wang joined the family trade. Today, the chain has expanded to seven restaurants (and counting), all of which are bringing the spicy, Middle-Eastern influenced cuisine of Wang's hometown—full of chewy, hand-ripped noodles, lamb and pork burgers wrapped in flatbread, and exotic dishes like lamb face salad​—to New York City. Xi'an Famous Foods has been highlighted by celebrity chefs Anthony Bourdain and Andrew Zimmern, among other TV spots, and the chain gets top marks from Zagat, as well.
Now 26, Wang spent a lot of time with his paternal grandfather, a lover of crafts and Chinese opera, as a child. A handmade set of opera masks—​a gift from his grandfather 12 years ago—is on display in a glass case in his living room in the two-bedroom apartment Wang rents in Long Island City. The masks provide ​a dash of the Old World in an apartment otherwise full of minimalistic black sleekness and reclaimed wood (oh, and a giant, anime-inspired stuffed animal on the couch).​
Those little faces are Beijing opera masks. [Opera is] something that my grandfather's very into; that's why he created this little piece of art, I guess. He really likes to draw all the different faces, the different characters. Each character has its own history, and that's what I grew up with. He sort of took care of me when I was a kid when my parents weren't around, and we spent time making these little things out of clay and painting them.
We used to go to a garden and dig out the clay ourselves, and he would tell me, "Oh, use this one, this clay's better for that, this clay's not as good, it's too sandy," or whatnot, and then we would take the clay back and clean it up so there's no pieces of grass in it. He made these casts out of plaster for the little faces. We would wet the clay and ... paint it, and then after the paint dried, we would glaze over it. [For the box, we'd] take a piece of cardboard and glue pieces of cloth on top of it, and then he would write out all the text that you see on the side—that's the names of the characters—in calligraphy and also he would stamp his own name on the top of the box and write the characters on top of the box as well. So the whole thing is a piece of art, from the box to the things inside, to the clay—everything.
[When visitors see the masks] they're like, "Wow; this is cool. This is actually made by hand?" They're sort of like, "Wow. It seems like it was bought from a store, like a craft store, or something." But no, I know the whole process behind it, and it's kind of a point of pride for me.
Related:
Brooklyn Brewery's Steve Hindy on an attention-grabbing souvenir from this reporter days
John Buffalo Mailer's fave antique: the typewriter his dad used to write "The Naked and the Dead"
Russell Whitmore, owner of Red Hook antique shop Erie Basin, picks his most attention-grabbing objet
Brick Underground articles occasionally include the expertise of, or information about, advertising partners when relevant to the story. We will never promote an advertiser's product without making the relationship clear to our readers.