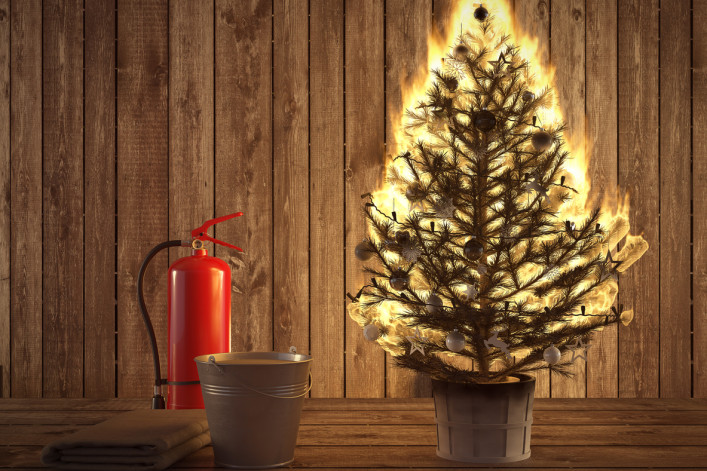 Besides extra expenses (and surplus joy and goodwill), the holidays bring with them a host of out-of-the-ordinary safety issues. Between the trees, candles, lights, and expensive gifts you're ordering off Amazon, there are plenty of X factors that cause headaches, major damage, or even lawsuits.
[This story was first published in December 2014 and was updated in December 2016.]
Below, key trouble spots to look out for, and how to head them off:
Mind the tree
When it comes to holiday safety slip-ups (or just messes), Christmas trees are often the number one culprit. "Trees are the hazard in shared hallways," says Marina Higgins, vice president and director of leasing for Argo Real Estate, which manages buildings throughout the city. "Either they don't fit in the elevator, or end up knocking over light fixtures in the hallway. It happens every year. Also, neighbors don't appreciate opening their doors to find them covered in pine needles."
No need to skip the tree altogether, but if you plan to bring in something large, arrange to use the freight elevator if your building's got one, Higgins recommends. Alert building staff that you'll be hauling one through the halls, so they can protect fixtures ahead of time. Similarly, your staff may want a heads up when it's time to get rid of the tree, so they can wrap it up and dispose of it appropriately (or at least give you info on how to do this yourself).
Turn off the lights
Besides being messy, trees also have a not-so-festive way of causing fires. "When a tree is really dried out, it's just tinder," says apartment insurance broker Jeff Schneider of Gotham Brokerage (FYI, a Brick Underground sponsor).
Whether it's a menorah or candles on the tree, that age-old advice holds true: Don't leave them burning when you're out or asleep. Same thing with decorative lights. Make sure you're not overloading outlets to get them up and running, and turn them off when you go to bed or leave the house so they don't overheat. Standard apartment insurance will cover fire damage, Schneider says, but far better not to put yourself (or your neighbors) at risk in the first place.
Invest in proper package delivery
'Tis the season when having a doorman comes in really handy, especially if you do most of your holiday shopping from the comfort of your couch. If your building has a lobby but no attendant, and you're not home to accept a package, delivery companies will often leave them downstairs—a ripe target for sticky-fingered types.
Apartment insurance does cover theft, and many companies will reimburse or replace orders that don't reach their destination (though it's wise to get to the bottom of the problem in your building before demanding reimbursement). A high-tech solution to consider: services that handle packages in lieu of a doorman. Depending on which neighborhood you live in, there are a few companies that act as doormen and hold your packages until you're ready to pick them up, namely Amazon Locker and City CoPilot.
Keep the heat on
First and foremost, let your building staff know you'll be leaving town, Higgins says, so they can alert you if, say, water mysteriously starts seeping through your floor or something suspicious is going on. And if you own your place, be sure to leave the heat on in the 60s, even while you're out of town—this will keep the pipes from freezing if the temperature outside drops.
Protect your pets
Poinsettia, mistletoe, tinsel—all staples of holiday decorating, as well as reasons for emergency visits to the vet if pets ingest them. If you've got animals, nix the tinsel altogether and opt for fake mistletoe and holly, advises the ASPCA. Make sure the tree is anchored on a base that won't give your pet access to the tree water, which can contain chemicals and cause illness. (It's also worth choosing a solid base for your tree and any other large plants to prevent water from seeping onto your floors.) As with having small children in the house, keep any hazardous foods (or adult beverages) safely out of reach.  
Be the host with the most (responsible party practices)
If you're throwing a major holiday bash, etiquette (and hopefully, common sense) dictate that you should give your neighbors a heads up, and at the very least, extend a courtesy invite. But don't forget that the staff will want to know what's going on, too. "Talking to the super or the doorman is crucial," says Higgins, who recommends providing the doorman with a list of expected guests (want to keep them less grumpy: bring down some party snacks). "That way," she says, "they won't be buzzing you on the intercom every five minutes, or getting so overwhelmed that they just start letting people in unscreened." No one wants to clear the way for a fake "guest" to have free reign of the building.
And if your famous, lethal eggnog recipe sends your friends off into the night giggling and rosy-cheeked?  Per social host liability laws, if your guests get into an accident after imbibing at your party, you could wind up with a lawsuit on your hands. And while driving isn't as much of an issue for NYC holiday partiers—24-hour subway service is the gift that keeps on giving—if your friends are struggling, be a good Samaritan and call them a cab.
Brick Underground articles occasionally include the expertise of, or information about, advertising partners when relevant to the story. We will never promote an advertiser's product without making the relationship clear to our readers.