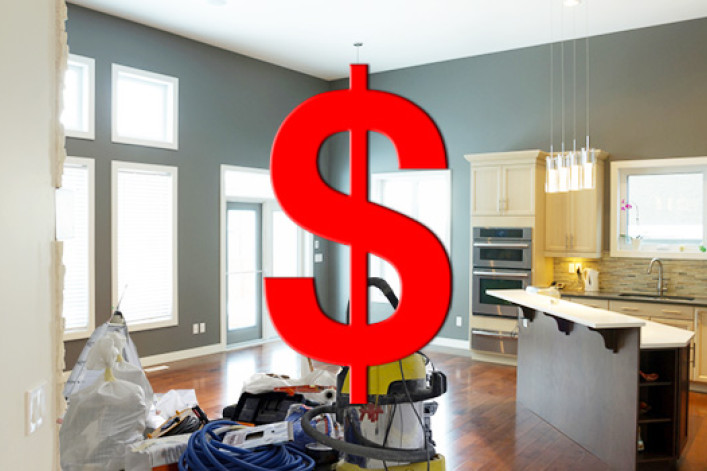 Not long ago, the most popular way to pay for the renovation of a co-op, condo or townhouse (assuming you didn't have scads of extra money lying around) was to refinance the mortgage, borrowing more money than the initial loan and using the difference to cover the expense.
But as real estate values rise and the country emerges from an extended period of record-low interest rates, banks are fielding a resurging interest in home equity lines of credit (HELOCs) to pay for renovations.  A HELOC essentially allows you to treat your apartment like a credit card.  You can withdraw money up to your limit as you need it, and pay it back over time.
"A lot of owners have already refinanced into mortgages with rates lower than they'll probably ever see again in their lifetime, and they're hesitant to give them up and refinance again," says Mike Flanigan,  vice president of National Cooperative Bank, which lends to New York City co-op, condo, and single-family home owners. "Home equity lines of credit let you take advantage of the equity you've built up in your home without sacrificing that low rate.  Also, they're several thousand dollars cheaper than refinancing, and you only use what you need—whereas when you refinance, you take all the money at once and immediately start paying interest on it even if you might not ultimately need all of it for your renovation."
HELOCs work differently than regular mortgages. Here's what you need to know to decide whether one is right for you:
What is the interest rate? 
Rates for HELOCs are set at a certain percentage above the prime rate. Unlike a fixed-rate mortgage, your rate can fluctuate over time, but it will never be more than 1 or 2 percentage points above the prime rate, depending on the terms of your lender.
"National Cooperative Bank currently offers HELOCs at an interest rate of 1 percent above the prime rate," says Flanigan. "With prime at 3.25 percent right now, that translates to 4.25 percent.  And during the first 10 years, you only have to pay interest on what you borrow. You only pay down the principal if you want to during this time."
How much can I borrow?
"Like most banks, we can lend up to 80 percent of the appraised value of your home," says Flanigan. He recommends getting several estimates from contractors before deciding how much to borrow—and then taking a bigger line of credit than you think you'll need.
"Renovators—particularly first-time renovators—often underestimate the costs involved, from labor and materials, to the cost of temporary housing, fees to the building, and unforeseen site conditions that can tack on another 20 percent or more to the total cost of construction," says Flanigan. "With a HELOC, you only pay for what you use, so if you think the project is going to cost $100,000 it doesn't hurt to get a $150,000 line of credit just in case you need it."
Do I need approval from my co-op or condo board?
You will indeed need approval from the board. While condo boards tend to be pretty relaxed, not all co-op boards allow HELOCs, and others limit how much you can borrow. "Though we haven't seen a lot of restrictions by New York City co-op boards, some will limit the total amount of the line of credit plus your existing mortgage to 60 percent of the value of the apartment," says National Cooperative's Flanigan.
How quickly do I have to pay it back?
 "During the first 10 years of your HELOC at National Cooperative Bank, you only have to pay interest," says Flanagan. "After that, whatever balance is owed will be spread out into a 20-year self -amortizing  adjustable rate loan."
Should I refinance instead?
"Depending on your ultimate plans, a cash-out refinancing might be a better option," says Flanigan. "For example, if you're doing a large scale renovation and don't foresee being able to pay off the HELOC anytime soon, refinancing might make sense if the rate isn't substantially higher than your first mortgage. On the other hand, if you're just a few years away from paying off your mortgage, you may not want to take out a whole new one."
Are there any special terms or conditions I need to know about?
As you shop around, you'll discover that not all HELOCs work the same. Make sure you understand the particulars.
Some banks will let you keep the line open without using it, while others require that you use at least $10,000 or $20,000. Some lenders will only let you tap into the money with a credit card, while others, including National Cooperative Bank, issue checks and debit cards, and permit wire transfers for larger draws.
Similar to credit cards, most HELOCs levy an annual fee of as much as $200 a year.  National Cooperative Bank charges $75.
Is there an early termination penalty?
Many lenders do charge a fee for terminating your line of credit before a certain amount of time has passed (usually a few years).  "Sometimes it's a percentage of the credit line, while other times it's a flat fee," says Flanigan. "We charge $500 if the line is closed within the first three years." If you're renovating in order to sell your place within the next few years, this may be important.
How difficult is it to get approved?
"We require a lot of the same information as we do for a mortgage and we want to lend to good quality borrowers," says Flanigan. "But since all of our loans are 'portfolio products'—meaning we hold them instead of sell them—some of the rules are a little different, a little more lenient."
Just like with a primary mortgage, your building will need to pass muster too. For example, National Cooperative, like many lenders, won't lend in a building where more than 40% of owners are investors instead of full-time residents.
---
Mike Flanigan is a Vice President at National Cooperative Bank.  To see whether you qualify for a HELOC, contact Mike at (800) 322-1251 x 4300 or  [email protected].
More from National Cooperative Bank:
5 ways to get a lower mortgage rate
Get the 411 on financing an investment property 
Top 12 questions New Yorkers ask their mortgage bankers
Buying, renovating or refinancing next year? 5 mortgage trends to watch in 2014
4 good reasons to refinance your super's apartment
How to finance a NYC apartment combination
Brick Underground articles occasionally include the expertise of, or information about, advertising partners when relevant to the story. We will never promote an advertiser's product without making the relationship clear to our readers.