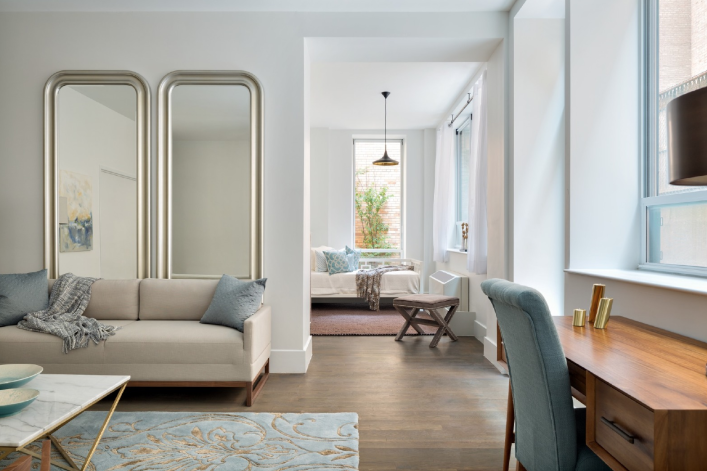 Even if you're deeply attached to your honed-over-the-years decor scheme of secondhand furniture, framed posters, and Ikea, it never hurts to get a little help from the pros, especially during the winter sales season, when things can be on the slower side.
Even if you're not selling your apartment, and would just like some upgrades for the new year, we think you should take heed of these decor tips from James Hart of Sold With Style.
Make the most of elongated spaces. If you've got high ceilings, choose tall, vertical art (or mirrors, as in the photo above), which will naturally draw the eye up—extra space should be shown off, after all. If it's a long, narrow hallway you're working with, you can break it up into segments—a simple sheaf of wallpaper will do the trick nicely, especially when paired with a table or console (the better to plunk down your keys at the end of the day).
Rethink how you're using mirrors. We've all heard the old saw that a large mirror make a small space feel less cramped, and it's true. But you can also use them to create extra light in a dark room—make sure they're reflecting a window rather than a lamp for a more subtle effect—or to duplicate your view, a beloved piece of art, or anything else you love about your apartment. One major no-no, according to Hart: putting a mirror right in the entryway of your apartment. "You just walk in and you see yourself," he explains. For other do's and don'ts of mirror use, check out our interview with Feng Shui master Pun Yin. 
Consider the view from the door. Speaking of which, Hart and his team follow the Feng Shui principal that the main piece of furniture, whether it's the bed or the couch, should be in the "command position" in a room, meaning that it's against the wall you face when walking into a space (see above, where the sofa is across from the front door). "People feel more comfortable when they can see the space immediately when they walk in," he explains. 
Don't design around the TV. This doesn't mean you have to resign yourself to laptop-only screenings, just that it may be worth considering mounting that flatscreen on a movable "arm"—like this one from Walmart—so you can pull it out and turn it in different directions when need be, and tuck it against a side wall when you're not watching.
Blocking windows isn't always a no-no. While floor-to-ceiling windows are a coveted feature worth showing off, it can actually help to block them off, at least partially. "In a space with huge windows, it feels more comfortable if there's furniture in front of the window," Hart explains. "Plus, if you try to put everything in the center of the room, you'll run out of space." This doesn't mean you need to stack up all your spare junk in front of your favorite view, but a couch can work wonders.
Go big. "Using a few oversized pieces can be better than a bunch of small ones," Hart says. If you've got your heart set on a statement piece of furniture, by all means, bring in that enormous, artsy floor lamp instead of cluttering the apartment with several small ones you grabbed on sale at Crate & Barrel. 
Related: 
Want a happy and harmonious life? A Feng Shui master shares her tips on setting up your home
"Tiny House Nation" host John Weisbarth on living large in a (really) small space
Decorate your place like a Brooklyn bar—with DIY taxidermy
Clever space saving tricks courtesy of "the smallest house in the world"
Brick Underground articles occasionally include the expertise of, or information about, advertising partners when relevant to the story. We will never promote an advertiser's product without making the relationship clear to our readers.