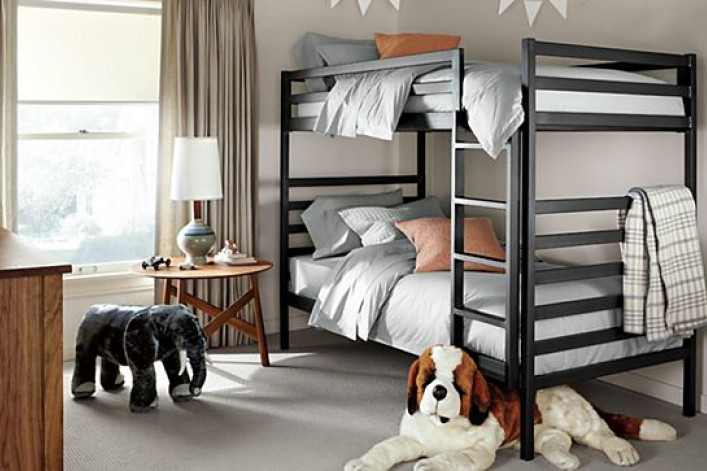 It's easy enough to list the qualities most parents demand in an ideal neighborhood for raising kids: good schools, low crime, enough fellow families to ensure a steady stream of convenient playdates. (Finding all these in New York, of course, is easier said than done.) But what about the best apartment for children? Square footage is important, sure, but it won't matter how big your place is if your kitchen lacks prep space for meals or the location of the bedrooms means no one sleeps.
We spoke to brokers, architects and parents who gladly shared their tips on how to an abode fit for a family, and here's what they had to say:
1. Keep your eye out for the perfect kitchen
One of the main reasons Joanna Silver, a mother of three girls (9-year-old twins and a 14-year-old), is leaving her "classic six" on the Upper West Side is because her family of five can no longer squeeze into the kitchen. On the other hand, Lynn Hayashi's one-bedroom apartment in the East Village has an eat-in kitchen that easily accommodates her family of four. "The three things people look for in a family apartment are kitchen, kitchen and kitchen," says Jason Haber, a broker at Warburg Realty. Why? For many families, the kitchen is the center of activity in the home—where meals are prepared, entertaining takes place, homework is done, and much more. "It needs to be spacious and open, with enough counter surface for food prep, homework, arts and craft activities and the like," says Lara Daniel, a Manhattan-based residential architect and mother of two boys, 6 and 8. "It's not so much about supervision as it is about being together," she says. "As far as spaces for congregating go, the kitchen is the most important one."
Tell your broker how important the kitchen is for you, advises Haber. "Not all eat-in kitchens are created equal and sometimes a non eat-in kitchen can work great for families, too. It's really a matter of prioritizing space," he says. If you're looking on your own, try filtering your online searches with terms such as "open kitchen" and "eat-in kitchen" to see if that yields a more desirable crop of listings.
Beyond size, a kid-friendly kitchen has several other features. One, a center island is currently über-popular. "It's the new kitchen table," says Haber, who points out that a decent-sized center island can often replace the dining table completely, a bonus for small spaces. Other qualities to look for: full-sized appliances (for cooking and cleaning up family-sized meals) and plenty of cabinet and drawer space for dishes and silverware.
One last feature, often overlooked, is a pantry. If the kitchen doesn't have one, make sure there's enough cabinet space to devote to food storage and, if there isn't, look to see if you can add a free-standing pantry (this could be a simple shelving unit with or without doors) of your own.
2. Try not to get hung up on number of bedrooms
The perfect family apartment for you may have far fewer bedrooms than you may have thought you needed—and that's okay. Many NYC kids grow up—happily and well adjusted—sharing a bedroom with siblings of both the same and opposite sex. What's more, kids spend far less time in their bedrooms than you might expect, says Daniel.
If privacy is an issue, she recommends creating visual separation with a shared space by adding a bookcase that can be accessed from either side or, perhaps, a panel of some sort hung from the ceiling. Temporary walls can also be useful, though keep in mind they inhibit natural light and create small dark spaces. If you own, an architect may be able to carve a room out of the existing floor plan. Or consider custom bunk beds and other built-ins, which can be configured to suit your specific space (or lack thereof). 
3. Score a bathtub
It doesn't matter if an apartment has two, three, even five super luxurious bathrooms. If none of them has a bathtub, many will give the place a pass. There is simply no convenient way to bathe a child—and especially an infant or toddler—in a shower. What's more, make sure that tub doesn't have sliding doors since those just create obstacles you need to maneuver around, says Cohn (who had hers removed). Beyond the tub, the number of bathrooms is mostly dependent on budget and personal preference, though having at least one full bathroom plus a half bath means half the wait (which can mean the difference between wet and dry pants to a toilet-training tot). 
4. Consider the layout
In some NYC apartments the bedrooms are clustered apart from the common spaces while in others they kind of bookend the kitchen/living/dining room. What you should look for depends on how close you want to be sleeping to your children—keeping in mind that this might change as they grow older.
Parents of infants might want them nearby (or not, if sleep training!) and parents of teenagers may want them farther away (or not, if keeping track of comings and goings is important!). The same goes for bathrooms. Another reason Silver is moving is because her teenaged daughter had to walk through the dining room to get from the bathroom to her bedroom. "I just couldn't have her parading around in a towel, sometimes when we had guests over, anymore," she says.
5. Skip buildings without laundry
Needless to say, an apartment in a building that lacks washers and dryers entirely can hardly be considered family-friendly.​ Seriously, don't even look at a place if living there requires schlepping outdoors to do the wash—it's just too inconvenient since kids of every age go through a ton of clothes in a week. If a personal washer/dryer isn't possible, the next ideal scenario is laundry on the same floor as your apartment. The location is important, says Cohn. "If it's on your floor, it's sort of acceptable to leave kids in the apartment while you run to move things from one machine to the other, but if you have to switch floors, it's considered negligent to leave the kids behind, and taking them along can be torturous." 
6. Remind yourself: not all outdoor space is covetable
Many New Yorkers consider a balcony, deck or backyard the ultimate extra, one that's worked into the rent or listing price of an apartment. Before you lay out the cash, however, consider whether you'll get enough use out of it. Is a balcony safe to have with young children around? Will it always remain locked? The same may or may not apply to a roofdeck (it really depends on the design). But a backyard—even a tiny one—could be a godsend since it gives littles ones a place to let off steam without their grownups having to schlep them to a playground.  
Related:
Moving with kids? 3 need-to-know tips for finding a family-friendly building
Growing up in New York: a teenager talks co-op living
8 reasons your children should grow up in New York
Raising kids in an apartment building: 7 classic dilemmas solved
Strollers 101: How to survive vertical living with a baby buggy in tow
Brick Underground articles occasionally include the expertise of, or information about, advertising partners when relevant to the story. We will never promote an advertiser's product without making the relationship clear to our readers.