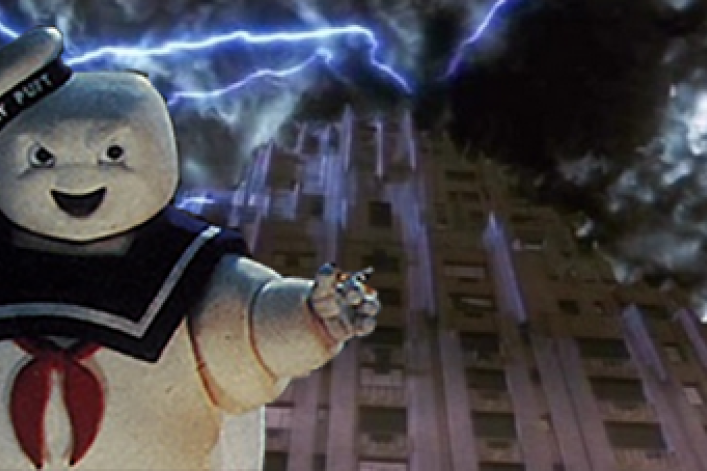 When a movie or TV show is set in New York City—and if the people making it are savvy—real estate becomes part of the story itself. In Reel Estate, we look at some of the more memorable domiciles to grace the screen.
Halloween is nearly upon us, and as such, there's no time like the present to start thinking about haunted houses (and haunted apartments). Or, more specifically, apartments inhabited by an ancient demigod bent on bringing about the end of days.
Such is the problem with Dana Barrett's (Sigourney Weaver's) apartment in 1984's Ghostbusters, and the appearance of said demigod "Zuul" in her fridge eventually leads her to call in the eponymous team of ghost specialists, who deem the place "the corner penthouse of spook central." Other than that (and some pretty dated '80s decor choices), the place is jaw-droppingly nice—and spacious—for a single person in Manhattan:
If that giant kitchen weren't already enough of a tip-off that this isn't an actual New York apartment, the interior scenes were shot in L.A. The building, however, is 55 Central Park West, an Art Deco co-op at 65th Street where a one-bedroom that's currently in contract was on the market for $1.285 million. (The listing notes "pied-a-terre" ownership is allowed in the building; unclear if this leniency applies to fictional gods.) 
Even with lower mid-'80s prices factored in, this seems like a suspiciously great apartment for Dana, a professional cellist. But then, she does end up possessed by Zuul, and has to put up with her neighbor Louis (Rick Moranis), who pops out into the hallway to harass her every time she comes and goes, arguably a worse problem than demonic possession. (A little more deservedly, Louis ends up possessed, too, and threatens to make trouble at the next tenants' meeting after a demonic beast appears in his apartment.)
As for the actual Ghostbusters, their whole business launches thanks to a real estate deal: to cover startup costs, Peter (Bill Murray) and Egon (Harold Ramis) pressure Raymond (Dan Aykroyd) into taking out a mortgage with a 19 percent interest rate. The three then set up their office in a shabby Tribeca firehouse—when trying to negotiate with the broker, Egon describes the neighborhood as "like a demilitarized zone." 
The interiors were shot at a different firehouse in L.A., but the exterior is 8 Hook and Ladder at 14 North Moore Street, which is still an active firehouse, and such a popular tourist destination that it actually has its own Yelp page (the reviews are generally positive, in case you were wondering).
Back at Dana's place, the Ghostbusters find out that the problem is with the entire building, not just her apartment—its architect specifically designed the building as a portal to bring about the apocalypse via a god named Gozer. Long story short, the Ghostbusters defeat Gozer (and save both Dana and Louis), but not without doing some pretty major damage to the building first: 
The moral of the story here—besides, y'know, calling in the Ghostbusters when need be—seems to be to do your research before you move into a building. If it's some kind of satanic portal, you should at least get a discount.
Related:
House of horrors: what if your apartment has a terrible past?
Reel Estate: The Upper East Side (and Urban Haute Bourgeoisie) apartments of Whit Stillman's Metropolitan 
Reel Estate: Find the Royal Tenenbaums in Harlem and the Bronx
Reel Estate: Rear Window is your worst-neighbor nightmare scenario
Curious about your townhouse's (maybe sordid) history? Call in a detective
Brick Underground articles occasionally include the expertise of, or information about, advertising partners when relevant to the story. We will never promote an advertiser's product without making the relationship clear to our readers.