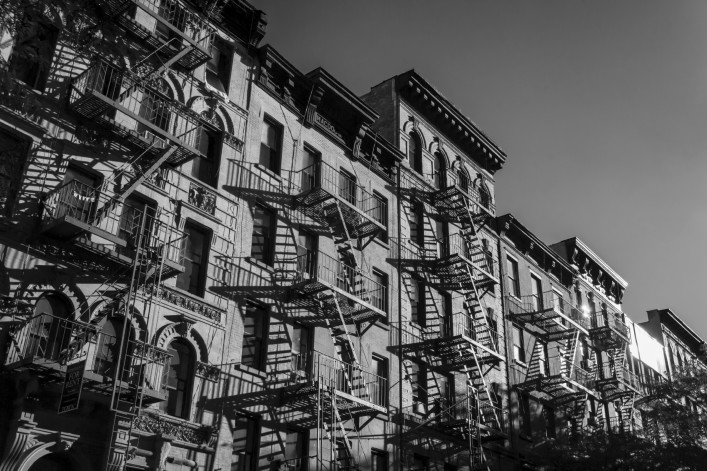 We asked six New Yorkers which type of landlord they'd prefer: a corporate behemoth (better service, more privacy) or a mom-and-pop owner (warmer relationship, more flexibility). Who wins in this David vs. Goliath matchup?
Go big and go home: My first apartment was in a rundown brownstone and I now live in a doorman building being managed by a management company. So, having experienced both, I'd say go with a larger, properly managed building, if you can. Sure, it's more anonymous, but that's what I like. There are rules, and they are followed. With building managers involved, things get done quickly. If not, there's a venue to make a complaint. I like living in a well-run building. When I was living in the brownstone apartment, it would take the landlord, who lived in the building, forever to find a plumber when there was a leak coming from my neighbors' bathroom upstairs. The landlord wanted to get quotes and shop around. When the leak was finally fixed, it took forever for him to fix and repaint my ceiling, because, hey, he has a day job, too. - Steve, Upper West Side
A mom-and-pop landlord (literally): Well, my landlords are actually my parents. They live next door. But I do pay rent on the apartment, and my roommate pays them directly as well. The rent is very affordable, maybe a bit lower than what's in the neighborhood. But they were charging the same from the previous tenant. - Lena, Bronx
Not too small, please: I generally don't like huge, sterile buildings and really prefer small landlords. Just not too small. I used to live in a house with the landlady downstairs, and two apartments she was renting out on the second and third floor. She was nice enough, but then she got sick and was in a horrible mood all the time. One night, we were having a small party, and as the guests left, they made a lot of noise in the stair well. That couldn't be helped because it was an old house, with horrible stairs. Of course it was going to be loud! My landlady came charging out of her apartment in her pajamas and started screaming at my guests and cursing at them. She apologized the next day, but the damage was done. We were never on friendly terms again. - Brenda, Harlem
Big landlord, smooth moves: I'd go with a big building with a big corporate landlord. We used to live in Inwood, but had to move to the Bronx, since it was an easier commute to work. Our management company in Inwood found us our apartment in the Bronx. They didn't even need to do another credit check or application. It was an easy move. Then, when we wanted to move to a smaller apartment, we told our management company, and again, they found us an apartment in the same building. They did repairs, painted, and installed new appliances before we moved in, too. Again, super smooth move. - Mel, Bronx
No more dirty work: I'm living in a big building for the first time. I didn't think I'd like it, but I really do. I moved in last fall and that winter, I knew renting from a big-time rental building was so much better. Because for one: the sidewalk was always swept. When I rented in brownstones, every winter I had the same damn problem: more often than not, the steps and sidewalk were not cleaned up before I left for work. So it was dangerous and messy work just to get out of the house. The windows are cleaned in my building, and the garbage area never gets icky. Perks of corporate oversight, I guess. - Alex, Harlem
Getting the personal touch: My landlords are really nice and we get along. They live in the building next door, which they gut renovated at the same time as they did our building. I love my apartment and I can see so many personal touches that set it apartment from run-of-the-mill rentals. They renovated the apartments in a way that they themselves would want to live in them. The installed very tasteful crown molding, chose a really nice hardwood floor, and we all have access to the roof where we have plants and chairs and can barbeque. Sometimes even together. With landlords and tenants living so close to each other, they really make sure that we're happy and everything is in working order - otherwise: we know where they live! Stephanie, Harlem
Results: corporate over(land)lord: 3, mom n' pop shop: 3
Verdict: It's a tie!
Related:
Building managers matter in a rental: make sure yours isn't a dud
Your next place: 7 questions that separate the New Yorkers from the rookies
What 68 New York renters wish they'd known before they moved in
Brick Underground articles occasionally include the expertise of, or information about, advertising partners when relevant to the story. We will never promote an advertiser's product without making the relationship clear to our readers.