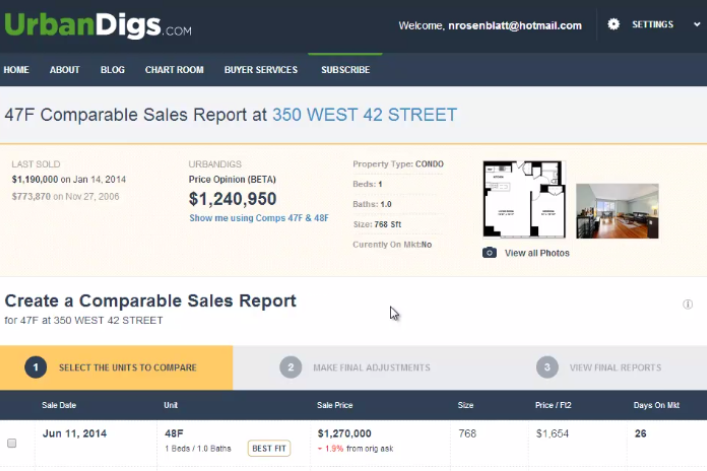 Real estate is a lot like medical care in one crucial way: you always, always want a second opinion. This is especially true when you're selling, as setting a price too high can stymie potential offers, and a low price—well, that has its obvious disadvantages. With this in mind, UrbanDigs—a site that crunches Manhattan market data—has launched a new "price your own apartment" feature.
The way it works is pretty simple: you plug in the address of the apartment in question, and UrbanDigs pulls up a selection of "comps," or comparable units within the building, picking which ones are closest in value to your place with labels like "best fit" and "good fit" along with recent sales prices. You can then fine-tune the comparison, taking into account differences between your apartment and the comp in question that could affect price—location in the building, differences in renovation and size, and so on. It also gives you a rough percentage on how much the market value of the comp apartment has gone up or down since its most recent sale. (Worth noting, lest we get your outer-borough hopes up: this option is only available for Manhattan apartments, but UrbanDigs plans to expand the service to Brooklyn sometime in 2015.)
The idea is to "[help] users cross-reference data and chart it, taking into account key variables such as recent building sales, unit size, market trends, days on market, and comparable sales, so they can draw the best conclusion possible," said UrbanDigs partner and COO John Walkup in a release this week. "Every single building in Manhattan is a marketplace unto itself."
You can't account for all individual circumstances—say, your downstairs neighbors added a half-bath, which doesn't show up in the comparison—but this was intentional, site founder Noah Rosenblatt tells us. "We built the tool so the user can make their own assumptions on value. Quality in a renovation is so subjective," he says. Instead, there's a widget you can move to account for more general differences in value, like whether your apartment is in "better" or "worse" condition than the one you're using as a comparison.
Thus far, the pricing tool seems pretty accurate. We plugged in the address of a Murray Hill one-bedroom currently on the market for $995,000, and UrbanDigs pegged the same apartment as worth between $989,600 and $1,015,700. (Notably, it also said that the market value of the comp had already spiked between 8 and 11 percent since its most recent sale just over a year ago, in July 2013.) Not a bad tool to add to the arsenal, whether you're idly thinking of cashing in on your home or just interested in one-upping your broker.
Related:
New website Perchwell offers a different way of valuing apartments
Ask an Expert: which to buyers want more—and renovated kitchen or renovated bathroom?
Swipe to find your next apartment: the Tinder-ification of the rental search
Brick Underground articles occasionally include the expertise of, or information about, advertising partners when relevant to the story. We will never promote an advertiser's product without making the relationship clear to our readers.