Reel Estate
Reel Estate: the Upper East Side (and Urban Haute Bourgeoisie) apartments of Whit Stillman's Metropolitan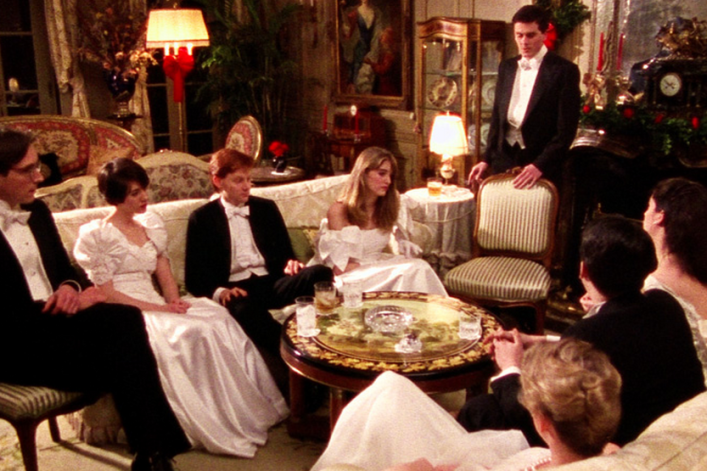 Indie director Whit Stillman's latest—a pilot for the Amazon series "The Cosmopolitans"—​may be all about expat life in Paris, but in honor of his first new project since 2012's Damsels in Distress, no time like the present to revisit the New York apartments in his first film, Metropolitan.
The 1990 classic follows a group of young, rich and preppy New Yorkers (self-identified "Urban Haute Bourgeoisie," ​or UHBs) home from school on holiday break, shuffling from party to party each night, and always ending up back in one of their parents' stately (if fusty) Upper East Side apartments. The group even earns the nickname "The Sally Fowler Rat Pack," after a wealthy member whose parents let them all congregate in the apartment living room after hours.
The group is unintentionally infiltrated by Upper West Sider (and erstwhile socialist) Tom Townsend, who reuses the same suit every night, and lives across town in considerably less fancy digs:
Shot on a shoestring budget (and largely on location), a lot of the apartments in the movie were lent to Stillman at the behest of friends and family, and the writer/director has said that it wasn't unusual for the crew to get "thrown out [of buildings] by angry co-op boards." Sally Fowler's opulent, old-school apartment (below) is said to have been inspired by a friend of Stillman's who lived in an apartment at 791 Park Avenue, the kind of place large enough that parents would be sleeping undisturbed in "residential quarters" (and therefore OK with a pack of college students invading their living rooms every night).
Moving Image Source 
Today, 791 Park is described as a "white glove" building, and apartments, which sell for close to $10 million, look uncannily like the UHB-appropriate sets in Stillman's movie:
Stillman himself had a major real estate stake in the movie's making: in order to help raise funds, he actually sold his own apartment, sort of. In an interview with The Awl in 2012, he explained the situation like so: "The apartment was really just a rental apartment: I sold the right to buy the apartment. Legally, I bought and resold it. But I just borrowed money to buy at the insider's price and sell at the outsider's price. So with that $50,000, I could make an indie film."
Back in the actual movie, Tom falls in love with Upper East Sider Audrey Roget, and when their clique starts to unravel, he and his friend Charlie follow her to (where else?), some anonymous parents' Hamptons house to "save" her from the advances of another member of the group, Rick von Slonecker.The movie ends with Tom, Charlie, and Audrey walking back to the city from the Hamptons, and, we assume, heading back to a routine that doesn't involve crashing an upscale apartment every night.
Check out the full trailer below, and spend the weekend catching up on Metropolitan (before you dive into The Cosmopolitans).
Related:
Reel Estate: The Seven Year Itch, and the things we'll do for free A/C
Reel Estate: The eponymous brownstone bachelor pad in 1960's The Apartment
Reel Estate: How to Marry a Millionaire? Shack up in an $8,000 a month apartment
Reel Estate: Rear Window is your worst-neighbor nightmare scenario
Reel Estate: Find the Royal Tenenbaums in Harlem and the Bronx
Brick Underground articles occasionally include the expertise of, or information about, advertising partners when relevant to the story. We will never promote an advertiser's product without making the relationship clear to our readers.