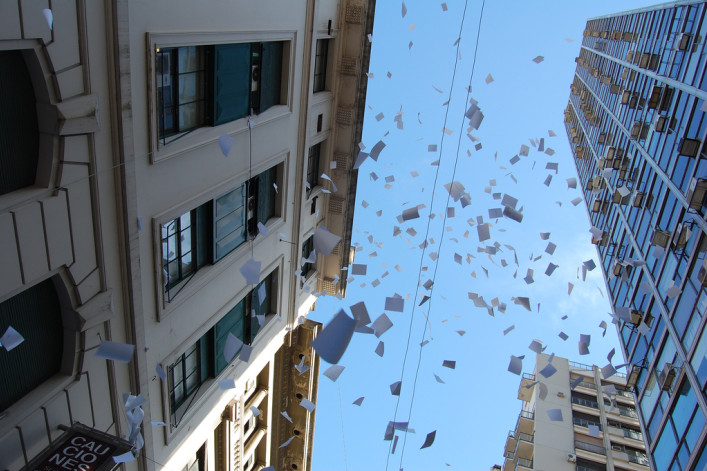 It's the kind of dilemma that plagues renters in a pricey city like New York: a plum job on the West Coast lands in your lap, but you've still got time left on your lease. You can't miss the opportunity, but you definitely can't foot the bill for those extra months of rent.
Well, you're not alone. It turns out that most people who are breaking their leases are doing it because of their jobs, at least among users of Leasebreak, a listings website for short- to mid-term rentals.
Leasebreak polled users about why they had to cut their leases short, finding that about 40 percent were advertising their apartments because of "job relocation." Less than half as many respondents listed "purchasing a home" as the reason to move, while less popular answers included "personal reasons," "moving in with a partner," and a "growing family." Almost 12 percent wrote in their own responses, which ranged from decamping to Chicago for school to needing a bigger apartment. The site also asked users about where they were moving, finding that almost half (47.8 percent) were relocating within the city, while 36.7 percent were headed someplace else in the country and 15.5 percent were moving overseas. 
The good news is that your landlord may very well be sympathetic to your need to relocate for a new gig. In fact, if you're upfront with your landlord about why you need to leave, you're more likely to get their cooperation, as we've reported previously. And under New York State law, landlords are required to let tenants out of leases within 30 days if you can find a "qualified" replacement.  
Leasebreak, dubbed "the marketplace for misfit leases" by founder Phil Horigan, aims to fill the gap between sites like Airbnb that offer weekly or monthly rentals and the regular one- or two-year leases that most landlords want, says Horigan. A broker at the Corcoran Group, he launched a beta version of the site in October. It's free to list and browse apartments, and some controls are in place to preserve the quality of the listings. For example, each posting includes the real address (to cut down on fake or duplicate listings) and a green checkmark if a tenant has already secured the approval of her landlord to break the lease.
Here's how the data break down:
Why are you breaking your lease?
Job relocation: 40.2 percent
Purchasing a home: 18.2 percent
Personal reasons: 15.5 percent
Moving in with partner: 5.9 percent
Growing family: 5.3 percent
Relationship break-up: 2.1 percent
Job loss: 0.6 percent
Medical reasons: 0.6 percent
Other: 11.7 percent
(The data, collected between April 1 and Aug. 31, are based on the responses of 341 users who were breaking their leases and had listed their apartments on the site. It doesn't include responses from users who weren't breaking their leases, such as apartment owners or landlords with short-term rentals.)
Related:
Mission possible: How to get your of your lease
How to break your lease in NYC
Rent Coach: I need to break my lease. What should I do?
Ask an Expert: Tips for breaking a lease over neighbor noise
Brick Underground articles occasionally include the expertise of, or information about, advertising partners when relevant to the story. We will never promote an advertiser's product without making the relationship clear to our readers.