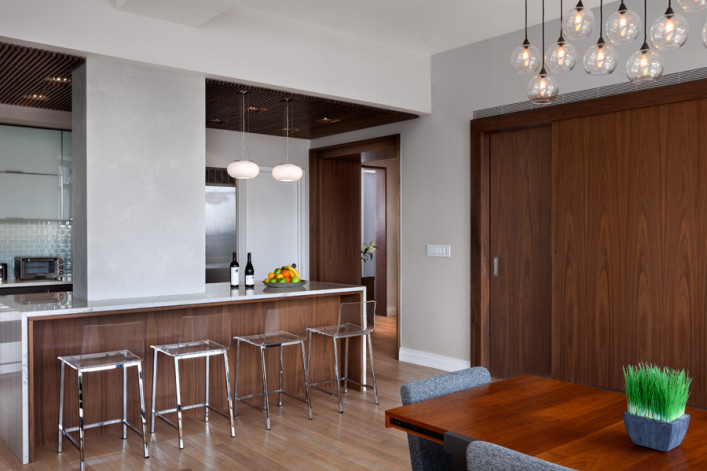 Transforming two apartments into one is the dream, isn't it? Not only do you get double the space, you also have a rare chance to design your ideal layout. 
That's just what one couple did when they bought two penthouses in Long Island City—a two-bedroom and a three-bedroom in a new condo development—and in August 2012 set about combining them into a 2,300-square-foot four-bedroom. All told, the renovation took almost two years—six or seven months for the design and approvals and 15 months of construction—and wrapped up just before the owners, aptly enough, gave birth to twins, according to the project's designer, David Katz of Katz Architecture. (He declined to disclose how much the couple spent.)
In a combination, you've usually got more square footage to work with than a gut reno of a single apartment, which gives you more flexibility on the design, Katz says. But there are plenty of minefields unique to this kind of job. Here are a few tips to make sure your combo goes smoothly and, below, a peek at the Long Island City renovation:
1. Vet the layout—before you make an offer
"The trick always in doing these combinations is making it feel like it's one apartment—you don't want to have a maze-like hallway connecting the rooms," Katz says. To avoid a funky layout, scope out the floorplans and walk through both apartments with a professional before making a bid. "Without a doubt, you want a design professional to take a look at it to see if what you want to do is legal and would make sense," Katz says. In particular you'll want to check the following:
Shared wall space: If you're looking at joining two adjacent apartments, verify that there's enough wall between them to create a a big enough opening, and that you can actually tear down the common wall. (Katz worked on one combination where an unused elevator shaft rendered most of the shared wall unusable.) Similarly, if you're annexing the apartment above or below, make sure there's enough room to install a staircase. "A stair takes out a pretty sizable chunk of the footprint," Katz says.
The location of kitchens and bathrooms: Legally, you can only have one kitchen per apartment, so you'll have to remove one and, potentially, relocate the other, Katz says. Creating a kitchen where there didn't use to be one is, not surprisingly, going to expand the scope of the project. Likewise, most buildings have "wet over dry" rules, which restrict owners from putting rooms with plumbing (kitchens, bathrooms and laundry rooms) over rooms without plumbing (your downstairs neighbor's antique-filled study).
The placement of windows: Your new floorplan will be constrained by the number and location of windows in each apartment. Under city law, at least every bedroom has to have sufficient light and air, meaning windows that make up at least 10 percent of the square footage of the room. "Lot line" windows, which back onto adjoining properties, don't count.
​2. Don't tick off your co-op board
If a project is designed properly, Katz says, the co-op board should grant approval in a few weeks, generally speaking. "It always frustrates me when you say, 'get it by the board,'" Katz says. "It's really working with the board. The board is going to protect the interests of the building as much as they can. It's rare that you see something entirely unreasonable from the board."
That said, certain elements will automatically set off alarm bells with board members, including adding a "wet" room over a "dry" room, failing to meet the city's light and air requirements, adding a washer/dryer in a building that bans them, or modifying the building's utilities (like if you wanted to upgrade the apartment's outdated electrical system as part of the overall renovation).
3. Budget time for city approvals
As with any renovation, factor in several months to get the necessary permits from the city Department of Buildings, as well as the green light from your board. "People don't realize—most of the time they expect to combine the two apartments and start construction next week," Katz says. "Once you purchase the apartment, the design process always takes a few months." To be as efficient as possible, Katz suggests using that time to hire a contractor so you can start construction as soon as you get the all clear.
INSIDE THE COMBINATION IN LONG ISLAND CITY:
In this case, the smaller condo had two bedrooms and faced the back of the building, while the larger condo had three bedrooms and an open living area with Manhattan views, Katz says. "One of the things the owners wanted me to do was to create a grand great-room when you come in, so for that we actually got rid of one of the bedrooms," he explains. The owners were left with a large open kitchen and living room with a terrace that looks onto the city skyline. A second doorway leads to a wing of bedrooms.
Although technically the combined apartment is a four-bedroom, the "athletic" owners have adapted the rooms to suit their purposes, with a master bedroom connected to a nursery, a home gym, and a "man cave" for the husband, Katz says.
When the owners bought the penthouses—which had never been occupied—the finishes were plain, with simple oak floors and Caesarstone countertops, according to Katz. "We wanted to warm up the apartment because the finishes were really generic on a certain level, and we wanted to give it a certain sense of craft," as well as emphasize the views, he says. Accordingly, the design team added wood slats on the ceiling of the kitchen and above the sliding doors in the dining room. They also added a second washer/dryer, per the couple's request.
Above, the floor plan before (top) and after the combination (Photo credit: Katz Architecture)
Related:
NYC Renovation Chronicles: When that perfect combination is not
How to finance a NYC apartment combination (sponsored)
Before and after: Turning three floors into a sprawling Prospect Heights one-bedroom
How to get the best contractor bids for your apartment reno
20 renovation ideas your architect will try to talk you out of
Brick Underground articles occasionally include the expertise of, or information about, advertising partners when relevant to the story. We will never promote an advertiser's product without making the relationship clear to our readers.