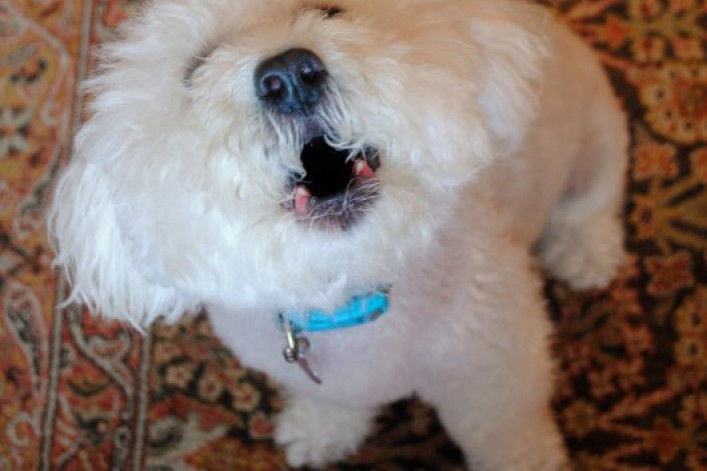 We already know that co-ops and condos are legally obligated to accommodate residents who need service animals, regardless of the building's pet policy, but what if the animal's service to the owner involves a whole lot of barking? Well, it may get a bit more complicated.
This is the problem at the center of a lawsuit in an Upper East Side co-op, where one family is facing eviction over a dog they say helps with their daughter's rare medical condition—mast cell activation syndrome, in which patients experience "unpredictable changes in blood pressure, rapid heartbeat and bouts of dizziness," the New York Daily News reports. Though the Woodards didn't purchase Olivia specifically as a service animal, the bearded collie apparently has an uncanny sense for when their daughter's blood pressure is about to spike. "You see it once and you think it's a coincidence, but then it happens again and again," Andrew Woodard told the Daily News of their dog's unique abilities.
Unfortunately, Olivia alerts the Woodards to potential problems by barking, and the building's co-op board claims that the family has refused to train the dog to bark less, or take any steps to soundproof their apartment (and minimize the noise disturbance for the neighbors). As for the Woodards, they say in their suit that the board has insinuated that assertions about their daughter's life-threatening illness are false.
Unfortunately for the family (and for Olivia), their noise-averse neighbors may have the upper hand here. "Service dog or no, a nuisance is a nuisance," says Dean M. Roberts, a co-op and condo attorney at Norris McLaughlin & Marcus. And, as Roberts has previously written, even service pets still have to comply with a building's general rules.
The Woodards' one potential out: service pet disputes are frequently "a legal grey area," Roberts tells us, and depending on the specific facts of the case, it could be possible to make an argument that the board's portrayal of the nuisance "is being blown out of proportion." And if not? It may be time to invest in a trainer, a soundproofer... or movers.
Related: 
A request for a service animal in a pet-free building: 3 steps to take
End of an Era: why co-ops should allow dogs (sponsored)
The cost of silence in NYC? $8,000 a wall
9 things to consider before introducing a dog to your NYC apartment
Ask an Expert: can my dog stay overnight in a no-pet building?
The dog poop files: NYC nabes with the most canine complaints
Ask an Expert: do I really have to muzzle my dog in the elevator?
"No paws on the floor": the future of pet rules in apartment buildings?
Brick Underground articles occasionally include the expertise of, or information about, advertising partners when relevant to the story. We will never promote an advertiser's product without making the relationship clear to our readers.