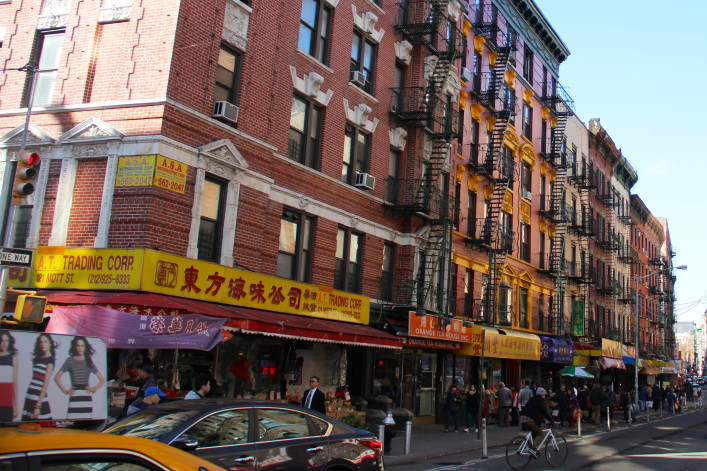 Confucius Plaza to Columbus Park, dim sum to muyu drum—Chinatown is so jam-packed with life and culture that it was named to the National Register of Historic Places in 2010. However, defining what is and isn't Chinatown is still nebulous: Even if you're downing dumplings, rummaging through knick-knacks with European tourists, and hearing the hum of Buddhist chants from a nearby temple, according to the purists, you may not even be in real Chinatown.
The Chinatown of today manages to remain a tight-knit ethnic neighborhood where Cantonese, Mandarin and other dialects are the talk of the day. Multiple generations of families live close together in walk-up apartments above shops and restaurants. However, as Chinatown continues to blend into Soho, Little Italy, and the Lower East Side, townhouses and lofts are an increasing part of the real estate landscape.
What kinds of insights do Chinatown residents and experts have? Read on.
---
Neighborhood Boundaries: Broome to the North, Chambers to the South, East Broadway to the East, Broadway to the West (maybe)
Median sale price: $1.8 million
Median rent: $3,600
---
Living here can be a struggle: "My parents couldn't make time for me while I was young just 'cause they were trying to make a living a for us. Everyone here relates to that." - Dexter, 23, grew up in a mufti-family building on Hester Street. "Filth. Whole place is filthy, which didn't exist years ago. Because there was clean up. They used to open up the hydrants, run the water down, get all the smell out. ...You got no idea. It was like being in heaven. [Now] after 11 o'clock it's dead."- Frank, 58, who regularly frequents a neighborhood bar 
Location, location, location: "Chinatown's biggest advantage is location. Subway-wise, it's handy to get to most of Manhattan and some parts of Brooklyn."- Richard , 32 rents a three-bedroom "You're sort of in the middle. Centre Street is right here, it's got its name from something, no? It's actually convenient to get around, even to Brooklyn. Manhattan bridge, it's right here. It's a pretty good location to get all around town."​ - Edward, owns a two-bedroom condo
A place to escape from the crowds? "The rooftops...that's the only place. The views are really good." - Angie, 30 "ColumbusPark. This park is very good for Chinese people and retired people. They come here." -Wen, 52 "Doesn't exist. Go away. Go some place else." -Frank "The only way I've found to avoid crowds is to go out later than 10 p.m., when the shops have shut down and the tourists [have] gone home." - Richard "You can't really hide. A fun place to go is down the block, the park. Otherwise, get out of Chinatown. ...Walker Street, that's the one you want to go on East to West."- Edward
And the best Chinese food is... "I always go for lunch at Sing Kee, 42 Bowery Street. Cantonese food."- Wen "I like Chinatown's divey restaurants, like 69 Bayard, a 24-hour diner wallpapered with dollar bills. There are also some hole-in-the-wall restaurants along Doyers Street." - Richard "Harmony. I used to eat there all the time. My parents used to take me." -Dexter
Unless you want souvenirs, don't shop here. "The staple Chinatown shop is a packed gift shop hawking post cards and T-shirts." - Richard "Those [good Chinatown shops] all closed down. Now it's just all for tourists." - Angie
Transportation is an adventure:  "I always take the same train. The green line [4, 5,6] at Canal, but the Canal station can be tricky sometimes ... there's so many people. It's kind of an adventure every time." - Edward "Plenty of routes. Buses, subways...very convenient."-Frank "I never took a subway. I was always walking around."- Dexter "[The best place to get a cab is] Canal Street." - Wen
There's even a knock-off park: "The East River park is a good substitute for Central Park in green space-starved Lower Manhattan, at least if you run or bike." -Richard
Change, change and more change: "Chinatown was the greatest thing in the world growing up. It's not the same as it used to be. At four o'clock in the morning you had people walking all around the neighborhood. You had bars, you had restaurants open, everything you wanted. Now ... it doesn't exist. Things change." -Frank
Related:
Neighborhood blogger Christina Seid on Chinatown's store closures and hotel frenzy
The biggest misconception about Chinatown is that it's cheap to live here
Union Square to Chinatown: less expensive, more tourists, noisier New Yorkers
7 things you don't know--but want to--about living in Soho
Single dads, chirping birds and tacos: Nolita's charms go well beyond Italian food
Brick Underground articles occasionally include the expertise of, or information about, advertising partners when relevant to the story. We will never promote an advertiser's product without making the relationship clear to our readers.