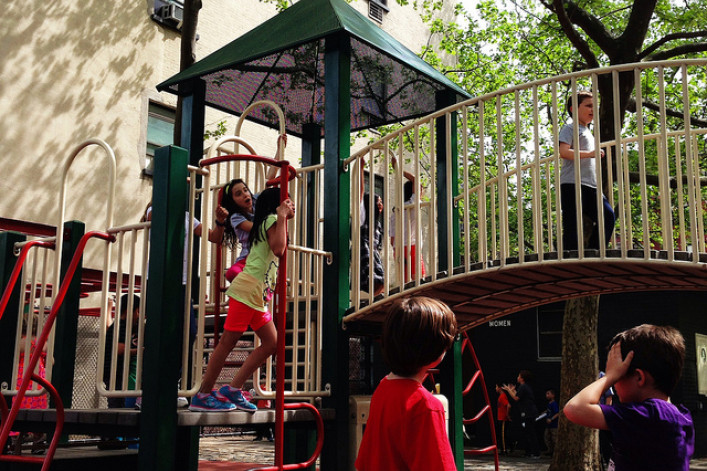 In Case You Missed It: Every so often, BrickUnderground digs through the archives to find the best advice our experts have shared through the years.
Believe it or not, back-to-school season is nearly here (break out the Champagne!), and now seems as good a time as any to offer advice--culled from our personal experiences as parents--to help you when you're making a move with kids in New York City.
1. Get in the (school) zone
For parents of young kids, school zone is often the greatest decider of where you'll live (unless you plan to send your kids to private school or have kids older than elementary-school age). 
A zoned school is a neighborhood school which is meant to accept all kids within certain boundaries (note: there are lots of options for unzoned schools, too, just when you thought this would be easy).
You may want to check out Insideschools.org, an online source of independent information about zones, specific school profiles, and the application process. Once you've narrowed down your ideal school list, you can use StreetEasy's Advanced Search options to find apartments in the right zone or district (which is much broader than a school zone).
Before you sign any papers committing to a new home, confirm that it's in the school zone you think it is by calling the school's parent coordinator (they all have them). 
We also recommend Googling around and even asking potential neighbors (or parents at a nearby playground) about any imminent zoning changes, which do happen. 
2. Spot a kid-friendly building
Life with small children can be much easier in a building that is truly "friendly" to families. Buildings in good school zones, of course, are more likely to be family friendly, as are buildings with larger apartments.
If there's a bike room, check to see if there are lots of little bikes. A playroom that looks clean and stocked with newish equipment is also a sign of a bumper crop of children and a building that caters to them.
Parent friends (and potential playdate partners) in the same building are a major plus. If you have small kids, you may want to check out  the lobby of a building you're interested in during the day to see whether there are a lot of little kids coming in and out. 
3. Think long and hard about stairs
Plenty of parents live in a walk-up with children--and an in-unit washer/dryer combined with FreshDirect grocery delivery can take some of the edge off--but it's not easy. The first thing you should do before you take a place without an elevator is ask the landlord or property manager whether you can leave strollers downstairs.
For more tips, check out "The parent's guide to buying and renting in NYC."
Related:
The buyer's and renter's guide to the NYC elementary school game
To raise a family in NYC, you need a master's in real estate
NYC kids want a doorman too, but not for the reason you think
Can you raise a family in Manhattan on $400k a year?
How to find a family friendly building
Brick Underground articles occasionally include the expertise of, or information about, advertising partners when relevant to the story. We will never promote an advertiser's product without making the relationship clear to our readers.