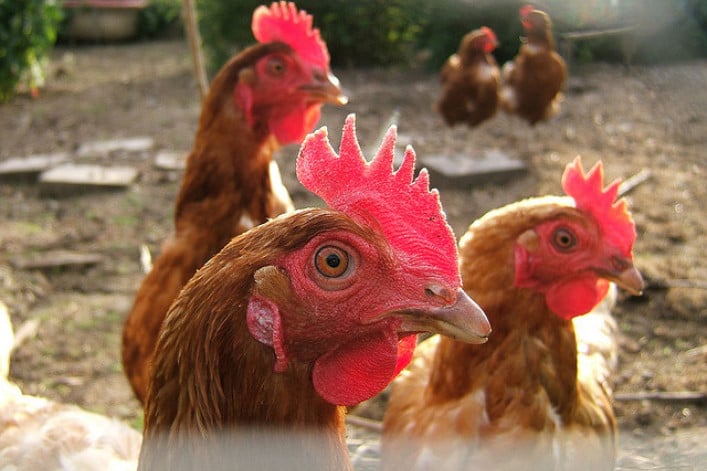 Thinking of recreating life on the farm here in the urban jungle? Apparently you're not alone. More and more New Yorkers are keeping chickens in their backyards, DNAinfo reports. Apparently raising the birds in New York has its advantages, most notably getting the freshest organic eggs, as well as fertilizer for your garden. 
In a testament to just how popular urban farming (or at least news stories about urban farming) is becoming, the New York Times covered the topic in this weekend's newspaper, focusing on chickens, rabbits and bees.
But before you get all Old MacDonald in your apartment, keep these things in mind:
Installing a coop costs about several hundred dollars. The hens themselves range from 95 cents to $20 (and are mostly ordered online), and feed will set you back about $10 a month per hen. Vets may charge about $200 a visit.
Ideally, each hen should have at least four square feet to live, and coops should be built to withstand raccoons and other predators. Also have a top that protects chickens from wild birds, which could swoop in and scoop them up. 
Before you install anything, talk to your neighbors. They may be worried about noise or rodents (from the chicken feed). Tell them you'll take every precaution to keep things tidy and quiet and, if all else fails (and even if it doesn't), bribe them with eggs.
Chickens can live for 10 years or more, but they only lay eggs for a few of those years. Also, they're social animals, so you'll need to keep at least three at a time. If you go on vacation, you'll need a chicken-sitter.
Coops need to be cleaned at least twice weekly, and fines for failing to keep the area clean range from $1,000 to $2,000.
Don't mix small breeds with large ones because the large ones may attack the small ones. And roosters are banned in NYC—think of the early morning crowing. 
Related:
Compost 101: All the dirt New Yorkers need for "organics collection"
7 ways to grow a (little) garden in your NYC apartment
Would you rather have a terrace or a backyard?
The great NYC outdoors: FAQs for those lucky enough to have terraces, roofdecks and gardens
Ask an Expert: Battle of the outdoor spaces--backyard/patio vs terrace/roofdeck
Tips for de-ratifying your outdoor space
NYC Outdoor Special: How to tell if your balcony is about to fall off, the case against urban backyards, and more
Brick Underground articles occasionally include the expertise of, or information about, advertising partners when relevant to the story. We will never promote an advertiser's product without making the relationship clear to our readers.