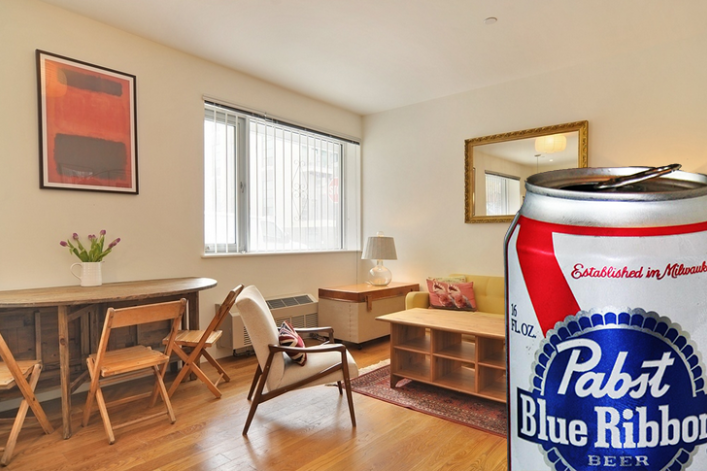 Make no mistake, saving up for your first-ever down payment is an uphill battle, and a steep one, at that. But even in New York, and even on a media salary, it isn't necessarily insurmountable.
We got a welcome dose of Monday morning savings inspiration via Refinery 29's story on one couple's (successful!) quest to save up $100,000 for an apartment that mercifully strays from the usual "Stop buying lattes! Never leave your house again!" strain of financial advice.
With jobs in book publishing and freelance writing, respectively, writer Lindsey Stanberry and her husband saved up $100,000 over the course of six years. They ultimately purchased their Park Slope one-bedroom in 2009 (though she didn't say how much they paid). "PBR had something to do with it," Stanberry writes. "And, peanut butter sandwiches." We pulled seven ideas from her essay to bring with us into the real world:
Yes, it really is crucial to bring your own lunch to the office. Even if you don't follow her husband's lead of daily peanut butter-only sandwiches (jelly is an "unnecessary expense"), it's worth throwing something together before you leave the house: "Takeout lunch in Manhattan easily costs $10 — $15 if you're ordering from Seamless and adding a tip," Stanberry points out. "Click "Place Order" five days a week, 50 weeks a year, and you're spending $3,750 annually for limp salad and bland sushi." Even if you treat yourself just one day a week instead of five, you'll be making major inroads. 
The same thing goes for breakfast: eating at home (or bringing something from home) is a pretty painless way to stash away another $5 to $10 a day.
Skip the cabs. Sure, you already knew this, but a little added perspective? At one point, Stanberry and her husband lived in Washington Heights, regularly making the two-hour train ride home after late nights in Brooklyn to save the $67 cab fare. Comparatively, your wait for the train can't be that bad, right?
Do your best to cut back on subscriptions you don't really need: try swapping cable for Netflix, and your under-used, over-priced gym membership for the $10/month deal at Planet Fitness. Little expenses (especially recurring ones) add up.
Put things in perspective: Stanberry's husband, when he was writing freelance album reviews, would view potential purchases in the context of how many freelance ​articles it'd take to pay for them (sometimes to a fault, she says). It's harsh, but also a pretty effective way to talk yourself out of yet another drink at happy hour.
Make eating out--and eating in--a special occasion. When you start to think about the amount of money you've dropped over the years on meals you didn't really even want, making stay-at-home dinners a pleasant evening ritual starts to sound awfully good. (For added inspiration, check out The Billfold's interview with the author of the $4-a-day cookbook.)
Speaking of happy hour, you knew this was coming: while no one's telling you to stop going out altogether, opting for "the $3 draft over the $14 cocktail" will save you a startling amount of money in the long run. Even after they'd locked down their apartment for good, Stanberry writes, "We didn't exactly feel like toasting our success with Veuve Clicquot. We were gonna stick with the cheap stuff that got us here." Instead, they toasted to their new home with a cold can of PBR.
Related:
What 8 first-time buyers wish they had known
Apartment-shopping tips for the under-25 buyer
Buying a Brooklyn brownstone? New website unearths "secret" listings
I briefly stopped paying my student loans. Must I give up on buying a co-op and passing muster with its board?
5 ways to live near Prospect Park--minus the Park Slope prices
Brick Underground articles occasionally include the expertise of, or information about, advertising partners when relevant to the story. We will never promote an advertiser's product without making the relationship clear to our readers.