Products + Test-drives
New website Swapt lets apartment hunters get the dish on NYC buildings — before moving in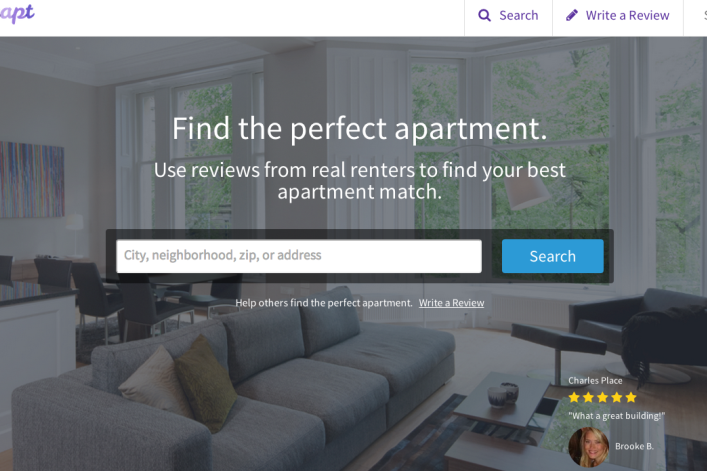 Due diligence—say, chatting up potential neighbors or assessing a neighborhood's rat situation—is pretty much required for any self-respecting New Yorker searching for a rental. Now there's a new tool to add to the arsenal: an apartment search site called Swapt, which melds listings with Yelp-style building reviews and officially launched today. 
"A major problem before you go into a lease is, you really can't identify whether this is going to be a good experience or a bad experience," says Eric Wolfe, a former real estate analyst at Citigroup, who founded Swapt in 2013 with Michael Downing, an exec at the headhunting firm Carrington Fox.
And if you're thinking that Yelp has already cornered the market on online reviews, the co-founders of San Francisco-based Swapt insist they already have more comprehensive and accurate reviews on apartments than the 10-year-old online juggernaut. 
"I guess we're trying to make the point that Yelp is an absolutely great service, but they really haven't conquered this space quite yet," Wolfe says. 
As of this writing, the site has 2,351 residential reviews in New York City, says Downing, covering some 1,520 residential properties; Yelp has 1,175 reviews on 281 properties. Since most users have signed up with their Facebook accounts, and the average building rating is 3.9—versus 2.8 for Yelp—would-be renters are more likely to encounter thoughtful write-ups, rather than anonymous Internet rage.
Downing also claims that its "overall data architecture" allows Swapt to collect more reviews on mom-and-pop buildings, not just those owned by the city's big-time landlords.
To amass reviews on the beta site, the founders courted apartment hunters looking on other sites, and "acted like a free broker," helping them find places to live in exchange for feedback on places they checked out or rented, Wolfe explains. 
In the future, Swapt hopes to partner with universities and other institutions, giving them a way to help students find off-campus housing and soliciting users' reviews. The site is also experimenting with different incentives to get people to participate, including donating $1 to charity in exchange for a write-up. 
And they don't want to rely on bona fide residents alone, but rather a network of friends and relatives of apartment dwellers, brokers, and anyone familiar with a building and a yearning to share that knowledge. (Of course, only a resident will know that the super never picks up the phone or that church bells next door effectively spoil Sunday sleep-ins.)
As for how Swapt will make money, Downing says the short-term goal is to get renters sharing, and then set about "monetizing the site." One option, which other rental sites use, is to rely on "lead generation," essentially getting a referral fee from landlords when users contact them. 
But the founders aren't entirely convinced this is the right model; after all, it provides an incentive to feature properties from landlords paying the biggest bucks, rather than those with the highest-rated buildings. 
To that end, Swapt is looking into a kind of customer service program for landlords, giving them a platform to demonstrate that they fix problems and provide top-notch services. For example, they could alert landlords to new reviews; let them respond to tenant complaints or highlight services (like a move-in concierge) that don't typically appear in listings; or publish the results of a survey of tenants. 
"There are a lot of landlords that invest a great deal in customer service," but they're frustrated because "it's only the stuff that's negative" that appears online, Wolfe says, adding that, "We're never going to filter negative responses for any reason."
As for those slumlords who simply don't care? Swapt wants to pressure them to make things better for residents, first with reviews, but also by speaking with them directly or drawing attention on social media.
"If they don't change," Wolfe says, "less people are going to want to rent from them."
We clicked around the beta version earlier this week, and here's what we found:
The pros
The early reviews do seem more helpful than your average online rant. Many have objective information on the quality of amenities, the size and layout of apartments, and the landlord's propensity to raise rents—and you'd be wise to pay attention to those, rather than the entries from users venting about individual bad experiences.
The site has a clean, unfussy design and is intuitive to use, with Google-like predictive text appearing in the search bar and filter options clearly marked—a huge boon when navigating the rental hunt—and it's free to browse for listings.
Unlike some other search sites, results are grouped by building, rather than in a list of individual apartments, so it's easy to see how many rentals are available in a given property, as well as information like number of units and floors, pet policy and amenities. The building rating and reviews are also prominent.
The site doesn't appear to be ignoring the outer boroughs. In Astoria, for example, there were 870 properties in the system during a recent search, and almost 150 of them had at least one unit available.
You can filter by no-fee apartments, and many of the listings say when they were last updated, so you know how fresh they are.
The cons
The quality of Swapt's listings is uneven. They come from "a variety of sources, including straight from landlords and partner sites," Downing says, so you'll get everything from glossy photos of new developments to glorified Craigslist ads.
Information on broker's fees is spotty, if not non-existent.
Many of the reviews—at least on the beta version of the site, which is still in its infancy—were not from current renters, but past building residents, friends and relatives of residents, brokers, even a maintenance worker. Living in a place is a very different experience than visiting for a day, of course, so that's another reason to read the reviews carefully. Currently, there's no easy way to see which reviewers are tenants and which aren't, unless they specify.
While some brokers are providing useful advice, others seem to be lifting their reviews from listing descriptions. Says Downing: "We welcome brokers and all real estate professionals to be part of the Swapt community—after all, brokers have a wealth of knowledge and expertise about a large number of properties."
Related:
Crucial questions to ask your neighbors--before you move in
11 reasons why that apartment is too good to be true
Broker-free rental site Zenly touts video footage for every listing
What 68 New York renters wish they'd known before they moved in 
Brick Underground articles occasionally include the expertise of, or information about, advertising partners when relevant to the story. We will never promote an advertiser's product without making the relationship clear to our readers.