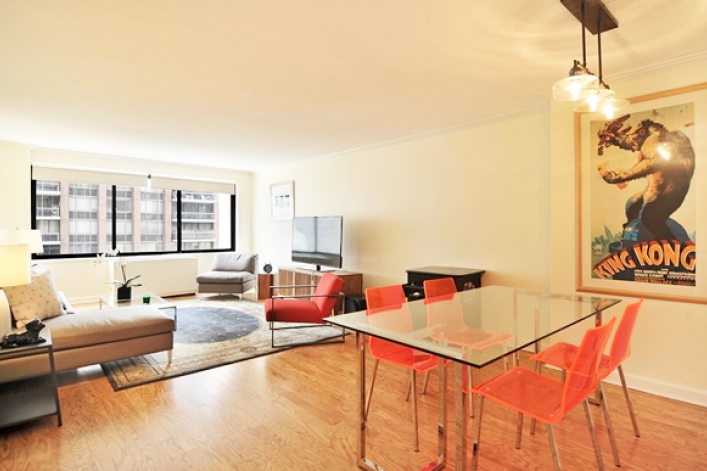 Every buyer hopes his or her apartment will be a wise investment. In this week's Buy Curious, Douglas Elliman broker Jacky Teplitzky tackles the question of how much an elevator adds to the price--when you buy and eventually sell.
THE WISH LIST:
I'm planning to buy my first apartment, and I want to invest in a one-bedroom that will keep its value. Personally, I don't mind living in a walk-up, but is it smarter to buy in an elevator building? How much more will I pay? And when it comes time to sell, will the lack of an elevator limit the buyers who'd be interested?
THE REALITY:
If you're looking at your apartment as a long-term investment, you're right to assume a building with an elevator is your best bet. In Manhattan, a lack of an elevator will definitely shrink your pool of interested buyers, whether they have trouble with stairs, are parents toting around strollers, or even travel a lot and will be lugging around suitcases. That said, an elevator's value depends quite a bit on both the neighborhood and the building itself, and there are a few key details you'll want to keep in mind while you look.
How much more you'll pay
As a rule of thumb, you can expect an apartment in an elevator building to cost about 10 to 15 percent more than a comparable unit in a non-elevator building. However, you'll see less of a difference in older buildings--say, a pre-war where things move a little slower--than in a newer, more high-tech building. (Regardless of age, every elevator should have a security camera.)
On the flip side, an elevator can put you at risk for repair costs, particularly in old buildings. Both 
repairs and full replacements can be costly for residents
, even if your building mostly has the reserve funds to pay for it--a simple technician visit can cost $1,600, and a replacement up to $150,000 per elevator.  And that doesn't even take into account the headache of a month (or several) taking the stairs while things get fixed.
The elevator's still a wise investment in the long run, but be aware of potential charges, and ask about the elevator's most recent upgrade before you buy.
Mind the doorman
If you're looking for a building with a lift, a lot of your options will come with a doorman, too; these days, the two tend to go hand-in-hand, and many buyers consider them the bare minimum as far as amenities go. Often, the addition of a doorman will add another 10 or 12 percent to the apartment's price (in addition to the 10 or 15 percent already added on by the elevator). 
But this varies by neighborhood, too: uptown, where residents put more of a premium on doormen, a building with an elevator but no doorman may come at a relative discount. Downtown, though, this isn't as likely to be the case.
The one hard and fast exception, of course, would be an apartment where the elevator opens directly into your unit, which will be more expensive no matter what.
More per floor 
New Yorkers tend to think vertically--that higher up is better and more valuable. If you're buying in an elevator building, that will likely be the case, with the fifth floor costing more than the second, for example. But in a walk-up, the situation is reversed: it's easier to get to the second floor than the fifth, so you're at an advantage lower down.
With all of these options, your apartment's value as an investment depends on what you're getting for the price. If you opt for a cheaper apartment sans elevator where the price reflects the fact that it's a walk-up, that can be a good investment in its own way.
Whether you're looking uptown or downtown, doorman or no doorman, a few current options: 
One-bedroom, one-bath co-op, $695,000: At 300 East 59th Street (between First and Second), this building includes an elevator and a doorman, as well as in-building laundry, garage parking, and access to a roof deck.
One-bedroom, one-bath condo, $438,000: In this Battery Park City building at 300 Albany Street (between South End and the water), amenities include an elevator, doorman, parking, laundry, and shared courtyard space.
One-bedroom, one-bath co-op, $650,000: This apartment is in a building with an elevator but no doorman at 254 East 7th Street (between C and D). Other features include a newly renovated kitchen, bike storage, and a shared garden.
One-bedroom, one-bath, $350,000: As a fifth-floor walk-up on 509 East 88th Street (between York and East End), this Yorkville one-bedroom is cheaper than comparable elevator buildings, and comes with bike storage, in-building laundry, and roof deck access.
One-bedroom, one-bath, $875,000: At 225 West 10th Street (between Hudson and Bleecker), this second-floor walk-up apartment comes with quite a bit of storage and a brand new kitchen as well as access to bike storage and a roof deck.
One-bedroom, one-bath, $450,000: There's no elevator or doorman, but this LES fifth floor walk-up includes exposed brick, crown moldings, a recent renovation, and a central location at 172 Delancey Street (between Clinton and Attorney).
Brick Underground articles occasionally include the expertise of, or information about, advertising partners when relevant to the story. We will never promote an advertiser's product without making the relationship clear to our readers.