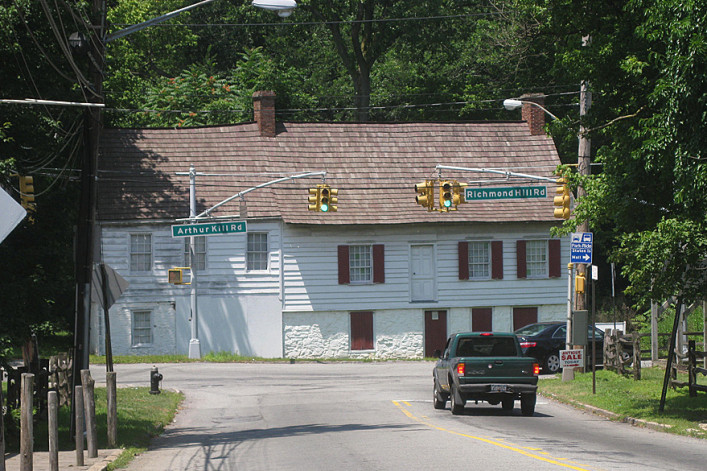 While most of what many New Yorkers have seen of Staten Island is the view from the ferry, the oft ridiculed region has really spruced up in recent years. A one-time landfill—which closed in 2001—is now a 2,200-acre park, and the waterfront is undergoing massive renovations. Staten Island expert Julie Porowski of Salmon Real Estate delves deep into the forgotten borough in this week's Buy Curious.
THE WISH LIST:
I'm hearing more and more about Staten Island, but what are the neighborhoods I should know about? What are they like? How far can my $500,000 go toward a two- or three-bedroom?
THE REALITY:
The reason you're hearing a lot about Staten Island lately is that there are many exciting things going on here. The New York Wheel—the largest observation wheel in the Western Hemisphere—along with an outlet mall, a hotel and housing, are currently being built and are scheduled for completion in 2016. But as far as real estate is concerned, we're still holding our place as New York City's most affordable borough. As a matter of fact, your $500,000 budget for a condo, co-op or townhouse is on the high end of the price range! 
Though the Staten Island market is nothing like Manhattan and parts of Brooklyn, which are on fire, things have improved considerably from the recession doldrums. Our year-to-year inventory in March was down 20 percent, so there is a bit of competition for homes compared to the same time last year. Open houses get good turnouts, but definitely aren't packed. And bidding wars aren't common unless a property is priced well below market.  Homes are on the market an average of 110 days. 
Staten Island has about 70 smaller neighborhoods, which are often discussed in pairs, such as "Eltingville/Great Kills," if they're located next to each other and are similar in makeup. More generally, the borough is divided into five larger areas: North Shore, East Shore, South Shore, West Shore and Mid-Island.
The three neighborhoods that are generating the most buzz are St.George/Silver Lake on the North Shore, Arrochar/Grasmere on the East Shore, and Heartland Village/LaTourette in Mid-Island. Here's what you need to know:
St. George/Silver Lake
Often touted as the next Jersey City or Williamsburg, this is the most urban of Staten Island's neighborhoods, boasting high-rise, co-op and condo buildings. There are also lovely older homes and newer housing stock, including townhouses and semi-detached homes. Prices tend to run the gamut here, from co-ops with modest amenities, such as an on-site laundry room and on-site parking, for under $250,000, to waterfront condos with upscale amenities such as a pool, tennis courts and in-unit washer/dryers in the $400,000 to $500,000 range.  A three-bedroom waterfront condo would cost $500,000 or more, and a three-bedroom one-family attached home would go for $450,000.
St. George is home to the Staten Island Ferry, a commuter's delight if you work in Manhattan. The adjacent St. George Waterfront is undergoing a phenomenal transformation that started a few years back with the construction of the Richmond County Ballpark, home of the Staten Island Yankees, a minor league baseball team. Some interesting places for recreation include the beautifully restored St. George Theatre (a former movie house where live performances now take place), Snug Harbor Cultural Center and Botanical Gardens (an 83-acre park), and the public Silver Lake Golf Course. 
Some of Staten Island's most popular and highly rated restaurants are also in St. George, including Spanish restaurant and tapas bar Beso and Enoteca Maria, an Italian eatery with a menu that changes daily.
Ft. Wadsworth/Arrochar/Grasmere
Located just a few miles to the east of St. George, this neighborhood is known as the "Gateway to Staten Island," and has a more laidback feel. Sitting near the foot of the Verrazano Narrows Bridge—the borough's direct link to Brooklyn—the nabe has one-family attached homes and condo developments made up of townhouses, along with semi-attached and detached homes. There are also a few high-rise buildings. The average price for a three-bedroom townhouse or condo is $400,000. A semi-attached duplex is a little more, around $475,000. A three-bedroom semi-attached home is $450,000.
The area has lovely waterfront spots, as well. It's home to the historic Alice Austen House (the onetime home of the famed photographer, which is now a museum), landscaped Von Briesen Park and a U.S. Coast Guard base that guards New York Harbor. The FDR Boardwalk was damaged by Hurricane Sandy, but has since been fully restored. Basilio Inn, the oldest restaurant in Staten Island, which opened in 1921, is here, and so is the elegant Bocelli Ristorante, which serves Italian cuisine.
Heartland Village/LaTourette
While this area has gotten a bad rap over the years because of its proximity to the now-closed Fresh Kills landfill, it's a neighborhood worth checking out. The former dump is being transformed into one of the largest city parks in the country--three times the size of Central Park.
Its Mid-Island location makes the commute a bit longer if you need to go into Manhattan or Brooklyn, but a plethora of express bus options mean you don't have to drive. If you work in New Jersey, the three bridges that connect to the Garden State (Bayonne, Goethals and Outerbridge Crossing) are all easily accessible.
Also, there's a wide variety of housing choices, from high-rise condos to garden-apartment-style co-ops and townhouses, to one-, two- and three-family semi-detached and detached homes. Housing stock is fairly new, as this area was not really developed until the 1960s, with major additions during the building boom of the 1980s. Expect to pay $350,000 for a two-bedroom condo or two-bedroom one-family attached home and $450,000 for a three-bedroom semi-attached house.
While the Staten Island Mall, which is undergoing a several million-dollar facelift, is the main attraction here, there are some hidden gems too. In addition to Freshkills Park, there's High Rock Park, with challenging hiking trails and a nature center that offers everything from lectures to walks, tours and fitness classes. 
The region is also home to the LaTourette Golf Course, which is open to the public, and Historic Richmond Town, a living history village and museum complex that's home to the Decker Farm, a working urban farm. There's also the Jacques Marchais Museum of Tibetan Art and Garden, an oasis of Zen-like peace, which is tucked away on a hillside adjacent to the golf course, and the William T. Davis Wildlife Refuge, 814 acres that are home to more than 117 bird species.
Options for dining include family- and wallet-friendly chain restaurants near the mall to the Original Soup Man (of Seinfeld fame) to the swanky Lorenzo's, a cabaret that serves Italian and contemporary American cuisine.
Want to move to St. George/Silver Lake?
St. George two-bedroom/two-bathroom co-op, $480,000: Located at 52 Bay Street Landing near Victory Boulevard, and practically next door to the Manhattan-bound ferry, this 1,550-square-foot two-bedroom has five picture windows, three skylights, a fireplace and oak floors throughout. 
Silver Lake two-bedroom/two-bathroom townhouse, $445,000: On the first floor, this property at 48 Fox Hunt Court between Clove Road and Melrose Avenue features wood floors, a large family room/den, a half-bath and sliding doors to the backyard. On the second floor are a large kitchen and a decent-sized living room. On the third floor is the master bedroom, the main bathroom and the second bedroom with an en suite bathroom. Located opposite Silver Lake Park, the townhouse is close to the ferry and express buses to the city.
How about Ft. Wadsworth/Arrochar/Grasmere?
Arrochar four-bedroom/four-bathroom townhouse, $489,000: Although four bedrooms are more than you're looking for, this townhouse at 95 Retner Street (at Jackson Avenue) is still within budget. In addition to the four bedrooms, the 2,160-square-foot house features a living room, a finished basement, an eat-in kitchen, a yard and a deck.
How does Heartland Village/LaTourette sound?
Related posts:
Buying, renovating or refinancing next year? 5 mortgage trends to watch in 2014 [sponsored]
What 8 first-time buyers wish they had known
Here are the 7 most likely reasons you'll get turned by a co-op board
7 questions to ask about the building before you buy an apartment there [sponsored]
---
Buy Curious is a weekly column in which NYC real estate brokers help buyers develop a realistic search strategy. Want some advice on your search? Send us your wish list.  
Brick Underground articles occasionally include the expertise of, or information about, advertising partners when relevant to the story. We will never promote an advertiser's product without making the relationship clear to our readers.