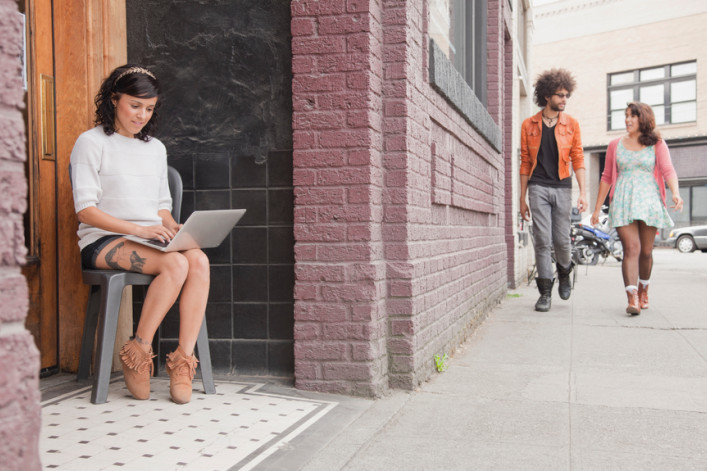 Even in a city with six daily newspapers, there's far more news than any one publication could cover, especially when it comes to the nitty gritty stuff that happens at the hyper-local level--new bars, new developments, the closing of beloved corner businesses, updates on your subway stop of choice, and everything in between. 
Filling the gap is a vibrant ecosystem of neighborhood blogs that cater to new transplants and life-long residents alike, consistently breaking stories the bigger guys get to months after the fact, and doing it from the perspective of people with the same day-to-day concerns as you.
Admittedly, some parts of the city are more likely than others to have a critical mass of active journalists and writers, skewing the concentration of outlets per neighborhood--surprise, surprise, there are a lot of bloggers based in North Brooklyn. But even if your corner of the city doesn't yet have a blog to call its own, CurbedNY's "News by Neighborhood" categories offer thorough coverage of just about every part of every borough.
In the meantime, we've rounded up 22 sites to bookmark, whether you live in the area of coverage or are just passing through. These are the people in your neighborhood.
Equal parts local news outlet and chronicler of the East Village's dizzying pace of development (and the small businesses that've often been its casualties), EV Grieve has fashioned itself into the neighborhood's most reliable--if occasionally most depressing--resource.
In keeping with the spirit of locally run blogs, credit goes to Bowery Boogie, which has been keeping tabs on the Lower East Side for years now (and has even picked up awards doing it). Also of note: since its launch last summer, New York Magazine/NYU collaboration Bedford + Bowery has done some excellent reporting around the neighborhood as well as in North Brooklyn. (The Lo Down, which runs both in print and online, is also a neighborhood stalwart.)
A blog that started with the sole purpose of covering the park's Bloomberg-era redesign has since grown into a resource for anything and everything to do with Greenwich Village, green space throughout the city, local policy issues, and yes, its namesake park.
This one's the brainchild of former Budget Travel editor-in-chief Erik Torkells, and takes an approach as thorough as it is realistic. He recently told us, "Every time I post about a big new development [...] Tribecans get outraged. Is no one planning for the continuing population growth down here? Schools are full to bursting, and yet the city doesn't seem to have a clue."
With site topics ranging from real estate to local schools to food to "absurdity" (example: Crumbs' ill-advised non-kosher "Passover Pack" of cupcakes), the West Side Rag manages to stoke the interest of just about every demographic in the neighborhood, while also belying the area's staid reputation. Extra points for the Rag's newly launched "Ask a Doorman" interview series.
Though they don't post with the same kind of up-to-the-minute frenzy of a lot of their peers, Morningsider keeps close tabs on Harlem's arts scene, as well as a nicely curated events calendar, should you ever find yourself doing some last-minute weekend planning.  And while it's technically a magazine rather than a blog (they've got a print edition, as well), Harlem World Mag's online presence is a consistently on-point resource for all things uptown. 
The design may be no frills, but Roosevelt Islander is tireless in its coverage and support of the only New York neighborhood you can commute to by tram, covering everything from local events to in-depth community board meetings with equal care and enthusiasm.
Free Williamsburg 
Launched back in 1999, Free Williamsburg has been around twice as long as most neighborhood blogs (especially the Brooklyn ones), and it set the standard by which so many of them now operate. It still turns out reliable updates on local news, development, concerts, food, and culture, managing to be neither too starry-eyed nor cynical about life in a spot that's launched a thousand trend pieces. No easy task, and they pull it off perfectly.
Though it's a borough-wide (as opposed to neighborhood-specific) operation, we'd be remiss not to include Brownstoner here. Like Free Williamsburg, they hopped on Brooklyn beat reporting earlier than most, and since launching in 2004, founder Jonathan Butler has somehow managed to spin a local real estate blog into a Brooklyn lifestyle juggernaut that now includes the Brooklyn Flea, Smorgasburg, and the hip office complex 1000 Dean Street. More importantly, Brownstoner can still be counted on for smart, thorough, day-to-day updates on a wide swath of Brooklyn neighborhoods. (FYI, they recently launched a Queens edition, too.)
The blog's been around since 2007 but got a new lease on life after being purchased by Jen Galatioto in 2010. Alongside solid food, drink and nightlife coverage, they've grown into a local news force to be reckoned with, following the controversy over the mega-apartment project Greenpoint Landing closer than most newspapers, and raising $11,000 for Hurricane Sandy relief.
Since BushwickBK's untimely demise in 2011, Bushwick Daily has been the only game in town, and stepped up to the plate admirably, getting to stories long before most other outlets (they're especially on top of local photography of the North Brooklyn nabe's constant stream of bar and restaurant openings). The blog also serves as an indispensible resource for the area's biggest annual event, Bushwick Open Studios, printing a yearly companion guide.
This gem is run by 25-year Carroll Gardens resident Katia Kelly, and keeps a particularly close eye on local development (the good and the bad), as well as the never-ending process of improving the local Superfund site, the Gowanus Canal.
A nice companion to Pardon Me For Asking, Gowanus Your Face Off also focuses on development, the canal, and the intersection of the two, alongside more specific coverage of the neighborhood no one seems to be able to stop talking about. 
Ditmas Park Corner does exactly what a neighborhood blog should do, providing a well laid out stream of updates on area news, events, openings and closings, transportation, and photography. Its publisher and editor-in-chief Liena Zagare (who lives in the neighborhood with her husband, Buzzfeed top dog Ben Smith) has also grown the publication into a small local news empire that now includes Kensington BK, Park Slope Stoop, and South Slope News.
Though its founder Erica Reitman decamped to L.A. about a year ago, the blog she created is still as much a local staple as ever and at its best when calling out local nonsense--it's worth keeping up for the weekly Craigslist blotter alone. It also acts as the grumpy elder statesman to what's become a large network of Park Slope outlets (most of them a bit more family-friendly, natch) that includes that aforementioned Park Slope Stoop as well as Here's Park Slope.
Sheepshead Bay may not have the hipster credentials of the nabes farther north, but since its launch in 2008, this go-to blog has become an indispensible local news source for anyone with even a passing interest in Southern Brooklyn, so much so that in 2011 founder Ned Berke launched a successful sister blog, the Bensonhurst Bean. 
Under the slogan "dispatches from America's first suburb," Brooklyn Heights Blog publishes a steady stream of updates about real estate, news, and culture in the 'hood, and in particular is great about keeping tabs on development, events, and anything else going on in Brooklyn Bridge Park. 
Given that it's based in one of the city's most development-happy neighborhoods--Long Island City--the Court Square Blog spends a lot of time covering construction and incoming buildings, but they also keep track of the basics, monitoring all manner of subway updates and local events. Helpful whether you're a longtime resident or just mulling a move.
The name's pretty self-explanatory here, and as you might've guessed, the blog is a well-informed love letter both to Astoria and surrounding areas, including Long Island City, Woodside, and Sunnyside.
Rockawayist
Rockawayist, run by a Queens native, does the important work of keeping tabs on everyone's favorite beach neighborhood year-round, not just when the rest of us are ready to swarm its shores in search of beer and tacos. (Back in March, they broke news of a Rockaways-themed bar opening in London.) They don't post as often as some of the other blogs out there, but take a quick scan through their recent work, and you'll be up to date on everything new the place has to offer--there's more of it by the day.
Another one with a self-explanatory name, Queens Crap has been (anonymously) chronicling both the good and the bad of the borough's news and new developments since 2006. Not the place to go if cheery boosterism is what you're after, but they're better informed (and have been in the game longer) than most.
Written by and for Bronx residents, BoogieDowner has been providing extensive community news for over a decade, with the stated goal of giving the borough "the positive media it needs to shine as well as news and events to connect its residents and make us stronger." It doesn't hurt that they've also got what may be the best name of any blog in the city, hands down.
Related: 
Confessions of a neighborhood blogger
9 reasons to move to Jersey City right now [sponsored]
Moving to NYC? Here's a crash course in finding an apartment here
The 8 best websites for finding a no-fee apartment in NYC
Don't even bother asking your broker this
F'd in Park Slope blogger Erica Reitman on officially leaving Brooklyn and selling her place from afar
Brick Underground articles occasionally include the expertise of, or information about, advertising partners when relevant to the story. We will never promote an advertiser's product without making the relationship clear to our readers.