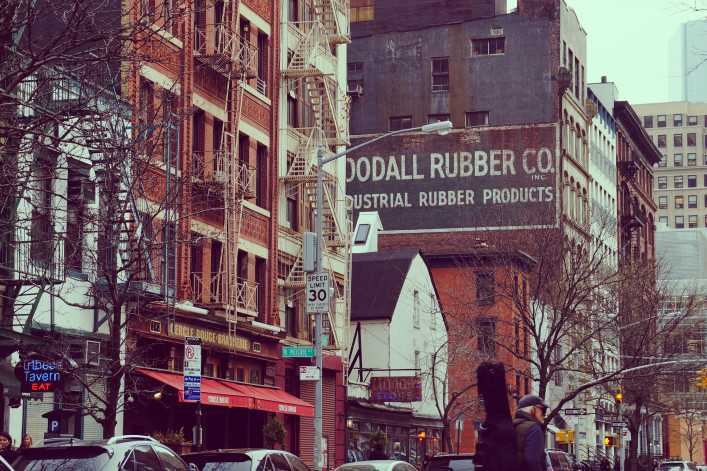 You didn't really think Manhattan would stay an underdog for long, did you? 
After six months of declines (albeit small ones), rents in the Most Expensive Borough have shot back up to an almost five-year high; the average is now $4,008, according to Douglas Elliman and Miller Samuel's April report, which came out yesterday. 
This means both fewer available apartments for rent and fewer landlords doling out incentives (good luck talking your way into a free month), or, as Citi Habitats put it in their April report, "Manhattan landlords are back in the driver's seat." 
And though Brooklyn rents have been steadily closing the gap with Manhattan's, the difference in prices grew for the first time in a long while in April: it's now $442 a month, down from a record low of $210 a month back in Feburary, according to the report. Unfortunately, that doesn't mean you're likely to find a deal on the other side of the river either.
Average rents in the north and northwest parts of Brooklyn went up for the 11th consecutive month, and are now at $3,209, even as the number of available rentals jumped 57 percent from the same time last year. If you've got the cash to pay for a place in a posh new development, you're in luck--lots more are on the way--but if your budget is more studio-sized, things will be tougher. In both Manhattan and Brooklyn, studios prices have gone up disproportionately, with averages now well above $2,000 in both boroughs.
So, let's reiterate, in case there were any lingering doubts: "Brooklyn continues to star in the five-man show," as Curbed puts it.
As for the neighborhoods where you can still hunt down a deal? Bay Ridge and Prospect-Lefferts Gardens remain the borough's safest bets for cheap rentals, with average one-bedrooms fetching $1,525 and $1,693, respectively, says real estate brokerage MNS. Bed-Stuy still has relatively low average rents, too, even as prices in the neighborhood shoot up faster than anywhere else in Brooklyn--an average one-bedroom is now goes for $1,937 a month.
Similarly, Harlem clocks in as one of Manhattan's most affordable areas, even though average rents jumped 13.9 percent over the past year to a new average of $2,220. By this time next year, both neighborhoods could be looking a whole lot different.
The key figures
For the TL;DR version of all this, some of the key numbers from the reports, as well as the percentage increase from the same period last year:
Average Manhattan rent, April: $4,008, a 5.1 percent increase
Average Brooklyn rent, April: $3,209, a 6.4 percent increase
Average price for a Manhattan studio without doorman, April: $2,481, a 3.6 percent increase
Average price for a Manhattan studio with doorman, April: $2,889, a 3.3 percent increase
Average price for a Brooklyn studio, April: $2,129, a 15.4 percent increase
Dig deeper:
Manhattan rentals hit highest point in five years (The Real Deal)
After short-lived lull, Manhattan rents heat up again in April (NYDN)
Rents near a five-year peak in Manhattan and Brooklyn (Curbed NY)
Brooklyn rents rise for the 11th straight month (Brownstoner) 
Manhattan's average rent his $4K, report finds (DNAinfo)
Related:
Springtime is for renters: what's in store for 2014's busiest season of all
Survival tips from a decade-long survey of Manhattan real estate
16 staple-these-to-your-forehead tips for hunting down a rental
The 8 best websites for finding a no-fee apt in New York City
Brick Underground articles occasionally include the expertise of, or information about, advertising partners when relevant to the story. We will never promote an advertiser's product without making the relationship clear to our readers.