Neighborhood Intel
Author Michael Gross on 15 Central Park West's trophy condos: "There's no accounting for taste"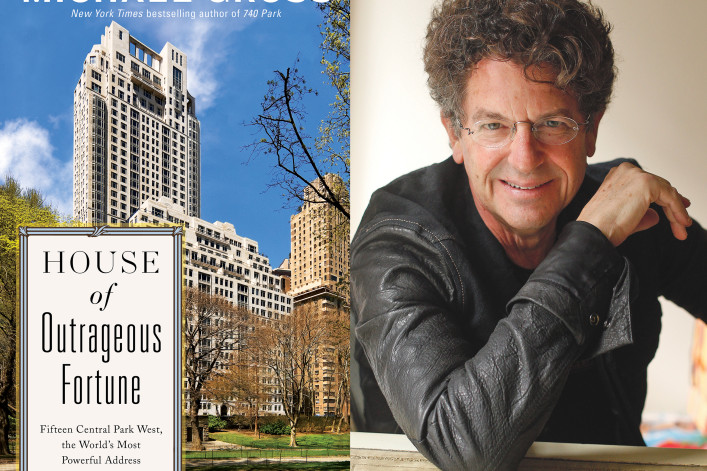 Forget about how the other half lives. Author Michael Gross has made a career of looking at a tiny sliver of the one percent. His previous book went behind the gilded doors of 740 Park Avenue. In his newest one, House of Outrageous Fortune: Fifteen Central Park West, the World's Most Powerful Address, Gross turns his gaze to the exceedingly expensive condos in an unassuming limestone building at the southwest end of Central Park. 
Even if you're unfamiliar with 15 Central Park West, you may have heard of its architect (Robert A.M. Stern), its jaw-dropping prices (an $88 million penthouse sale that broke city records) and the list of bold-faced residents past and present (A-Rod, Denzel Washington, NASCAR driver Jeff Gordon, Goldman Sachs CEO Lloyd Blankfein, and so on).
Here, Gross explains how the project upended real estate in New York and why living near a luxury condo is a good investment, if not so great for parking your car on the street.
New York City has some incredible apartment buildings. Why did 15 CPW deserve an entire book?
15 CPW represented multiple paradigm shifts. Condo not co-op, West side not East side,  and the newest of new money. ... That doesn't mean the appeal of old, luxury buildings has been diminished in any way, but as a paradigm I think 15 is "it." Seven-forty Park was the "it" building for 75 years before 15.
New York is changing. It has become a world city. The people who rule this city in terms of social life are still there, but they have been surpassed in many ways by a new layer of wealth on top--hedge fund or tech or media millionaires who bought into 15--and they don't give a damn about who the queen of society is. 
Even without a co-op board, there are 23 hoops that buyers need to go through, like personal and professional references and monthly bank and brokerage statements.
You don't need to be a member of the "club," or a certain ethnicity or go to a certain college, but 15 does have very stringent financial requirements. 
It's shocking to learn that some of the first buyers threw the interiors into Dumpsters.
A lot of these high-end, new-build condos are trying to be toothbrush ready [a reference to the broker cliche that all you need to bring to a new home is your toothbrush], and it's interesting with 15 that even though it tried to be toothbrush ready, a lot of people ripped everything out. There was a lot of money rolling around. There was a point they called a halt to renovations for a while.
The first phase of renovations was so intense that in 2009, a year after the building opened, steel magnate Leroy Schecter was told he could not combine his two adjacent apartments until that first wave was completed. Schecter finally began that job in 2012.
You've been inside some of these apartments. Are they really trophy material?
They are fabulous, and of course there is no accounting for taste, so some are not to my taste, but in terms of space, ceiling height and volume and views they are extraordinary.
How much of buying at this level is ego? 
A lot of it is about wanting to be in the building in the right moment. People love it. And they all know they have doubled and tripled their money. 
Prices at 15 CPW are mind-blowing. How high can they go?
I think $100 million is inevitable soon, and there are several apartments in 15 that could bring that. 
You're selling your two-bedroom at the Alwyn Court in Midtown West. Where are you looking to move next? 
All over the place. I used to live in the Village for years, and Midtown West was a revelation and fun. My wife and I are more interested in the space than we are in being in X or Y or Z neighborhood.  I have always preferred old buildings and old apartments. I have learned to like to go against the tide, and if people are going [to a particular neighborhood] my immediate thought is what's next.
Are new luxury buildings like One57, 50 UN Plaza and 15 CPW before them good for the city's real estate as a whole?
New York is about reaching for the sky, and also constant change. There are no comps to these buildings, but the halo effect [of 15 CPW] is that south Central Park West has become a hot neighborhood, and hot neighborhoods demand higher prices. Co-ops or lesser condos in those neighborhoods will be worth more.
Once One 57 and other billion-dollar buildings are completed, will 15 CPW remain the most coveted? 
I think it will. You haven't heard names moving in to One57 like the steady drumbeat of names moving in 15, where every apartment was another hedge fund manager or entertainer.
One57 is not the same, it doesn't have the glamour and cachet and it certainly doesn't have the architecture. I think 15 has the advantage of timing and originality. It was the synthesis of a luxury condo with a pre-Depression co-op, and it was the first of those. 
Why are we all so fascinated by real estate in this town? 
I think partly it's because it's finite--there is only this much Manhattan--and partly it's a big money game and a blood sport. It's also the ultimate status signifier. It answers the question: where do you live, and what do I learn about you from that?
Related posts:
Lessons from the $17 million buyout of a rent-stabilized apartment
Million Dollar Listing's Ryan Serhant on boosting his sex life with purple walls and why he won't buy a place
Five Minutes With designer Jonathan Adler
Designer-to-the-stars Zang Toi on why your knick-knacks have to go
"Sex and the City" set decorator Christina Tonkin shares tips on glamming up a small space
Design*Sponge blogger Grace Bonney on where to snag vintage Brooklyn decor
Brick Underground articles occasionally include the expertise of, or information about, advertising partners when relevant to the story. We will never promote an advertiser's product without making the relationship clear to our readers.