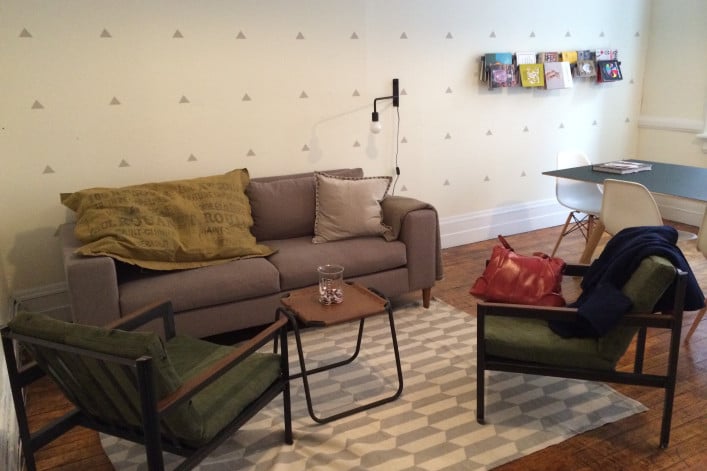 When I get to the front desk of 611 Broadway and tell the security guard that I'm here for "Breather," he seems vaguely confused. "Breather?" I say again. He doesn't seem to know exactly what I'm talking about, but he waves me toward the elevators without signing in. 
What is Breather? is a pretty good question. Dubbed the "ZipCar of rooms," the start-up and mobile app aims to provide "a quiet space in the middle of the hustle and bustle" where you can "kick back, relax, take a nap, or get to work in some peace and quiet." It recently launched in New York City, and got a spate of press, some of which focused on Breather as the company that rents apartments by the hour—with all the naughtiness that implied. But these are not apartments, which means they don't run afoul of the state law forbidding apartment rentals for less than 30 days.
The Breather spaces in Manhattan are all in office buildings—in Soho, the Flatiron District and near Penn Station—and come equipped with WiFi, white boards, and conference tables. Co-founded by Canadians Julien Smith and Caterina Rizzi, Breather launched at a London start-up conference in mid-2013 and now operates four spaces in Montreal and three in Manhattan.
"Because of Airbnb, people immediately think of apartments," Smith says by email, "but that's not accurate."
The building at 611 Broadway houses architects, nonprofits, public relations firms and other companies you'd expect to find in Soho, and the terrazzo-patterned hardwood, industrial light fixtures and curlicued metal railings fairly scream "creative types at work."
As for all the strangers entering the building, "landlords are chill with it," Smith says, adding that Breather brings in fewer strangers than a doctor's office, for example. 
I tried Breather for a different reason than avoiding the hustle and bustle. I was itching to get out of my apartment. I had work to catch up on over the weekend, and couldn't fathom another afternoon spent sipping overpriced coffee beverages and jamming my earbuds in my ears for privacy. 
So I signed up, downloaded the app, and headed to 611 Broadway, where I found my Breather waiting for me. The previous guests let me in when they leave, but a quick tap of the app let me sign in, and I'm all set. (The app gives you a code which unlocks the door.)
The Breather room itself has the same feeling as the rest of the building: a cross between a comfortable loft apartment and a start-up's offices, with a plush oatmeal-colored sofa, a rack of books seemingly chosen as much for their content—"Bike Snob," "The Best American Travel Writing"—as their artfully designed covers, and a wall given over to a white board. A yoga mat is propped against one wall, inches away from the iPhone charger, and two large windows and triangle-print wallpaper brighten up the room.
Unlike my own apartment, I have a ticking clock—the minutes count down on the Breather app—which basically kills any chance for procrastination. Unlike Starbucks, I can play music, bring in snacks, and use a bathroom that is free of lines and immaculate. 
"I like the fact that it's out of the routine of where you work," says Daniel, a software developer who booked the Soho location immediately before me to work on a project with a friend. "Usually it's a coffee shop. This is kind of like your own little quiet space."
All in all, the room is clean, quiet and comfy—the kind of space I'd be happy to have in my own apartment.
That said, there are a few kinks left to work out: Breather claims that the rooms are cleaned after each use, though my room wasn't before I took over from Daniel and his friend (and it's hard to see when cleanings would happen if the service gets popular). If your phone is dead when you arrive, you may be out of luck—there's no real backup for gaining entry into the room, Smith confirms. 
And the price may wind up being a hurdle for users. Though Daniel says he would use Breather again and tell his friends about it, he'd rather the price be closer to $10 an hour. (He was taking advantage of a free hour Breather gives to new users.) If you're doing a few hours of work, as many users no doubt will be, that $25 an hour can add up.
Update: Packy McCormick, Breather's NYC city manager, says that our cleaning problem was the result of a "technical issue that we have sorted out." Normally, the service blocks out 30 minutes between appointments for cleaners to come in. (They also do an inventory to make sure nothing was stolen.)
Related posts:
With Airbnb gray-zoned, is apartment-swapping still legal in NYC?
8 tips for NYC Airbnb hosts, from a pair of AirBnb junkies
Yes, it's still illegal to rent out your NYC apartment for less than a month
Real Estate Want: An all-purpose home office you can exhale in
NYC Renovation Chronicles: Slicing off a slice of the living room to create a fab home office
Brick Underground articles occasionally include the expertise of, or information about, advertising partners when relevant to the story. We will never promote an advertiser's product without making the relationship clear to our readers.