Flip or Flop?
Flip Or Flop: The price for this Bed-Stuy townhouse spiked $650K in 3 days. Is it worth it?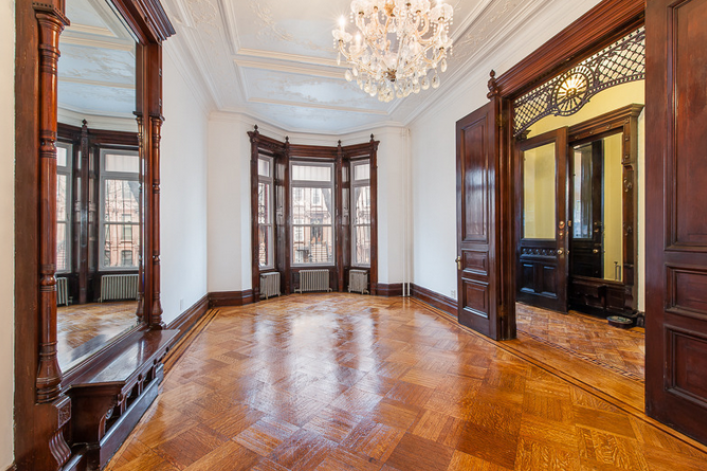 In a rising real estate market, it can be hard to tell the difference between a fair asking price and dream-on numbers. BrickUnderground periodically examines homes on the market for significantly more than their most recent sales price and, with the help of experts and the number crunchers at real estate listings and property data website Point2 Homes, we try to figure out why--or why not--the asking price is worth it.
The numbers
Asking price: $1.85 million
Previous sale price: $1.2 million
Difference: $650,000
Markup: 54%
Listing date: Feb. 21, 2014
Days since last sale: 3
The property
This partly refurbished three-family townhouse sits on a quintessential brownstone block of Bedford-Stuyvesant. Compared to all the other multi-family properties in Bed-Stuy that sold in the last 90 days, 196 Hancock Street is, ahem, on the expensive side: At $516 per square foot, it rings in at nearly four times the average sale price for the neighborhood of $116 per square foot.
But as BrickUnderground observed first-hand at a well-attended open house on Sunday, the 3,600-square-foot, four-story brownstone, built in 1899 by architect Gilbert Alphonse Schellenger, is not only larger than many of those properties, it's packed with period details brownstone buyers often seek: intricate woodwork, stained glass, floral moldings on the ceilings, carved stair railings, and several decorative fireplaces.
The current owner--a Brooklyn real estate investor--completed some updates, such as removing Formica panels from the walls, rebuffing the floors, and undertaking an oil-to-gas conversion, which is still in process, according to broker Ban Leow of Halstead Property.
"All this adds up to [the asking price], and people know that nowadays," Leow says.
The ground floor and first floor make up an owner's duplex, and the parlor room looks like the major draw here. You could imagine peering out the wood-framed bay windows at horse-drawn carriages or women in ball gowns sashaying beneath the chandelier.
The lower-level doesn't live up to the grandeur of the parlor floor: It's partly below ground and houses a suburban-sized kitchen that shows its age--complete with a rotary phone, an ancient microwave, and linoleum floors. The private backyard is a welcome addition, however, as is a handy mudroom. 
Upstairs in the third and fourth floors are two vacant 1.5-bedroom rental units. Each has lots of windows, bringing in light, and the half-bedroom would make a snug home office or small nursery. With the current median asking rent for a one-bedroom in Bed-Stuy at $1,722 a month, according to StreetEasy, the rental units would likely help offset monthly costs.
The takeaway
So why the notable price spike compared to the previous sale? 
The fact that the most recent deal was an estate sale provides clues.
The former owner was the late Glencora Smith, who bought the property with her husband in 1969 with a mortgage of $15,500, property records show. (The purchase price was not available.)
Smith's heirs may have let the house go for significantly less than market value. Perhaps they wanted a quick sale, and the current owner was willing to pay all cash or close quickly; or perhaps the two parties arrived at the price a year ago. Or maybe they were simply unfamiliar with the Bed-Stuy market, notes Jonathan Miller, president of appraisal firm Miller Samuel. 
(For tips on getting the best price for an estate sale, check out BrickUnderground's guide to selling an estate-condition apartment.)
Leow, the property's current broker, maintains that the asking price is in line with the current market, noting that he recently sold a similar townhouse for $1.85 million nearby. 
Indeed, Miller tells BrickUnderground that the $1.85 million asking price on this house doesn't "raise any flags" and is "certainly consistent" with prices for comparable properties on the market.
"Investors are buying and trying to flip for substantially more than what they paid and some are successful," Miller says. "If you had to pick a form of housing stock in Brooklyn that is seeing the tightest market conditions, that would be brownstones."
Perhaps the best evidence of that arrived on Sunday at the first open house: upwards of 100 people attended, and by the end, five offers had been placed, says the broker, including three over asking price.  
Related posts:
Flip Or Flop: Did renovations really up this co-op's value by 75%?
So you wanna be a landlord? 10 things to ask before buying a home with rental units
How to sell an estate-condition apartment
10 things to consider before buying a brownstone
Buy Curious: I want a Brooklyn townhouse. Where should I buy?
---
Flip or Flop takes a look at apartments on the market for significantly more than their last sale price and provides an opinion on the increase.
Brick Underground articles occasionally include the expertise of, or information about, advertising partners when relevant to the story. We will never promote an advertiser's product without making the relationship clear to our readers.