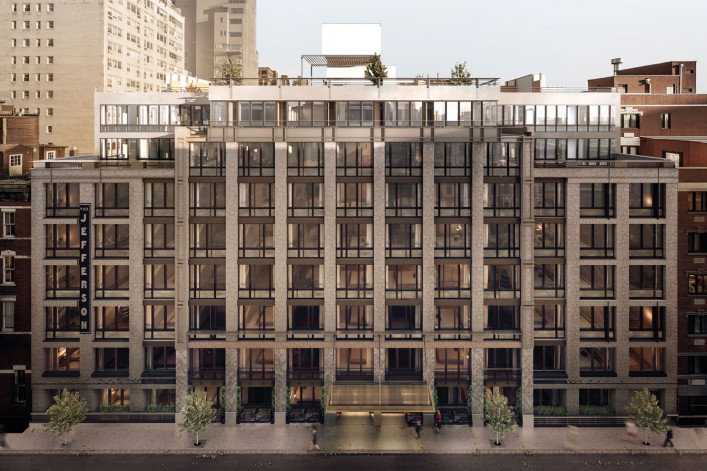 What exactly is a tax abatement and how can you get one? Andrew Gerringer of The Marketing Directors gives us the skinny in this week's Buy Curious.
THE WISH LIST:
"I'm looking for a condo in Manhattan, and I've heard some new developments offer tax abatements. What does that mean, and where can I find the best ones?" 
THE REALITY:
How it works: Since the 1970s, New York City has offered 421-A tax abatements--meaning temporary tax reductions--as an incentive for developers to build affordable housing, either as part of the new development they're building or in a separate project within the same district. As such, many newly constructed buildings offer abatements for varying lengths of time.
The program typically gives a buyer a 10-year tax break, but it can also go as long as 25 years. The zoning determines whether or not a building gets a 10-, 15- or 25-year abatement. The more that the city wants to stimulate development in certain areas, the longer the abatement will tend to be.
The taxes start out low and phase in over the length of the abatement--typically going up by 20% every two years--so that at the end of the term, the taxes are at full value and should be equal to similar properties without abatements or whose abatements have expired. 
Why they're great for buyers: I would wholeheartedly recommend buying into a building with an abatement in place, assuming you really want to live there and you aren't living on a fixed income (meaning you couldn't swing the post-abatement rate). The money you save over the abated period of time could be used to pad your savings, pay down more of your mortgage or even take a vacation somewhere far, far away from the polar vortex.
Why you need to be wary: Remember, a tax abatement can be a wonderful perk, but it's rather fleeting in the greater scheme of things. Make sure you do your due diligence and have all the facts and figures firmly in hand before you buy.
Also, before you even think of putting any money down, make sure your real estate broker and/or attorney lets you know how much you'll spend per month while the abatement is in position and how much you'll pay once it expires--and make sure you can afford both, plus any other likely tax increases the city could implement.
Where to get them: The 25-year abatements are typically found in Harlem and other parts of Upper Manhattan, where taxes already tend to be lower than other areas of NYC.
But as far as where to find "the best ones," I don't really have an answer, since all kinds of buildings across NYC can have abatements—including in pricier neighborhoods like the Upper East Side and Midtown. The spirit of the program was meant to stimulate affordable housing, so many are confused when they see high-end buildings with these benefits. You don't think of a building full of multimillionaires as needing a tax break.
Here are some buildings with abatements in Manhattan:
The Jefferson, East Village: Construction on this eight-story luxury condo building at 211 E. 13th St. between 2nd and 3rd Aves. should be completed sometime this year, but it was designed to blend in with the East Village's many 100-year-old edifices. Each of the building's 83 units (ranging from studios to 3-bedrooms, from 500 square feet to 1,880 square feet) offers high ceilings, and a third of the apartments have outdoor space. Amenities include a doorman, a gym, a lounge, a business center and a roof garden. Prices start at $850,000 for a 536-square-foot studio and go up to $2.49 million for a 1,233-square-foot 2-bedroom penthouse. Residents will benefit from a 10-year abatement. Abated taxes on a $2.1 million second-floor 2-bedroom are $484/month.
One57, Midtown: This 90-story, 94-unit condo building at 157 W. 57th St. between 6th and 7th Aves. is not yet ready for residents to move in, but at 1,004 feet, it's the tallest residential building in NYC (but only for a short time, as 432 Park Ave., which will be finished next year, is expected to be taller). It's also one of the most expensive developments in the city, with units still for sale ranging from $6 million for a 1,000-square-foot 1-bedroom to $32.75 million for a 5,475-square-foot 5-bedroom. Even so, units come with a 10-year tax abatement. [Ed's note: This situation has made One57 and four other developments across the city the subject of a state anti-corruption task force probe.] Each apartment in the building has high ceilings and oversized doors, as well as rosewood flooring and custom hardware and light fixtures. Building amenities include a gym with a swimming pool and steam room, a screening room, cold storage, a library, a doorman and a concierge. Abated taxes on an $18.85 million 43rd-floor 3-bedroom are $313/month.
W New York Downtown Hotel and Residences, Financial District: This 57-story building at 123 Washington St. between Carlisle and Albany Sts. was completed in 2010 and and has 222 studio, 1-bedroom and 2-bedroom condos. Building amenities include a gym, a digital lounge with video games and WiFi, a media screening room, a café and a rooftop terrace. Apartments still on the market in the W—which benefits from a 10-year tax abatement—range from $1.35 million for a 606-square-foot 1-bedroom to almost $10.6 million for a 3,525-square-foot 6-bedroom. Abated taxes on a $2.8 million 33rd-floor 2-bedroom are $126/month.
The Charles, Upper East Side: Construction on this 31-story residential building at 1355 First Ave. between E. 72nd and E. 73rd Sts. is expected to be completed in late 2014 (and residents will thereafter benefit from a 10-year abatement). The building consists of 27 full-floor apartments (with up to four bedrooms). There's also a residents' lounge, a fitness center, a full-time doorman and concierge and private storage. Apartments still on the market range from a $6 million 3,637-square-foot fourth-floor 4-bedroom to an $8.45 million 3,448-square-foot 4-bedroom on the 20th floor.  Abated taxes on an almost $7 million 12th-floor 4-bedroom are $1,189/month.
35XV, Flatiron District: Slated for occupancy in fall 2014, this mid-block luxury building at 35 W. 15th St. between 5th and 6th Aves. will have 54 apartments. Each will be equipped with Lutron home automation systems (including remote controlled shades, lighting systems and temperature controls), and have white oak floors, marble countertops and master bathrooms with steam showers and radiant heat marble flooring, as well as separate soaking tubs. Building amenities include a common outdoor terrace, a health club, a climate controlled wine cellar and an entertainment lounge. Residents will also benefit from a 10-year abatement. Units still available include a 1,868-square-foot 2-bedroom for just over $4 million and a 3,831-square-foot 4-bedroom for $12.65 million. Abated taxes for a 16th-floor $6.33 million 3-bedroom are $3,314/month.
Related posts:
The real (scary) numbers behind those tax abatements
7 questions to ask about the building before you buy an apartment there [sponsored]
Everything you ever wanted to know about sponsor apartments but were afraid to ask
What I learned from 150 apartments before I finally bought one
Diary of a First-Time Buyer: 13 lessons learned after 60+ apartments, 2 attorneys, 3 brokers and 2 board applications
---
Buy Curious is a weekly column in which NYC real estate brokers help buyers develop a realistic search strategy. Want some advice on your search? Send us your wish list.  
Brick Underground articles occasionally include the expertise of, or information about, advertising partners when relevant to the story. We will never promote an advertiser's product without making the relationship clear to our readers.