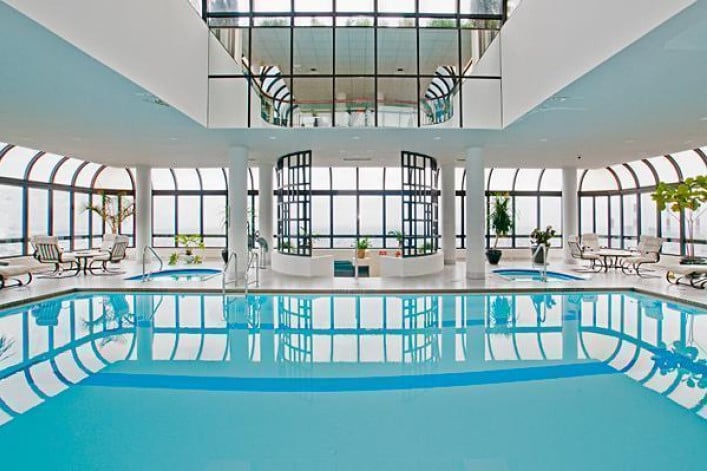 When your kids are more comfortable in water than on land, a pool in the building is more necessity than luxury. Guest broker Julia Miller of Platinum Properties helps locate a place where your mini Michael Phelpses can learn how to freestyle in this week's Buy Curious.
THE WISH LIST:
"My kids and I love to swim, so I'm looking to buy a 3-bedroom apartment with a pool in the building (and a garage ideally). I'd really like to pay less than $2 million. Is that doable?"
THE REALITY:
If you're set on a swimming pool and a specific neighborhood in Manhattan, you'll have a tough time with a $2 million price range. For that amount, you'll mostly be limited to buying a co-op, rather than a condo, and living on the Upper East Side. 
The average sale price for a 3-bedroom co-op in Manhattan is more than $3.64 million. Condos are almost 40% higher at over $5 million. With a swimming pool in the building, expect prices to be even higher.
That said, there are other options.
Get the keys to a convertible: Consider buying a convertible 3-bedroom, meaning a 2-bedroom apartment that also has a dining room or home office that can be converted into a third bedroom. The average sale price for a 2-bedroom co-op in Manhattan is $1.49 million, while condos go for $2.44 million. Buying a convertible-3 can make a significant difference for the purchase price.
Pool your resources: Rather than buying in a building with a pool, buy close to one. An extra $300 or $400 a month for your family's pool membership (at a place like the YMCA, which has a number of locations throughout Manhattan, or Asphalt Green, which has locations on the Upper East Side and Battery Park) could be a small price to pay compared to the hundreds of thousands of dollars extra in apartment purchase price. Moreover, even a pool in your building may not be open on a schedule that works for your family because hiring a lifeguard is expensive.
Cross the river: If you're set on a pool in the building, you could look in cheaper areas where it's possible to find a 3-bedroom for under $2 million. For example, Brooklyn, Long Island City or New Jersey all offer easy commutes and significantly lower prices. Depending on what area you choose, you may not be able to count on the same kind of price appreciation as in Manhattan, but it would still be better than renting.
Bottom line: If you do find a deal on a true 3-bedroom under $2 million in a building with a swimming pool, be prepared to make an offer at, or close to, full asking price. And don't forget that monthly maintenance or common charges plus real estate taxes will likely be above average, which goes hand in hand with maintaining the swimming pool.
As for the garage, all the listings below include a place to park your car—which is par for the course with buildings high-end enough to have swimming pools.
True 3-bedrooms under $2M:
Upper East Side 3-bedroom/2-bathroom condo, $1,298,000: This corner 3-bedroom condo at 1601 Third Ave. between E. 90th and E. 91st Sts. has fairly reasonable common charges ($1,473/month) and real estate taxes ($1,660/month). This is a great deal for an apartment in a building with a swimming pool. It is on the 27th floor with sunny exposures and offers great closet space and a separate dining area. The full-service condo building has a 24-hour doorman, a concierge, playground, a fitness center and a garage.
Battery Park City 3-bedroom/3-bathroom condo, $1,895,000: 2 River Terrace (at North End Ave.) is a luxury building in Battery Park City. Located on the fourth floor, this apartment features a washer/dryer, a state-of-the-art kitchen, ample closet space and high ceilings. There's also a 24-hour doorman, a concierge, an on-site garage, billiard and fitness rooms, a yoga studio, and a 50-foot lap pool. It's a rare deal in Battery Park City.
True 3-bedrooms for $2M-$2.5M:
Upper East Side 3-bedroom/4-bathroom condo, $2,175,000: This combined corner unit at 530 East 76th St. between York Ave. and East River Dr. is not your typical cookie-cutter apartment. Curved floor-to-ceiling windows in the living room show river and city views, and there's also a sizeable terrace, stainless steel kitchen, and custom closets and built-ins. Amenities include a 24-hour concierge, doorman, a roof deck, an outdoor jogging track, maid services, a garage, and a newly renovated health club with a heated swimming pool. The common charges ($2,508/month) and real estate taxes ($1,629/month) are again on the higher end, but that is to be expected.
Convertible 2-bedrooms:
Murray Hill convertible 3-bedroom/2-bathroom condo, $1,795,000: This loft-like convertible 3-bedroom apartment at 300 E. 40th St. between First and Second Aves. comes with a balcony, high ceilings and white-glove building service. There's a full-time door staff, concierge, health club, rooftop garden, garage, valet service, and a rooftop pool (meaning it's only open in the summer). It's a good deal for the location, but is the rooftop pool a deal-breaker?
Midtown East 3-bedroom, 2.5-bathroom co-op, $1,875,000: This loft at 303 E. 57th St. between First and Second Aves. offers 1,800 square feet, city views and completed renovations. Floor-to-ceiling windows add a "wow" factor, and the building's services include a doorman, gym, garage and pool. Maintenance charges are on the higher end at $4,502 a month, most of which is applied to maintaining the building's outstanding amenities.
---
Buy Curious is a weekly column in which NYC real estate brokers help buyers develop a realistic search strategy. Want some advice on your search? Send us your wish list.  
Related posts:
Buying, renovating or refinancing next year? 5 mortgage trends to watch in 2014 [sponsored]
What 8 first-time buyers wish they had known
Here are the 7 most likely reasons you'll get turned by a co-op board
7 questions to ask about the building before you buy an apartment there [sponsored]
Everything you ever wanted to know about sponsor apartments but were afraid to ask
How to buy an apartment that's not for sale using PropertyShark.com [sponsored]
6 hurdles that can stand between you and a mortgage -- and what to do about them
7 things to consider before buying in a landmarked building
Top 12 questions New Yorkers ask their mortgage bankers [sponsored]
What I learned from 150 apartments before I finally bought one
Diary of a First-Time Buyer: 13 lessons learned after 60+ apartments, 2 attorneys, 3 brokers and 2 board applications
Brick Underground articles occasionally include the expertise of, or information about, advertising partners when relevant to the story. We will never promote an advertiser's product without making the relationship clear to our readers.