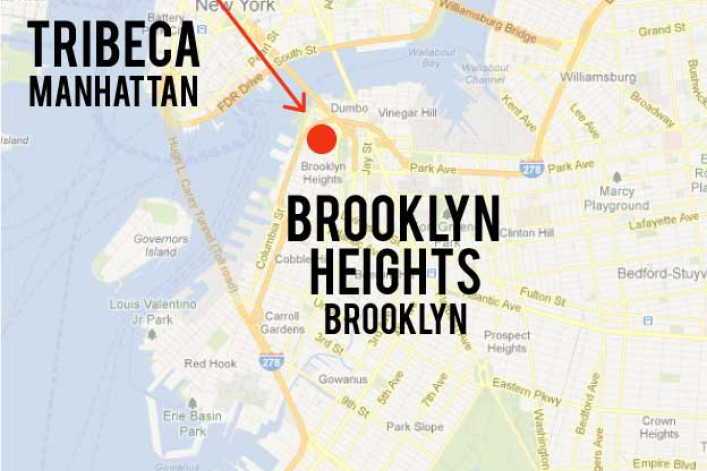 When I decided to move back to Brooklyn recently, I wasn't leaving a bad situation or even a neighborhood I disliked, but rather returning to a former neighborhood that just felt more like "me."
In TriBeCa, I lived in an  unconventional, loft-type apartment. I loved the open plan kitchen as well as grabbing brunch at Hundred Acres, and tapas at Boqueria and meze at Snack Taverna. I also liked living close to my brother, sister-in-law and niece and nephew. Plus biking on the West Side Highway bike path was really nice.
Where I was living, though, far west, there weren't actually that many amenities; my closest grocery stores were a bit of a hike. It was a fairly commercial area which meant that a lot of places closed at night or on the weekends.
Getting back to Brooklyn was important to me; I had lived there four years earlier and missed it all the time, only leaving because the building was sold. I wanted to return to Brooklyn because it felt more like home to me. Not as dressy, more relaxed overall, more neighborhood-y. If an area has lots of people wearing high heels to the bars, it is probably not my scene. I had left Brooklyn before for a good deal--and that was totally worth it--but I missed my old stomping ground.
I also wanted to take advantage of the low interest rates and buy a place.  The place I bought in Brooklyn Heights, a very small two-bedroom, is a more traditionally arranged apartment than the loft. The apartment has smaller rooms and more old-timey and charming details like a bay window/window seat and original moldings.
I like everything about the Heights! I like that I live near quiet brownstone streets now, but also bustling commercial ones. Atlantic Avenue is a great artery, as are Smith Street and Court Street, with all the shops and restaurants and movie theaters and bars that I totally love and have come to rely upon.
I also love having great places to buy food, all within short walking distance---several farmers markets, at both Borough Hall and Carroll Gardens, Stinky Brooklyn, Bien Cuit, Trader Joe's, Key Food, and all that so close is important to me.
When it comes to commuting, I take the 4/5 at Borough Hall into Manhattan. My commute takes about 30 minutes. Because I go to work at 10 a.m., I just miss the crazy rush and usually get a seat on my way to work.
Not much has changed since I had lived nearby a few years back. But it did surprise me that my tailor remembered me after I'd lived elsewhere for four years. I was truly heartbroken when he died a few months ago. A sweet man, and a very good tailor.
One thing that has changed is the entire renovation of Brooklyn Bridge Park; it is kind of amazing how beautifully it's been revitalized. There are concessions, lawns, walking promenades and a playground. I can't wait until it's finished.
There's also the very sweet Cobble Hill Park and little dog runs tucked in and around the extended neighborhood for me to walk by and admire dogs being cute. (I have no dog, but still love them).
I honestly can't think of anything I dislike about Brooklyn Heights. Um, too many cute dogs? Can't find enough time to pet them all?
---
Transitions highlights New Yorkers' first impressions as they transition from one neighborhood to another. Want to tell us your transition story? Drop us an email.
Brick Underground articles occasionally include the expertise of, or information about, advertising partners when relevant to the story. We will never promote an advertiser's product without making the relationship clear to our readers.