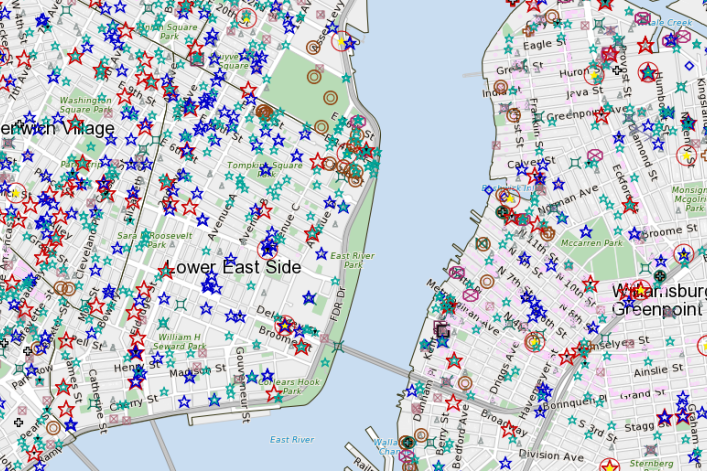 When searching for a new place to call home in New York, most people know to steer clear of areas with landfills, power plants and, say, massive decades-long subway construction. But did you also know that toxic sites abound in the five boroughs?
Real estate data powerhouse PropertyShark.com has compiled a handy map of said toxic sites that could lead to health or even financial hardships.
"It's buyer or investor beware," says Nancy Jorisch, a senior data analyst for PropertyShark, noting that folks might find themselves responsible for clean-up duties even if they weren't to blame for the original toxic mess.
"Gas tank leaks are a major concern," she says. "[The gas] can migrate long distances through soil," ultimately affecting a property you purchase that's seemingly far enough away from the site of the leak.
The legend on the left side of the map (and reprinted below) breaks things down further so you'll know exactly what it is you don't want in your backyard. You'll find oil spill and tank failures galore, along with hazardous waste violations (a red X inside a box--zoom into the map to see them).  Double brown circles indicate brownfield sites, formerly used for commercial purposes and potentially contaminated by hazardous waste or pollution. A purple lower-case "t" in a square is a hazardous waste treatment, storage or disposal site. A purple X in a circle is a solid waste facility, and a red cross is a U.S. Superfund priority site.
"Properties closest to manufacturing plants, gas stations and landfills have the highest amounts of potential toxicity," says PropertyShark's Jorisch.
For example, Newtown Creek—which forms part of the border between Brooklyn and Queens, and was designated a Superfund site in 2010—is considered one of the most polluted industrial sites in the U.S., with an estimated 30 million gallons of spilled oil and raw sewage from the NYC sewer system.
While the many symbols on this map might make you think you need to flee New York immediately lest you grow a third arm, Jorisch urges folks to stay calm.
"People shouldn't panic if they see an icon near a property they're looking to buy," she says. "Not all icons are equally serious and some issues are much more benign than others."
PropertyShark's individual property reports, available to members, also contain a "Hazards & Enviornment" section (screenshot below) that's helpful in understanding the hazards associated with the property, the lot next to it, or the street where it's located.  
To see a sample property report loaded with a wealth of information you'll want to have before you buy a home, click here.
---
PropertyShark.com is a real estate website that provides in-depth data for more than 75 million properties in New York City, Philadelphia, Los Angeles, San Francisco Bay Area, and other major US markets. The company covers most of the U.S. with a primary focus on the New York real estate marketplace. Click here to see what services and data are offered in your area.
More from PropertyShark.com:
How to buy an apartment that's not for sale
How to find the real owner behind an LLC
Brick Underground articles occasionally include the expertise of, or information about, advertising partners when relevant to the story. We will never promote an advertiser's product without making the relationship clear to our readers.