Only in New York
Only in New York: Renters spill the weirdest things they've seen during their apartment hunts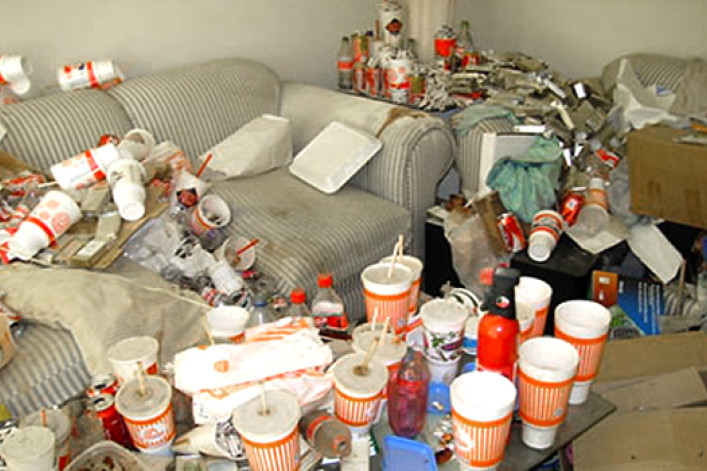 Apartment searching in NYC is not just daunting--it can also open the door to a whole bunch o'crazy.
During my own recent search, I came across an apartment that reeked of urine, tales of bed bugs, a shower stall smack dab in the middle of a kitchen and was once greeted by an underwear-clad, wheelchair-bound hoarder who had to sit in the hallway because his apartment door could not close due to the piles of stuff he had accumulated.
I wish I could say that the oddities I came across while searching were an anomaly, but they were only the tip of the iceberg. In NYC when looking for the perfect rental, you have to kiss a lot of (figurative) frogs to score a prince.
Here's a sampling of some close encounters of the rental kind.
Body in a closet
"I am from the U.K. and began apartment hunting after I opened a branch of my business in NYC. At the third apartment—a West 42nd Street two-bedroom for $3,800 a month--the very chatty agent opened the door and asked me to wait just a moment before entering. I could hear sounds like she was moving something, so I peeked in and saw her pushing a male body into a very small closet.
Was it a dead body, I wondered? After all this is NYC! How exciting!
Apparently it was the owner's brother--drunk and incapacitated. She continued to show me around, minus the closet, as though this was an everyday occurrence. 'We always stuff bodies into closets in NYC you know.' I did not take that apartment." -Rochelle
The control freak landlord
"I saw a really beautiful one-bedroom sublet in a very nice doorman building in the Yorkville section of the Upper East Side. It was fully furnished but completely not my style. It was modern, and I'm more of Pottery Barn/William Sonoma-type of girl.  
But the landlord was very particular.  She literally wanted me to use the bedding she chose because it went well with the lighting, the towels she picked out because they were soft, the dishes she picked out because they went well with the kitchen and only her silverware. It was so bizarre.  I obviously didn't take the apartment." -Debra
A half floor a la Being John Malkovich
"An affordable three-bedroom rental in Manhattan might be the holy grail of real estate. I learned this the hard way, when two of my college roommates and I went apartment hunting shortly after graduation. One of the more memorable sham listings was a 'three-bedroom duplex' on Park Avenue South. I can't remember the asking price, but it was obviously low enough to warrant a visit and, therefore, too good to be true. 
We walked in to a fairly expansive living room. There were doors to the kitchen, bathroom, and a bedroom. Emphasis on the singularity of said bedroom. We asked the broker where the other two bedrooms were. Turns out we were standing in one of them. Bedroom #2 would've been created by constructing a temporary wall down the middle of the living room. Fair enough -- that kind of division is standard.
But what of bedroom #3? That was the real rub. To one side, there were steps ascending to a second level--hence, DUPLEX. That level jutted out about halfway across the living room, and was, according to the broker, suitable as a third bedroom. Climbing the steps was a Being John Malkovich experience. This second level was approximately four feet from the ceiling. As an experiment, I sat down cross-legged on the floor, and the top of my head came very close to grazing said ceiling. If there had been so much as a mattress below me, I wouldn't have been able to sit up straight. We moved on, not in." - Karen
The clothes horse, the dungeon and the communal bathroom
"I was searching about two years ago in Midtown East for a one-bedroom apartment. My whole search was rather odd, which each viewing weirder and more disconcerting than the last.
Early in my search, my broker turned the key to an apartment and to my surprise there was much clothing strewn about that you literally could not see the floor. The man living there never did laundry and was buying a shirt for each day of his life, as though new clothing was cheaper than getting it cleaned. Needless to say, we couldn't even walk in. I didn't bother trekking through the tailored shirts and jackets.
The second weird encounter was the layout of an Upper East Side apartment in a high-gloss newly renovated building, which was renovated in the worst way possible. Not one bedroom has a real window; however all rooms had stained glass walls to let the 'light' in. At $3,500 a month? No, not necessarily after we count the electric bill.
The last one was in a beautiful prewar building in Midtown East. Since the one bedrooms in the building were extremely overpriced, I asked if they had a studio. They did and brought me down to the first floor and to the back of the building and showed me a closet...
'No, this is a studio,' said the landlord. The 'studio' could have only fit a twin bed and a nightstand. It was narrow and eerie. The bathroom was down the hall. Yes, communal!  All for a mere $1,500 a month." –Lainy
One girl, one cup
"When I moved to NYC from L.A. I was in for a shock. I was happy to check out a two-bedroom (shared) apartment  near Bloomingdale's on East 62nd Street. As I was viewing the tenement apartment, which had a little sink and bathtub in the kitchen with a bald-headed lady I would be sharing the apartment with, I noticed she didn't show me a bathroom.  I asked her where she went to the bathroom and turns out the bathroom was down the hall, and that she shared with the other tenants on the floor.
She then said, 'In the freezing wintertime at night I pee in a cup.' 
Needless to say I did not take that apartment, although I suspect she is still there using her cup in mid-winter." -Ruth
Related posts:
Only in New York:  Brokers describe the oddest apartments they've seen
Only in New York: A homeless woman slipped into our apartment (and stayed overnight)
Brick Underground articles occasionally include the expertise of, or information about, advertising partners when relevant to the story. We will never promote an advertiser's product without making the relationship clear to our readers.