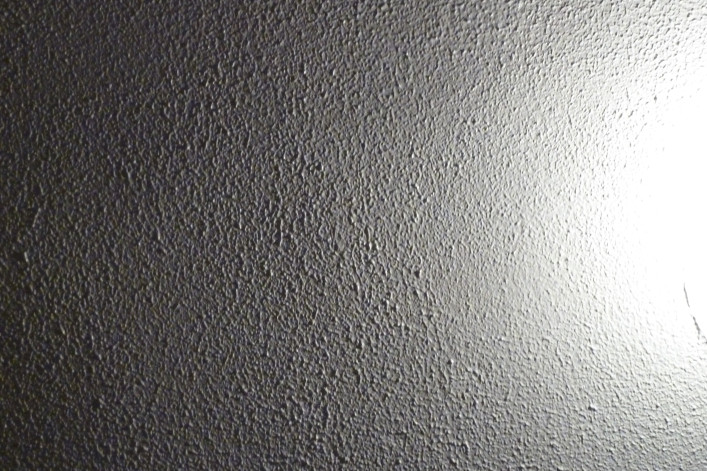 Popcorn paint. Whoever invented it has some explaining to to do.
Popcorn paint became a popular way to cover cover up cracks and thin or uneven ceilings all across the country starting in the 1950s. It is sometimes called stucco or cottage cheese. (Yes! People really call it that). Personally, I think cottage cheese is the most apt description of my bedroom ceiling: just a gloopy-looking, bumpy, white mass. What's in it, however, can be far less benign. Popcorn paint used to be made with white asbestos fibers. Though asbestos was banned in the manufacture of ceiling treatments in 1978, suppliers were still allowed to sell their existing inventory, which lasted well into the 1980s.
Builders and DIYers liked the material for several reasons, and by "several" I mean two: cheap and easy.
Popcorn paint has noise dampening qualities, which is why such ceilings are sometimes euphemistically called "acoustic ceilings."  And it was easy to spray or slap on. So for little skilled labor and cost of materials, you could "insulate" a room for sound--unlike, say, hiring people to give a ceiling proper insulation, a smooth plaster and paint job.
Our top-floor, pre-war apartment has thick, plastered ceilings and no need for more sound deadening. But I'm guessing from the general state of the apartment that the our ceilings had started to crack and peel, and at some point in time--probably the mid-80s--the dreaded popcorn paint was applied to the bedroom ceiling.
We considered a few ways of dealing with our yucky ceiling. For instance, we thought we could paint it a dark, rich color in a flat finish for the ceiling. A flat finish--as opposed to a glossy one--will absorb rather than reflect light, which will hide imperfections better. So it would camouflage the popcorn a bit, if not really hide it. 
What dissuaded us from that option was the possibility of disturbing the sleeping asbestos in the ceiling. We didn't have ours checked for asbestos; we simply assumed it was there, and we didn't want to risk accidentally loosening bits of the material and releasing asbestos into the room. Also, I hate painting ceilings. It's just a pain in the neck- literally. You strain your neck while stimultaneously punishing your arms and shoulders trying to guide rollers, heavy with paint, across your ceiling, while paint splatter rains down upon you. (Tip: wear a full body suit, gloves, glasses, and surgical masks.)
We also--very briefly--considered removing it ourselves. But who are we kidding? Even if there were no asbestos in our ceilings, there would still be the unimaginable mess of scraping paint and various fiber particles off the ceiling for endless hours, and then the stress and strain of all that labor. No way.
And that was how we decided on ceiling tiles (or panels).  
There are different types of ceiling tile (tin, plastic, styrofoam) and different ways of installing them (drop ceiling, nail up, glue-up).  We plan to install them ourselves, as from what I can deduce on the Internet, installing ceiling tiles is a cost-effective, DIY friendly project. We found several how-to videos online , and from the videos and testimonials, it seems nothing could be simpler. 
I checked the usual suspects first: Home Depot and Lowes both had ho-hum selections. Both offered the more common ceiling panels that are used in a grid for drop ceilings, as well as glue-up options. But many of their options are made of vinyl are not meant to be glued directly on popcorn ceilings.
Then I found a company that sells a product made just for this job: lightweight, durable styrofoam panels, embossed with different patterns. Many of them are even really pretty. They can be glued directly to a textured ceiling and painted with any water-based paint. (I know I said I hated painting ceilings, but at least this will be lovely and smooth and won't require several coats of primer and paint)
So, for $10.99, I thought it would be a good idea to sample the product first. I chose three tiles from Decorative Ceiling Tiles.  Sounded simple enough. But don't all home DIY project sound simple enough?
If there is one thing I've learned it's that in home renovation, nothing is really ever that simple. For one, the samples are late being delivered (we are waiting for the third attempt by FedEx...). For another, no matter how easy the installation, there's all that furniture to move out of the way first.
Next time: the results! 
---
NYC Renovation Chronicles is a bi-weekly column focused (obviously) on renovation, NYC style. Helmed in the past by an architect, a kitchen and bath designer, and a general contractor, the column's new steward is co-op renovator, real estate porn addict and Harlem resident Mayra David. She'll focus on what it's like to DIY or HSI (= Hire Someone Instead) in NYC.
Related posts:
NYC Renovation Chronicles: When the project is DIY, it helps to have the right tools, a good report with the super and lots of plastic sheeting
NYC Renovation Chronicles: 3 DIY projects worth doing yourself
10 things I learned during my year-long renovation
5 things you may live to regret doing in your own apartment
10 first-time renovation mistakes even New Yorkers make
Want to renovate? Here's how to get the money
Here's why you may be overpaying for your NYC renovation
NYC Renovation Questions: What should I ask when checking my contractor's references?
Can't afford/find a two bedroom apartment? The right one-bedroom just might work
NYC Renovation Questions: What should I know about converting a tub to a walk-in shower?
Here's why you may be overpaying for your NYC renovation
NYC: 5 ways to save on your bathroom renovation
Brick Underground articles occasionally include the expertise of, or information about, advertising partners when relevant to the story. We will never promote an advertiser's product without making the relationship clear to our readers.