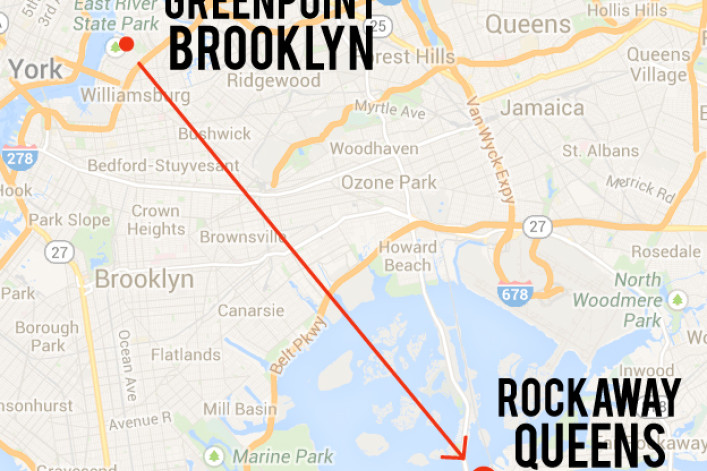 I decided to leave Greenpoint mostly because of what I think of as the "Williamsburg spillover."  
When I first moved to Greenpoint a few years ago,  it was partly because I wanted to have access to all the excitement of Williamsburg but wanted something quieter. I loved the strong Polish community and the charm of all the small businesses. Within about a year, all of the young, Williamsburg types started to move into Greenpoint. It happened from one summer to the next.  
It's not a bad thing, really, but all of the new people have changed the way the neighborhood feels and I liked it the way it was before it changed, when it was more ethnic, not as "cool." 
I had been living on the first floor of a house in Greenpoint. My roommate had dodged the New York real estate bullet by doing her search in the listings of a local Polish language newspaper. Our roomy apartment had  two bedrooms and a huge--about 100x25 foot--garden in the back. My share of the rent was $900.  The block was quiet and tree-lined with a church at the end of the street  and most of my neighbors were Polish. 
When I decided to leave Greenpoint, I wasn't sure where I wanted to go.  I had been to Rockaway a few times and in November, after superstorm Sandy, I spent time there just walking around, talking to people and taking photos. I liked it.  
A friend of mine, a surfer/real estate broker whose Dad had lived there, always talked about how great a place it was so, when I saw a listing for an ocean front apartment for $1,000 on Craigslist, I figured it sounded too good to be true but that I'd take a look anyway.  From the minute I walked into the studio apartment with a 6-foot-high window facing the ocean, I knew I had found what I was looking for.
Even though I was going to be a renter, not a buyer, in my building, which is a condo, I still had to be interviewed by the people who live here.  They are primarily Irish -American, most are between 40 and 70 years old. We sat around a card table in the basement and they asked me about my lifestyle, wanting to make sure that I was someone who would appreciate the area. The vetting process took weeks.  
I moved in April and I think it's amazing. Although my studio is smaller than the space I had in Greenpoint, it doesn't really feel smaller. Maybe it's because the expanse of beach and water outside my window. 
I like the feel of a real, cohesive community--a place where people really care about where they live.
My new apartment is right on the beach-- a favorite spot for surfers, paddle boarders and kite surfers-- and when the sun comes up I like to go out on the sand to sit and drink my coffee. And I love the contrast between where I live and where I do most of my work.  I'm a photographer and spend lots of time taking photos in Manhattan, often in high end neighborhoods. Rockaway feels so much more like "home" to me--it just feels right.
My new block is very different from my old one. It stretches from the bay to the ocean, and the six-story apartment house where I live is the only apartment building on the block. The rest of the street is lined with huge private houses. Some have been divided up into smaller units and some are empty because of the damage from the storm. 
Of course I'm concerned about future storms. It's something I thought about pretty hard. But it's a risk I'm taking. I guess part of me thinks it won't happen two years in a row, and since I'm renting, I figure I can always pick up and leave.
When I first moved here, there would be sand halfway up the block every morning because the boardwalk -- once the barrier between the beach and the street -- was destroyed during Sandy. Now, thanks to the perseverance of community activists in my building and others like them, sandbags and a snow fence keep the sand from spilling out onto the street. 
Since I've only been here through the spring and summer, I have to admit I'm a little scared about the winter. It was pretty windy here in April! But the people in my building say that it's not that bad. I guess when you become part of a beach community you accept anything that gets in your way because you're by the water.
I miss some of the Eastern European feel of Greenpoint--I used to love the smells from the New Warsaw Bakery down the block where they made delicious loaves of round bread, something like sourdough but not quite. My roommate and I would go to the bakery late at night and get a loaf from off the cooling rack.
I like to cook at home and in Greenpoint I had more variety of ingredients to choose from and I usually had to walk no more than  half a block to get them.  One of my favorites was the Polish-owned
Driggs Meat Market
for meat, cheese and deli. Here the choices aren't as great and not as nearby. Now I have to walk 4 or 9 blocks to get to the shopping streets and the choices are nowhere near as interesting. 
When I don't want to cook, I go to
Rockaway Taco
on 96th Street. But, on weekends, when about 50 people line up out front,  I make a one block detour to 95th Street and get a sandwich or salad at
Surfside Bagels.
I'm a little nervous for the season to end, though. A lot of the food I like is seasonal and on the beach -- like a small outpost of
Lobster Joint
, which is on the beach.
Also, I haven't been able to truly escape Williamsburg here. Thanks to the
Rockabus
, on the weekends you see a lot of hipsters who come from Williamsburg  to party and hang out on the beach.  But of course it's good and bad. You want the businesses to survive, so it's good to see people out here.
I miss the "green" of Greenpoint,  the trees in particular. I was working in Fort Greene a little while ago and when it started to rain, I realized how I missed the sound of rain on concrete. The sand absorbs the sound of rain outside my new apartment.  
It takes me just as long to get to the West Side of Manhattan from here by public transportation as it did from Greenpoint--about an hour and a half. The A train goes to Broad Channel and then I transfer to the shuttle for a mini- ride to my stop.  I usually drive, though, and I've become incredibly adept at finding parking spaces. I seem to have an instinct for it. My limit is 20 minutes, though. If I haven't found a spot by then, I head for a garage.
A ferry that connects Rockaway with Wall Street for $2 each way is a cool way to get to the city. I haven't tried it yet but I plan to. It was started after the storm when there was no subway service and it's scheduled to operate at least until Labor Day. Local elected officials and residents, including me,  are all hoping it's extended.
But ultimately, I'd say it's pretty important to have a car here.
One of my favorite things about the neighborhood, something that shows how solid the community really is, is the local newspaper called
The Wave
. It's been published since 1893 and tells me all about everything that goes on in my new neighborhood.  I pick it up with my morning bagel. 
---
Transitions highlights New Yorkers' first impressions as they transition from one neighborhood to another. Want to tell us your transition story? Drop us an email.
Brick Underground articles occasionally include the expertise of, or information about, advertising partners when relevant to the story. We will never promote an advertiser's product without making the relationship clear to our readers.