Transitions
East Village to Fort Greene: My old neighbors may be cooler, but the new ones are friendly and laid back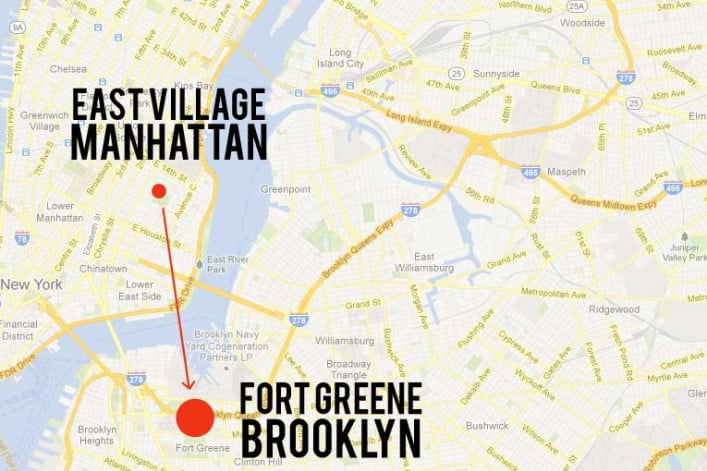 In April of this year we moved from a one-bedroom, 721 square-foot rental at The Avalon Bowery on East 1st Street and Bowery, to a 2,000 square-foot, duplex brownstone with a back yard on Vanderbilt  Avenue and Green Avenue in Fort Greene, Brooklyn, right across from the Brooklyn Flea/ Bishop Lachlan high school. Both places are about the same in monthly cost, just under $5,000/mo.
We moved because we had a baby on the way and needed more space. 
I own a residential real estate firm,
Prime NYC
, and when we started, we were mainly focused on Manhattan. I'm very familiar with all neighborhoods in Manhattan.  As we've expanded to doing many deals in Brooklyn in the last few years, I have become more familiar with the Brooklyn neighborhoods. That is what drew me to the area. Plus we were talking about moving to Brooklyn over the past year as we felt it would be a better environment to raise a child and to have more space and parks around. 
It took a few months to find a place. We were looking in Brooklyn Heights, Cobble Hill, Carroll Gardens, Boerum Hill, Fort Greene and Prospect Heights. We wanted to rent a brownstone type of building, two-bedrooms plus outdoor space.  I love to grill and be outside, so that was something I needed.  
There is very limited inventory for this product in those neighborhoods and they are in high demand. We jumped on our new place after a price reduction, and we were actively looking in the winter months, as there is typically less competition that time of year.  
The places we saw in Williamsburg were not for us. They were mostly low-mid rise buildings built as condos and turned into rentals, with nice interior and finishes, but limited space. The brownstone-style apartments were very narrow and had very small bedrooms.
We loved our time in the East Village. The location on Bowery and 1st Ave was great, conveniently located to East Village, Lower East Side, Soho, Nolita, and Greenwich Village. It was a short commute to my office on 11th Street & University.
There are so many great restaurants and lounges and fun things to do there. A few of our favotires were: 
Saxon Parole
 on Bowery,
DBGB
 on Bowery,
Momofuku's
multiple East Village area locations and
Bowery Bar
 on 4th Street.  It was also great having a Whole Foods across the street and good subway access. A few years ago there started to be a lot of construction in the area and that along with the rising prices and influx of people made our decision easier to go to Brooklyn.
We love Fort Greene. It's a great mix of people, cultures, and is a beautiful neighborhood full of brownstones, history and tree lined streets. There's a great park (Fort Greene Park) a few blocks away, and a bunch of unassuming gem restaurants. Our regular haunts are: 
Madiba
 on Dekalb,
Olea
 on Lafayette Avenue,
Walters
 on Dekalb Avenue and
The Prospect
 on Fulton Street. 
Everyone is so friendly in Fort Greene. Any store or restaurant you go into, you are greeted by the owners, who are happy to meet you and interested in your story.  
The sidewalks in Fort Greene are wider and there are fewer people. The weekends always have farmers' markets and there's lots to do and we are near other great neighborhoods like Prospect Heights and Boerum Hill. 
We are close to the Barclay's Center, so there's very good subway access. There was (and is) an adjustment to the commute, mine is about 20-25 minutes now, but it's three stops on the Q from Atlantic Avenue to Union Square. The conveniences are more sparse. You have to walk an extra block for banks, supermarkets, shops and restaurants.  
We are very happy with the move and are so glad we did it.  We are settled in our new place. We always have friends over and try to get them to move to the area. They are jealous of the space and charm/character of our apartment and neighborhood.  
Living in Fort Greene and working in the city gives me the best of both worlds.  I have my crazy days in the city running around, taking subways, now using CitiBike, and then I get to go home to a more calm and peaceful environment and get a break from the craziness.  That's what I like most.  
I take my dog for a run in the park 3-4 days per week and there are many people doing the same.  I invite friends over for barbecues and meet people at restaurants, and it's a good lifestyle.  
People in Brooklyn are definitely more laid back and "real."  The East Village/ Bowery, on the other hand, was very transient and I think the people were becoming too cool for me.  I'm not that exciting, I don't go partying all night anymore, and am mentally preparing for bringing a child into the world.  
The secret is out, and Brooklyn will continue to become more gentrified and populated and more conveniences and restaurants/retails will open to try to meet the demand.  
Brick Underground articles occasionally include the expertise of, or information about, advertising partners when relevant to the story. We will never promote an advertiser's product without making the relationship clear to our readers.