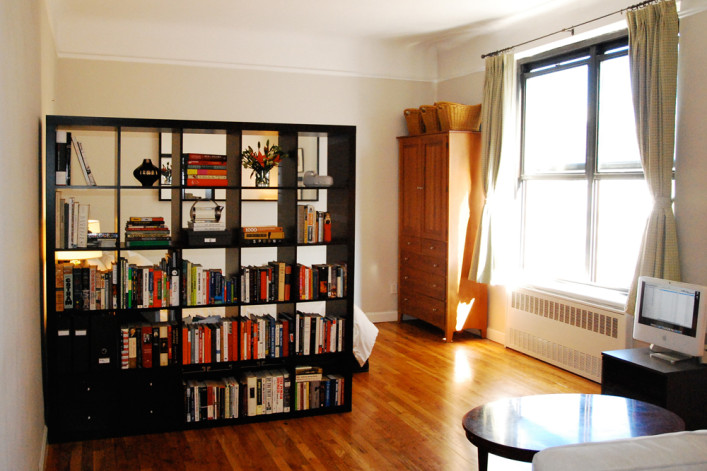 Q.  I plan on living in my 370-square-foot studio co-op apartment with my wife and two kids.  Since I technically cannot count halls and bathrooms as livable space, the square feet per occupant is slightly lower than the NYC Administrative Code requirement of 80 square feet per person.
I bought my apartment in 1984 when I did not have this new family. My wife is in her 30s and our children are 8 and 5 years old.
Can I be evicted by the co-op board?
A.  Your board can certainly try, say our experts.
Your proprietary lease most likely requires that the use of your apartment be in accordance with applicable laws, codes, statutes, etc., says co-op and condo attorney Robert Braverman of Braverman Greenspun, so if "the number of proposed occupants exceeds the maximum permitted by code" you would indeed be in violation of your lease and subject to possible eviction by terminating your proprietary lease.
That said, notes property manager Thomas Usztoke of Douglas Elliman Property Management, "boards typically have their hands full without having to look for city code violations on apartment occupancy"--unless you give them a reason to.
"If everyone is complaining about your kids, the board will be looking for ways to get you out, so work hard not to cause any problems with neighbors in the building," says asset manager and real estate broker Roberta Axelrod of Time Equities.   "Install carpet with padding so noise from your children is muted, be friendly to all and be sure  your children are known for their politeness."
Property manager Michael Wolfe of Midboro Management is less sanguine about this approach.
"We all have our unique set of circumstances, but if you know you are violating a rule, why continue to do it?" he says. In addition, "There is a reason for NYC rules and regulations, such as the safety and well-being of its people--in  this case, your family. Perhaps you should sublet, if allowed, or sell your studio and rent or buy another apartment that can accommodate four people."
One more reason to act pre-emptively: If your board does take legal action and it prevails, you will not only be evicted, you will also be responsible for the legal fees, says Braverman.
---
Trouble at home? Get your NYC apartment-dweller questions answered by an expert! Send us your questions.
See all Ask an Expert.
Related:
Co-op consequences for a teen's wild party
NY kids want a doorman too--but not for the reason you think
How to raise 4 kids in a 4th floor walk-up
Brick Underground articles occasionally include the expertise of, or information about, advertising partners when relevant to the story. We will never promote an advertiser's product without making the relationship clear to our readers.