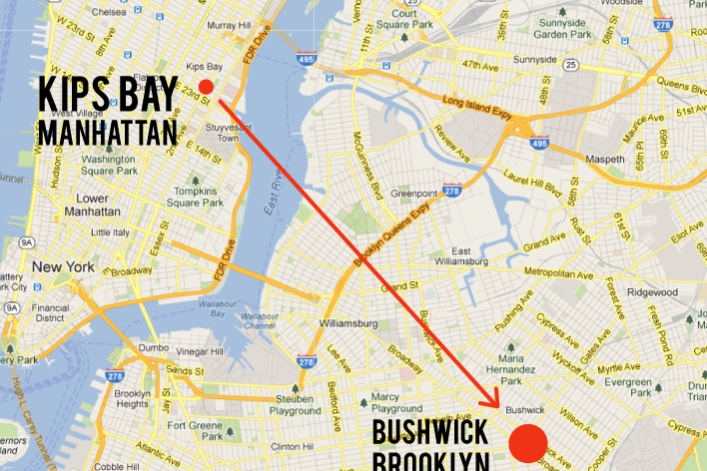 I'm originally from Westchester and spent about a year living in Colorado. When I came back to New York, I moved back in with my parents in Kips Bay.
That neighborhood is all right. It has good restaurants (I especially liked Curry in a Hurry), mostly along Second and Third Avenue. It was the area where, pretty late at night, you could see all these taxi drivers eating on their breaks, eating Indian and Chinese food. The neighborhood felt as though it was predominantly families and empty nesters. The nearest subway was the 4/5/6, so it was convenient to get to where I worked, near Grand Central.
But after around four months, I was ready to move out. I ended up finding a roommate who posted an audio ad during a podcast. It turned out we were both into card games, so it was perfect.
I was pretty concerned about my commute. I work near Grand Central, so I still wanted something near the 4, 5, 6 or F train. The amenities of the neighborhood aren't as important to me as the quality of the apartment. Also, I was looking to pay around $800 a month, so Bushwick was the main area where we looked.
We had a really awful experience with a local brokerage. My roommate was under a time-crunch because he had to move out by the end of March. So he was very prone to saying yes to everything, and I kept saying no. The places we saw needed repainting, floors weren't straight or flat, and the commutes weren't great. They ended up showing us a lot of places around the A-train, which wasn't ideal for me.
We were pretty close to saying yes on one apartment around near the Broadway Junction station on the A, but the broker was asking for an additional security deposit that they hadn't previously disclosed. It seemed pretty fishy. We ended up confronting their manager, and he basically said it was a broker's fee, which they previously said they didn't have. We ended up trying to rent the place directly from the landlord, but she eventually went with one of their clients.
It was almost the end of March at this point, so at the eleventh hour I got a "real" broker: My buddy had recently bought a house in Flatbush, and he had a broker who knew a place off the Kosciuszko stop on the J train.
We looked and basically said, "Yeah, this is it."
In comparison to the other places, this place was newly renovated. Every surface was new. There's a nice exposed brick wall. Also, the first broker had just been showing us railroad-style apartments, but this place is just a normal layout, with separate bedroom entrances. It was great.
So far, the neighborhood seems nice. The street I'm on is very quiet and family-oriented: Traditional brownstones, all walk-ups. There are a lot of delis and small retail shops closer to the J train. There aren't really any notable restaurants around us, but there is a grocery store. And there's a good amount of police presence, as we're near the more dangerous parts of Bed-Stuy. 
I get the feeling that my block in particular is gentrifying, but I don't know if that's happening throughout the neighborhood.
The sales market seems to be going up--my friend who bought in Flatbush was priced out of Bushwick. But the rental market is still affordable. The rent was a bit higher than I wanted, around $850 a month per person, and we ended up paying around 12 percent of the annual rent for a broker's fee. It felt like a lot at the time, but now I feel it was worth it.
---
Transitions highlights New Yorkers' first impressions as they transition from one  neighborhood to another. Want to tell us your transition story? Drop us an email.
Related:
Moving to NYC? Here's a crash course in finding an apartment here
Bushwick to Long Island City: A great (and close) alternative to living in Manhattan
Brick Underground articles occasionally include the expertise of, or information about, advertising partners when relevant to the story. We will never promote an advertiser's product without making the relationship clear to our readers.