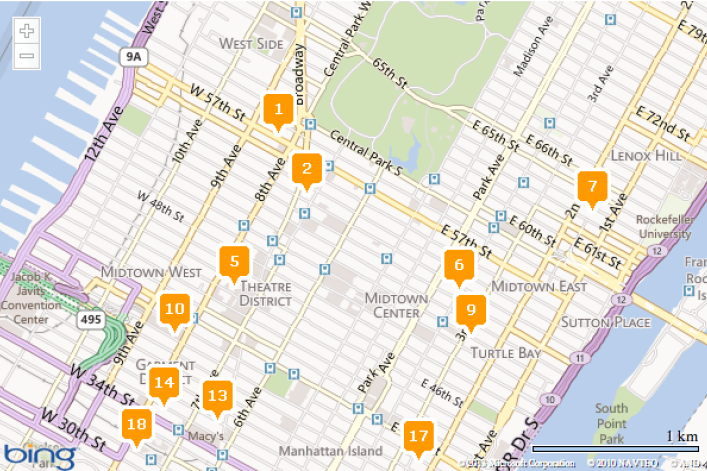 Sure those white-gloved doormen buildings are luxurious, but who wants to make small talk every time you walk into your building? Not to mention the fact that you may need to have your feet firmly planted in the 1 percent to afford holiday tips for a fleet of doormen.
Can you tell we're trying to make our doormanless-self feel better here? It's easier than you might think, actually, because in the last couple of years, a plethora of products and services have sprung up that make the unattended life easier (and safer, too).
Here are five to add to your personal survival kit:
1. Hop to it: TaskRabbit  
Brownstone dweller Daniel Saynt says he and his wife cannot live without online restaurant delivery service Seamless, online supermarket delivery service FreshDirect, and mail services and deliveries from local dry cleaners and laundromats. But scheduling all of these deliveries to take place when they are at home can be a hassle, so they often use TaskRabbit to hire someone to accept deliveries when they are not available to do so.
"For $20 bucks an hour, we have someone home on weekends to accept all deliveries that come through, stock our fridge and even put our laundry away," says Saynt.
Prices vary depending on provider and specific services required. 
2. Deliveries minus the hassle: AmazonLocker  
Amazon.com set up set up these real-world locker stations around the city back in 2011. You can get Amazon shipments sent directly to the locker closest to you if you can't be home for the UPS delivery. 
Use the locker locator to  search and review locker locations by zip code. Once you've select the desired location, you can use that as your shipping address for no additional charge.
Items must be sold by Amazon.com and meet a size and weight requirement (smaller than 16.5x13.8x12.6 inches and a shipping weight of less than 10 pounds). To access the shipment at the location, you just swipe your credit card and punch in a code provided via text message. 
3. Safety first: iWitness 
This smartphone app for iPhone & Android provides an extra means of personal safety for those who don't have the benefit of a doorman or security guard. Users download the app and "arm" it whenever they are out alone – especially when coming home after dark. 
The phone begins to flash a light and is a single tap away from recording video/audio and transmitting your exact GPS location to a secure off-site server.
If you feel endangered, a tap of the screen will call 911 and an email/text message will be sent to up to six pre-registered friends informing them of your location and that 911 has been called. Even if your phone is snatched, the recording of what is transpiring on the street or any personal interactions are saved on a central server rather than your actual device so it can be used by law enforcment. Subscriptions are $2 a month or $29.95 a year. 
4. A lobby attendant for the 21st Century: Virtual Doorman
This electronic (or remote) doorman system uses the latest technology to secure a building, remotely greet visitors, grant access, and accept packages such as dry cleaning and mail. The system uses CCTV cameras that record activities in common and exterior areas of the building. 
A video intercom allows residents to view and speak with guests prior to granting them building access. The system can also incorporate electronic card access to avoid copied or use of stolen keys. 
Residents are also protected from being locked out since the Virtual Doorman can grant an occupant entry to the building and to a place where one can retrieve a spare set of keys -- in an electronic key safe. 
Services range from $20-$50 per month per apartment depending on the size of the building and the service level selected. This is a service the building owner, management company or board must order for the entire building and there is an additional installation charge. Approximately 200 buildings in the NYC-area are currently using it. 
5. Get your laundry done without seeing a soul:
DashLocker
With this  24/7 dry cleaning service, you simply drop dirty clothes into a locker and then -- voila -- come back to pick up a clean pile the next day. The service is already installed in 23 multi-family walk-ups across NYC, transforming unused common space into what is essentially an in-house dry cleaner, laundromat, and shoe shine. Dashlocker also has two round-the-clock locations in the East 90s.
The service operates on a web-based user-interface, which acts as a virtual concierge that allows residents to track their laundry during the cleaning process and receive text message updates on status.
Prices
 are fairly close to (if slightly higher than) traditional pickup/dropoff places. For example, the average drop-off/pick-up laundry service is $1/lb in NYC and Dashlocker's is $1.25/lb. Drying cleaning prices are comparable to standard dry cleaners, too.
Related posts: 
How to survive (and thrive) in a walk-up apartment
Moving to NYC? Here's a crash course in finding an apartment here
Virtual Doorman: Service and security without the expense (or tips)
11 NYC real estate apps we'd love to see
Cool Stuff: Chore-outsourcer Task Rabbit makes NYC debut, my tub finally gets a cleaning 
When it comes to accepting packages without a doorman, is a live-in super enough?
8 ways to get packages without a doorman
Is Google killing the white glove building?
Brick Underground articles occasionally include the expertise of, or information about, advertising partners when relevant to the story. We will never promote an advertiser's product without making the relationship clear to our readers.