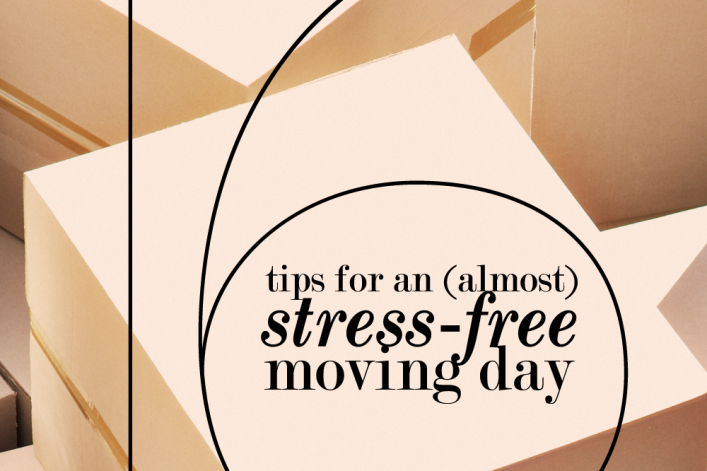 Moving day is never simple, but it can be more bearable. To figure out how to make the big move as stress-free as possible, we asked five NYC moving professionals for their tips.
Don't bring anything you don't need:  "If you need to sell or give away any of your things, have a good-bye party and put post-it notes on the things that the guests can take home with them. It's a nice way to say good-bye and a lot better than posting things on Craigslist and having to deal with strangers," says Kelly Eidson of moveline.com.
Do all of your packing/labeling before moving day. There are so many details you need to handle on moving day, don't make it worse by having to rush to do these things you know you'll have to do, explains Matt Schwartzberg of A-1 First Class Moving.
Make yourself a survival kit for moving day. Sharone Ben-Harosh of Unpakt and Flatrate Moving suggests packing a baggie with things you'll need on that day and possibly the next — toothbrush and toothpaste, snacks, change of clothes, medication, contact lens supplies,  etc. 
Tell your neighbors you are moving. This way they can avoid the elevators and/or use the stairs on that day, staying out of the movers' way, says Phil Liu of citymove.com. (Liu himself has moved seven times in the last 10 years.)
Try to make sure that no one else is moving in or out on the same day as you are. This suggestion, from Liu, comes from the fact that sharing elevators and hallways slows everything down and increases the risk of losing stuff. 
Have a copy of your mover's certificate of insurance handy. Do this even if you already submitted it to the managing agent or the super of your new building, says Liu. It'll help you avoid any clashes with them.
Have lots of bottles of water for your movers. Liu also suggests offering the movers some snacks like candy bars or chips to keep their energy up and make sure that the vibe between you and them is positive. 
Make sure all your electronic devices are fully charged—especially your cell phone. Don't pack your chargers away, have them with you in case things take longer than expected.
Buy some touch-up paint and wall filler ahead of time. This way you can make quick repair for any minor damage caused by the movers on the way out. Have a broom and dustpan handy so you can sweep up at the end of the loading phase, says Liu.
Have some basic tools—screw driver, allen wrench, box cutter –for breaking down boxes, putting furniture together. Your mover should have it all but just in case, Liu says, this can be a big help.
Do a quick walk through with the movers before getting started. You'll want to inspect your furniture to make sure the inventory sheet is correct, says Ben-Harosh. Also, be sure that you and the movers agree on the condition of the furniture before anything goes on to the truck. 
Keep some extra packing materials on hand. This way you don't have to buy them from the mover at the last minute when you've lost all negotiating juice, says Jack Frost of Excellent Quality Movers.
Keep pets/kids away from the movers. In fact, it's better to have your kids out of the apartment on moving day, says Schwartzberg. Let them come in to an unpacked house and a set-up their new room later on. You need to be totally and completely available to the movers during each step of the process, no distractions. 
Consider spreading the move out over two days. If your move is local and the home you're moving from is large, it would be great to move the kitchen, living room and dining room one day and the bedrooms and other spaces the next, Schwartzberg says. 
Choose your "helpers" carefully. It's tempting to ask friends and family for help, but don't overdo it. Recruit volunteers who know their way around your place so you won't have to waste time answering their questions, says Eidson.
Learn as much about the place you are moving to as you can. Often the most stressful part of the move is at the "unknown" destination. Ask the super about moving-in rules, and know the dimensions of the door openings so that your favorite sofa makes it into your next home, says Eidson.
Related posts:
How to negotiate with a NYC mover: 7 tips that may save you bigtime
3 high-tech ways to make your moving process easier (and cheaper)
Need something moved--or smashed to bits and hauled away? Perhaps these folks can help
NY Couch Doctor: 911 for furniture that won't fit through your door
Unpakt: Find the best movers at the best price, sign contracts you can understand, and manage your whole move online
3 moving scams you should know about-- and 10 ways to avoid getting duped
Q & A with a serial mover: "It's the number one reason why I'm broke and have no savings"
Brick Underground articles occasionally include the expertise of, or information about, advertising partners when relevant to the story. We will never promote an advertiser's product without making the relationship clear to our readers.