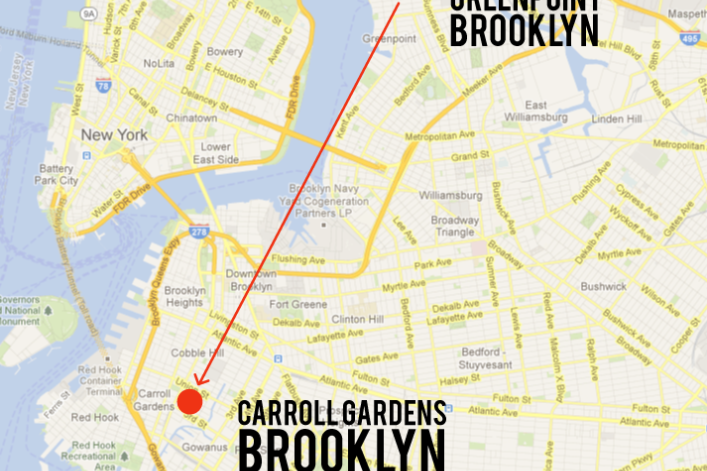 A few months ago, I moved from a 300-square-foot, $1,250 "one-bedroom" in Greenpoint, Brooklyn to a proper more-than-600-square-foot, $1,300 one-bedroom in Carroll Gardens, Brooklyn.
The Greenpoint apartment was actually a converted studio with a sheetrock partition wall separating the bedroom from the living room. It was so tiny!
The new place is twice as big with room for my artwork and space for a workshop. I am a leather artisan so having adequate room to work is important. 
My move from Greenpoint to Carroll Gardens wasn't premeditated. I had been looking for a larger space that I could afford solo and by happenstance an amazing apartment deal fell in my lap. 
I have been working at a little shop in Carroll Gardens for three years, so I am familiar with the neighborhood and have become somewhat friendly with the locals. 
A customer came in and announced she was moving to the West Coast and asked if knew anyone who would want to sublet her amazing one-bedroom apartment with outrageously low rent? Um, yes. Me. 
I was actively looking for an apartment but my search parameters did not include Carroll Gardens. Most advertised apartments in Carroll Gardens and the surrounding areas are extraordinarily out of my price range. It was sheer luck that I snagged this space.
The new place is just a $50 increase in rent for twice the space, a more public transportation-accessible location and a beautiful environment. It took me all of one second to say YES -- and goodbye to Greenpoint.
Not that I didn't love many things about Greenpoint, where I had lived on India Street near Manhattan Boulevard for three years. It's a safe neighborhood and the northern end, up by Ash Street and the water, is particularly beautiful with a lot of small shops/eateries.
Ash Box on the corner of Ash and Manhattan was my favorite spot for sandwiches, Ott on the corner of India and Manhattan was great for Thai and The Habitat for the most amazing bar food! 
The Polish culture in Greenpoint is amazing, as well. Great people and food.Christina's was my go-to Polish joint!
Transportation to and from Greenpoint was challenging, though. The only train close to my old place was the G. And who has the money for a car service every time you have to get somewhere other than the limited route of the G line?
While there are some gorgeous brick structures and converted factories in Greenpoint, plenty of the buildings have siding on them and lack the charm or weighted permanence of brick or brownstone. 
Greenpoint never felt settled architecturally, which, I don't think I realized at the time, left me feeling ungrounded. 
Also, there is the dreaded Newton Creek Wastewater Treatment Plant looming in the landscape! It is like a spaceship preparing for blast off. The structure's giant, bulbous silver pods and purple lights remind me of a 1970's science-fiction novel cover...I guess if you don't look in that direction you can probably ignore it. 
Although I think it looks interesting and other-worldly, the plant itself, mainly for environmental concerns, would prevent me from ever settling permanently in what is otherwise an amazing neighborhood. 
I lived in Williamsburg before Greenpoint, and I desperately wanted to make a move to a less edgy, more adult neighborhood. Carroll Gardens is perfect for that. It is a grown-up place to live and it seems like everyone is on that next step in life. The residents seem mature and settled.
Transportation is great in Carroll Gardens, with access to both the F and G lines. It's a short shot into the city on the F and if I need to go to Greenpoint I can hop back on the (not-so) trusty G.
In the warmer months the long stroll on Court Street from Carroll Gardens to the hub of trains and buses in Brooklyn Heights is lovely.
Carroll Gardens is also a neighborhood of foodies and has amazing restaurants and really cool bars.
Because I have worked here for a few years I already have a few favorites...Prime Meats is amazing. Frankie's is great as well as MiniBar and, of course, PJ Hanley's if you want a real sports bar with beer and football.
The buildings are so charming in Carroll Gardens you feel like you're walking through the set of a movie. The brownstones have well-manicured front gardens and tree-lined streets that I would twirl down if I were more secure in my twirling.
And, best of all, the neighborhood still retains a sense of community, with a deep Italian tradition and old-school residents. Though with the average price for a one-bedroom apartment in Carroll Gardens upwards of $2,800 per month, you have to wonder how long the original tenants will last.
And herein lies the issue: everything is just a bit more expensive in Carroll Gardens than in Greenpoint. Although I love them, the restaurants are pricey, as are the teeny-tiny grocery stores like Court Street Grocer orUnion Market.
But there are treasures and cheap eats if you search. South Brooklyn Pizza on Court Street has become my favorite place in the world and Kumo is an inexpensive and delicious sushi joint on Court and Nelson. Mezcals has great happy hour margaritas and fantastic mole! 
I swear I do more then eat in Carroll Gardens! But I don't feel compelled to party with the young hipsters because it is such a laid back neighborhood. 
 As an artist, if I didn't find such a great word-of-mouth deal, I could never afford to live in this area. But this is New York and those crazy real estate deals are out there!
See all Transitions
Related posts:
Carroll Gardens to the Lower East Side: A nice switch from Sesame Street, except for the weekends
14th Street to Carroll Gardens: "Even if we could afford to move back to Manhattan, I wouldn't"
Confessions of a Neighborhood Blogger: First stop, Greenpoint
An expat's view of 8 NYC neighborhoods (in 6 months)
A move-by-move neighborhood guide for the people, by the people
Brick Underground articles occasionally include the expertise of, or information about, advertising partners when relevant to the story. We will never promote an advertiser's product without making the relationship clear to our readers.