Transitions
Chelsea to Brooklyn Heights: Enjoying the quiet, the rent, the space...and missing the doughnuts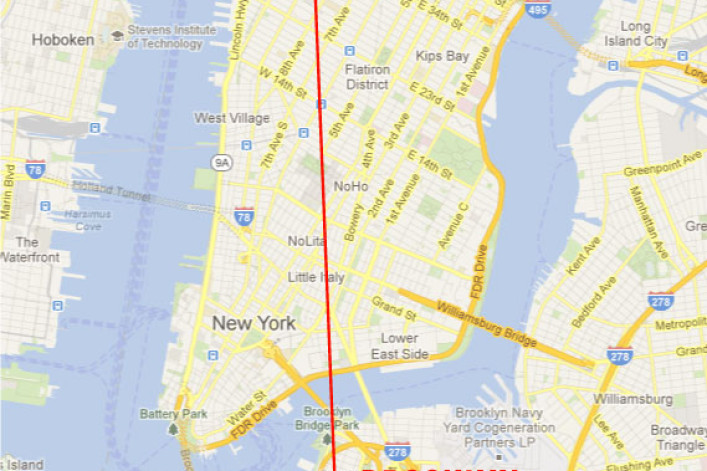 My first New York apartment was in Chelsea, an area that is perfect for 20-somethings like me. The streets were crowded 24/7, the restaurants, the bars, the nightlife was all made-to-order. That's the good news. 
The bad news? The rent. I was paying: $2,000 for a 330-square-foot studio apartment with a mini-fridge and stove and a bathroom with a piece cut out of the door so that it was possible to fit the toilet in and still close the door.
It was an elevator building, had a doorman, a nice roof top area and a gym that was added about a month before I left. Built in 1927, right next to the Chelsea Hotel, it was designed by well-known architect Emery Roth. All good, but the rent plus the cost of utilities was just too much. 
When I heard that a friend was moving out of a three-bedroom  apartment on Montague Street in Brooklyn Heights, I jumped on it. My friend had been sharing with three other women (one of the bedrooms had a temporary wall installed so it became an unofficial 4-bedroom).
The room I have now is almost as big as my entire Chelsea apartment and I have use of a huge living room, dining room, a full-sized kitchen and a normal bathroom. Even though there are four of us, it never feels crowded. 
I'm on the third floor of a brownstone, so there's a climb but I don't mind since my share of the rent is  $600! I lucked out. The owner of the building hasn't raised the rent in three years. Here's hoping that continues. 
Brooklyn Heights is no Chelsea when it comes to nightlife and on-street activity. When I get home in the early hours of the morning on weekends, there's no one on the street, just a few delivery people and maybe a sanitation truck. 
I don't mind the quiet, though. I grew up in the country, in upstate New York, and I like to be away from the chaos of city life. I never hear my neighbors—in Chelsea because the building I lived in was a converted hotel, the apartments were pretty close together. You couldn't avoid hearing your neighbor's music. In this apartment, you don't hear a thing.  
I used to shop at Whole Foods and now Key Food is my closest market. That's not bad for the basics but to get good, fresh produce I walk about 15 minutes to Trader Joe's or to Garden of Eden where the produce is good but a bit expensive. 
The choice of restaurants within my immediate neighborhood isn't great, although I love the restaurant Noodle Pudding a short walk away on Henry Street.
I go to Atlantic Avenue or Smith Street if I want a bigger choice. Just before I moved from Chelsea, Rub, the barbecue place, opened next door and I miss that—I could smell the barbecue from my building.
And there's a Doughnut Plant that opened in the Chelsea Hotel that I would have liked to keep as a neighbor.
But here, in Brooklyn Heights, I do have a 24-hour bagel spot next door, so that's awesome.
On a Saturday morning here, it's wall-to-wall strollers but that's fine with me. So, it's not a happening area, and pretty much closes down at 11 p.m.
Transportation is still good—easy access to the 2,3,4,5 and R trains—and being able to save so much money in rent and have a spacious place to live is 100 percent worth the trade off. 
---
Transitions highlights New Yorkers' first impressions as they transition from one neighborhood to another. Want to tell us your transition story? Drop us an email.
Related posts:
From the West Village to Prospect Heights: "I was Manhattan-ed out" 
Lower East Side to Chelsea: Moving up and growing up
8 questions you MUST ask before buying renters' insurance (sponsored)
Rent Coach: Best Brooklyn neighborhoods for a West Village refugee
How to find a rent stabilized apartment in NYC
8 best websites for finding a no-fee apartment in NYC
Rejected by a landlord lately? Want to get that apartment faster? Here's your secret weapon (Sponsored)
Brick Underground articles occasionally include the expertise of, or information about, advertising partners when relevant to the story. We will never promote an advertiser's product without making the relationship clear to our readers.